Post Views: 409 Coy: ZENITH BANK PLC Rating: Buy Current Market Price: N25.80 NPL RATIO: 4.98% Year High: N26.85 Year Low: N20.00 Fair Value: N40.89 B...
Coy: ZENITH BANK PLC
Rating: Buy
Current Market Price: N25.80
NPL RATIO: 4.98%
Year High: N26.85
Year Low: N20.00
Fair Value: N40.89
By: Jeariogbe Tunde Segun (Equity Analyst)
Key Financial Ratios
• This report observes the full year financial performance of Zenith Bank Plc for the year ended 31st December, 2018, compares same with that of 2107 to establish growth/declines.
• Non Performing loan ratio as at the end of the full year financial performance of 2018 is 4.98% as against the 4.70% posted in its full year financial performance for 2017, which is still way below the 11.67% industry average.
• The final dividend representing a yield of 10.85% of the price at released date. Meanwhile considering the interim dividend of 30k recently paid, which brings total dividend for 2018 to N2.80 and the yield 12.02%.
Dividend Information
• Current Dividend: N2.80
• Closure Date: 11th March, 2019
• Qualification Date: 8th March, 2019
• Payment Date: 18th March, 2019
• AGM Date: 18th March, 2019
• AGM Venue: Civic Centre, OzumbaMbadiwe Street, Victoria Island, Lagos.

Company Figures
• Gross Earnings for the year stemmed below that of comparable year by 15.41%, from N745.18 billion to N630.34 billion.
• Interest Income equally dipped to N440.05 billion from N474.62 billion, the difference between the two financial index is same as 7.28%.
• Interest Expense dropped to N144.45 billion as against N216.63 billion of 2017 financial year, and difference between both is 33.32%.
• Helped by the low impairment loss on financial and non financial instruments, Profit before Tax for the year improved over 2017's by 16.24% at N231.68 billion against N199.31 billion.
• Similarly, Profit for the year (PAT) grew by 13.17% as it is currently valued at N193.42 billion as against N173.79 billion.
• Total Comprehensive Income equally appreciated by 13.17% to N199.71 billion compared to N176.47 billion.
• Retained Earnings reduced by 9.70% to N322.23 billion compared to N356.83 billion.
• Total Assets is currently valued for N5.955 trillion, up from N5.595 trillion in 2017.
• Total Liabilities, on the other hand, notched 7.46% to stand at N5.139 trillion, compared to prior year's N4.783 trillion.
• The financial institution only improved customer deposits by 7.34% through the 12 months of 2018. Total Deposits received through the current year is N3.69 trillion, compared to N3.437 trillion.
• Reducing its loan exposure risk, Total Loans and Advances dropped by 13.20% when compared to 2017. Total Loans and Advances through the year is estimated at N1.823 trillion as against N2.100 trillion.

Volatility Ratios
• Estimated Beta value for Zenith Bank's shares stood above the industry average, and is well above the market Beta (unity). This signifies its liquidity and patronage by the investing public.
• Although almost irrelevant since we are analyzing a financial institution whose major business is deposit mobilisation (usually reported under liability), we estimate Debt to Equity ratio as 73.62%, well below the industry average of 168.92%.

Profitability Ratios
• Interest Expense to Gross Earnings is presently estimated at 22.92%, which is 21.17% lower than the 29.07% estimated in 2017.
• PBT margin stood at 36.76% as against 26.75% last year, this is a 37.42% improvement.
• Similarly, Profit margin looks up against previous year. We have estimated 30.69% margin from Gross Earnings as against the previous estimate of 23.32%.
• Return on Average Equity is now 23.71%, compared to the 21.40% returns achieved in 2017.
• Return on Average Assets only differs marginally by 4.56%, moving from 3.11% to 3.25%

Efficiency Ratio
• Gross Earnings to Total Assets is estimated at 10.58%, which is 20.53% lower than the estimate in 2017.
• Similarly, Gross Earnings to Equity is now 77.27% as against the 91.76% estimated from 2017.
• Financial Leverage is 7.30x as against 6.89x, this is an estimate of the number of times the total assets replicates the equity, in other words the ratio got better.
• It was also established that 49.40% of the Total Deposit was given out as Loan and Advances during the period under estimate this is 19.14% lower than the 61.09% given out in 2017.
• Meanwhile, Loan and Advances is same as 30.61% of the Total Assets, or 18.35% lower than the 37.45% last year. This shows a controlled/reduced risk compared to 2017.

Investment Ratios
• Just as in the company report above, since shares outstanding remained constant during the two years under consideration, the estimated amount earned per units of Zenith Bank shares is N6.16, or 11.30% above the N5.54 earned in 2017.
• PE/Ratio for the period is 4.11x as against 5.60x estimated last year.
• As we speak, the Book Value of Zenith Bank is N25.98 fairly same as N25.87 last year. Please note that this almost same as the current market price of Zenith Bank shares as at the time the result was made available to the investing public (N25.35per share).
• Opex Margin to Gross Earnings is currently estimated at 32.75%, which is well above the 28.09% margin estimated in 2017.
• The current dividend paid is 3.70% above the final dividend paid in 2017. Please note that the total of 30k interim dividend had earlier been paid at the half year. Thus, the total dividend paid for the year 2018 is now N3.10 (2017 Div-N2.95).
• Thus the dividend paid is same as 45.45% of the amount earned per unit of Zenith Bank. This implied that 54.55% of the earnings will be retained for further business.
• Please understand that the estimated Sustainable Growth Rate improved over last year to 12.93%, as against 10.96%.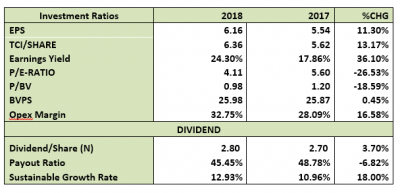 Valuation
Our attempt to place a fair value on Zenith Bank took us through several valuation methods after which we settled for the constant perpetual dividend growth rate. We do not expect galloping growth in dividend since this has experienced appreciable growth in few years prior. To arrive at this value, we estimated five-year dividend growth rate at 11.03%, and we made use of the average. On the strength of this, we have placed a fair value of N40.89 on each units of Zenith Bank.