Equities
Mixed Market Ahead On NGSE, As Investors Position, Focus On Full-Year Earnings Season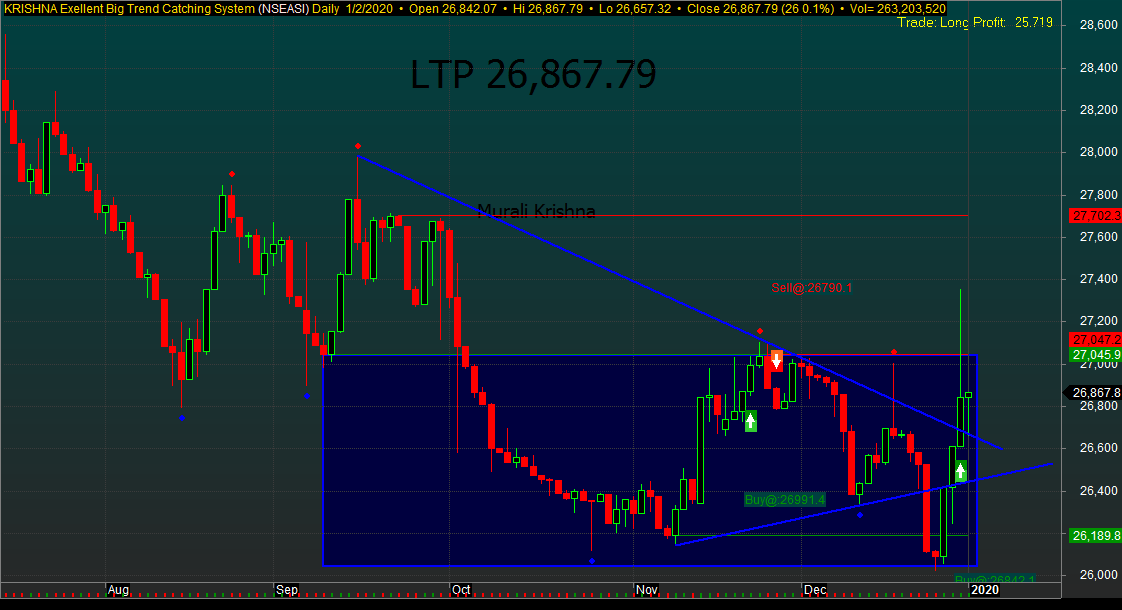 Market Update for January 2
Trading activities on the Nigerian Stock Exchange for the year 2020 and, indeed, the new decade, started on a flattish note with the composite NSE All-Share index closing marginally up on Thursday, amidst low traded volume. The market continued on seeming recovery path as fund managers continued their year-end window dressing ahead of the January effects amidst sustained mixed sentiments and the public perception of the market by investors.
As previously noted, Investdata Research projection is that the Nigerian equity market in this year 2020 would be a mixed and promising one. This is based on market players' expectation that economic recovery would be propelled by ongoing regulatory initiatives and the government's economic reform policies, particularly the new Finance Bill and oscillating crude oil prices. These, among others, would expectedly drive government revenue, the needed change in some economic policies and implementation style of the administration in the New Year, while ensuring that the budget has an impact on the economy.
As we have also noted earlier, for the second consecutive year, the Nigerian Stock Exchange (NSE) All-Share index closed negative in 2019. However, the good thing is that the market has corrected itself considerably and stocks began to resist further decline towards the end of 2019. Also worthy of note is the trading pattern that changed as a result of the new NSE rules, among others.
It is therefore not out of place to expect that the market's graph will become flat initially, before pointing northward for the good of equity investors who position in key sectors of the economy and indeed, financial services players.
Analysts and market expect fiscal and monetary policies, as well as improved earnings, to drive economic and stock market recovery In 2020, below are what these factors have done on the NSE index in the past decade.
The table shows the performance of the NSE index for years 2010-2019:
Meanwhile, Thursday's trading opened slightly on the upside in the morning before pulling back in the mid-morning to early afternoon on profit-taking in stocks that rallied in recent days but retraced up by the late afternoon on strong buying interests in medium and high cap stocks. This pushed the index to an intraday high of 26,867.79 basis points, from its low of 26,657.32bps. It thereafter finished the session at 26,867.79bps on positive market breadth. Market technicals for the day were also positive, but mixed, with volume traded lower than the previous session's, in the midst of positive breadth and sentiments as revealed by Investdata Sentiment Report of 100% 'buy' volume and 0% sell position on a traded volume index of 1.11.
Index and Market Caps
The All Share Index at the end of Thursday trading gained  25.72bps, closing at 26,867.79bps from the previous 26,842.07bps close, representing a 0.10% gain, just as market capitalization grabbed N12.42bn to close at N12.97tr, from an opening value of N12.97tr, which also represented a 0.10% value gain.
Attention: If you have not signed up for Investdata buy and sell signal setup, don't delay. We have just added another risk management feature and new stocks of most revered traders and investors in corporate Nigeria to our watchlist. These stocks are with double potentials.
To become a member, send 'YES' or 'STOCKS' to the phone numbers below. Take advantage of this service to buy right and sell right at the current market situation ahead of year-end seasonality and full-year earnings reports portfolio reshuffling and repositioning as we await an economic roadmap from the government advisory team to stimulate and re-track the economy again.
The upturn during the session was impacted by position taking in stocks like, MTN Nigeria, Zenith Bank, FBN Holding, Access Bank, UACN, UBA, Ecobank Transnational Incorporated, Dangote Sugar, Transcorp Plc, and Royal Exchange, all of which impacted the NSE's Year-to-Date gain to 0.10%. Market capitalization YTD gain also stood at N12.42bn, representing a 0.10% growth with the year's opening value at N12.97 trillion.
Bearish Sector Indices
All sectoral performance indexes closed lower on the first trading day of the year, except for the NSE Insurance Index that gained 0.97%, while the NSE Oil/Gas index led the decliners, after losing 5.01%; followed by the Industrial Goods Index's 2.26%. The NSE Banking and Consumer Goods shed 0.39% and 0.10% respectively.
Market breadth was positive as advancers outnumbered decliners in the ratio of 21:13, while market activities was down in transaction volume and value by 74.93% and 4.82%, as investors exchanged 264.9m shares worth N5.23bn, compared to previous day's 1.05bn units valued at N5.5bn. The day's volume was driven by FBNH, Access Bank, Zenith Bank, UBA and Guaranty Trust Bank.
Royal Exchange Assurance and Cornerstone Insurance were the best-performing stocks of the day, gaining 10% and 8.89% respective, closing at N0.33 and N0.49, on the back of the ongoing industry recapitalization wave exercise and market sentiments. On the flip side, Seplat and GSK  lost 10% and 9.84% respectively, closing at N592.10 and N5.50 on profit-taking.
Market Outlook
We expect a mixed performance on January effect, profit-taking and position-taking as investors take advantage of low prices, ahead of economic data and portfolio managers repositioning for the New Year as the 364-day Treasury Bills rate fell to 5.2%. There are, also, the changing sentiments in the hope of improved liquidity and positive economic indices.
We expect that Investors would focus on the upcoming full-year earnings season, targeting companies with strong potential to grow their dividend on the strength of their earnings capacity.
Again, the current undervalued state of the market offers investors opportunities to position for short and medium-to-long-term, which is why investors should target fundamentally sound and dividend-paying stocks for possible capital appreciation as the year winds down, giving way to 2020, just as was noted in the 10 golden stocks and trading ideas for 2020 discussed during the Investdata 2020 Traders & Investors Summit.
Also, traders and investors need to change their strategies owing to NSE's pricing methodology, CBN directives and its impact on the economy in the nearest future.
Meanwhile, the Investdata team welcomes you to a bullish 2020. The home study packs of Invest 2020 Opportunities and Trade Ideas Summit containing the 10 Golden Stocks for 2020 are available. To obtain your pack, send 'Yes' or 'Stock' to 08028164085, 08032055467, 08111811223 now.
Ambrose Omordion
CRO|Investdata Consulting Ltd
info@investdataonline.com
info@investdata.com.ng
ambrose.o@investdataonline.com
ambroseconsultants@yahoo.com
Tel: 08028164085, 08032055467