Ecobank Nigeria Unveils Four Millionaires In Super Reward Scheme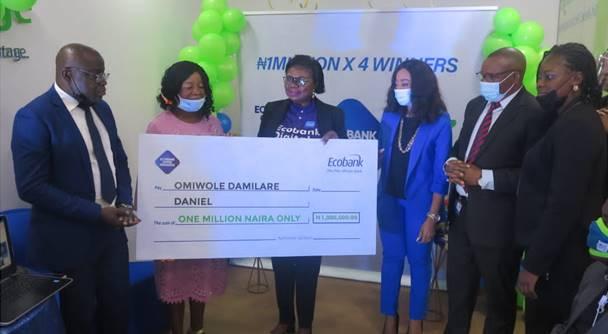 Ecobank Nigeria recently presented the grand prize of N1 million cheque each to four winners that emerged from its Super Reward Scheme.
The four winners, according to a statement by the bank, are Tsoho Alaye, Federal Capital Territory/Northern Region; Badero Modupe Olufunmilayo, Lagos Region; Omiwole Damilare Daniel, Midwest, and South West Region; and Hayford Gogo Lawson, South-East and South-South.
Also, at the end of the four months campaign, 800 customers won N25,000 weekly in batches of 50 per week, while the four millionaires emerged in each of the delineated regions.
The campaign, the statement said, was to reward customer loyalty, adding that the country was segmented the country into these four regions from where one millionaire each emerged, for equitable representation of its customers' base.
Continuing, Ecobank Nigeria explained that winning was based on the highest deposit and transaction value within the campaign duration.