Bara Finance Not Licensed By SEC Nigeria- Investigation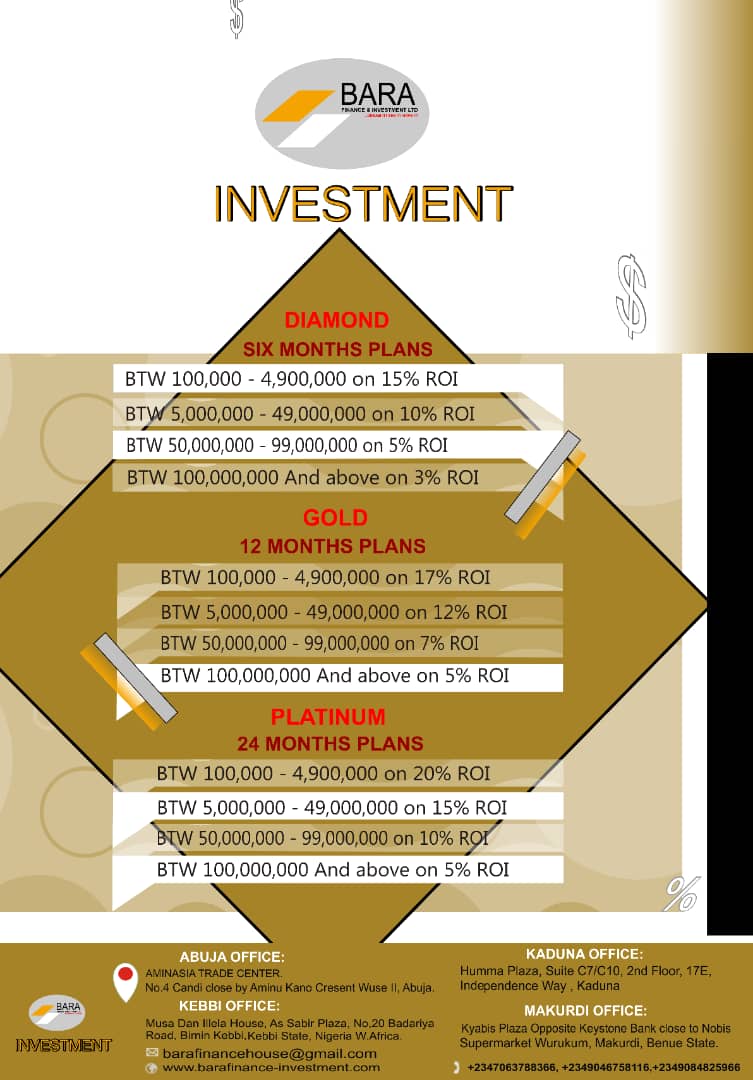 The new management of the Securities & Exchange Commission (SEC) led by Lamido Yugudu, who recently assumed office as Director-General, like the successor interim management under Ms. Mary Uduk, sure has its job cut, especially as regards keeping unregistered investment and fund managers out of the financial system.
The latest rave is a self-styled fund manager- Bara Finance and Investment Company Limited, which is fast gathering followership among Nigerians eager for mouth-watering returns on their investment at a time yields on treasury bills have moved closer to zero, just as interest rates can no longer break the 1.25% ceiling as recently set by the apex bank.
Checks on the SEC website (www.sec.gov.ng) revealed that Bara Finance and Investment Company Limited is neither registered as a capital market operator neither, not an investment scheme and therefore not listed among those permitted to operate in the nation's capital market. It could therefore have been operating as a Ponzi scheme since only those registered with the commission are permitted to play any role in the capital market.
A look at the company's website: www.barafinance-investment.com, shows that although there is no mention of what the company does specifically to achieve its mission of fighting "the chain of poverty through our creative and global model of financial derivatives, innovations, collaboration/partnership, synergy, and stakeholders engagement."
The closest on its website to the fact that it is acting as fund manager, or operating a collective investment scheme, is the statement: "We currently have over five thousands active subscribers with a target to be your One-Stop investment destination and Fund/portfolio Management."
According to its flyer made available online by a curious client, seen by our correspondent, Bara Finance promises 15%, 17% and 20% returns to those who invest under its six-month, one year and two-year plans respectively.
there is the "Diamond" six-month plan that offers 15% returns for amounts between N100,000 and N4.9m; and 10% for between N5m and N49m.
Curiously, however, the company is only offering 5% for investments of over N50m and N99m; and 3% for amounts ranging between N100m and above.
Under the 'Gold' 12-month plan category, the company which gave its headquarters address as Aminasia Trade Centre, No. 4, Kandi Close by Aminu Kano Crescent Wuse II, Abuja, those who invest between N100,000 and N4.9m will get 17% ROI; 12% for between N5m and N49m; while between N50-N99m and N100m and above are entitled to 7% and 5%.
The third category is the platinum 24-month plan that attracts 20% returns for amounts ranging from N100,000- N4.9m; 15% for N50m to N99m; and 5% for N100m and above.
Expectedly, the company has attracted clients from the investing public with some testifying that they indeed invested and have started enjoying the returns, assuring others that it is "legit" (slang for legitimate), rather than a scam.
According to the discussion thread on www.nairaland.com, many may have fallen for the offer since someone first made enquiry on July 3, 2020, lured by the testimony of those who have benefited.
"I am currently enjoying from my returns. There are legit. just make sure you are contacting the right source," proclaimed one of the respondents.
Information on its website Described Bara Finance & Investment Limited as "a world class and people-oriented Finance & Investment Company duly incorporated with the Corporate Affairs Commission in West Africa (Nigeria)."
The company, established with the core vision of bridging the wide gap of financial disparity between the upper and lower class by helping majority out of poverty perpetually, was "re-incorporated on the 28 of February, 2020 with 100,000,000.00 shares capital and later increased to 200,000,000.00 shares capital."
To achieve this vision and mission, the promoters said a team of "seasoned and experienced financial experts, risk managers and investment analysts particularly in the area of Fund/Portfolio Management," was assembled to fight the chain of poverty.
This, it plans to achieve through "creative and global model of financial derivatives, partnership, synergy and stakeholders," in addition to embarking "on massive youth empowerment through our various training programmes on SMEs, savings culture for investment opportunities, opportunities in the agro-allies' subsector of the economy all in complementary of Federal Government effort to speed up economic growth and sustainability."
Section 160 of the Investment and Securities Act, 2007 (ISA) provides that "no person shall establish or operate a collective investment scheme, or carry on or purport to carry on the business of a collective investment scheme unless such scheme is authorised by and registered with the Commission."
The SEC only recently disclaimed the activities of iBSmartify Nigeria, saying neither the entity nor the illegal products they offer are registered or regulated by the commission.
It said in a statement: "The attention of the Commission has been drawn to the activities of iBSmartify Nigeria the promoters of a Blockchain known as iBledger (iBcashcryptocurrency) and InksNation.
"The general public is hereby advised that neither the promoters of iBSmartify Nigeria nor the illegal products they offer are registered or regulated by the Commission.
"In view of the above, the Commission therefore warns the general public that any person dealing with the said entity and others in the same business in any manner whatsoever, does so at his/her own risk".
Recall that the SEC had also raised the alarm over the proliferation of the operation of unlawful/unlicensed investment schemes, with promises of huge, but unjustifiable returns on investment and has warned Nigerians against patronising them.
According to the SEC, "These activities are perpetrated by suspected promoters of Ponzi and other fraudulent schemes under the following identities: Loom Nigeria Money, Box Value Trading Company Ltd, Now-Now Alert, Flip Cash Investment, Result Investment Nigeria Limited, Helping Hand and Investment and No Failure Development and Empowerment Nig. Ltd.
Others are "Federate Investors Trading Company, Jamalife Helpers Global Ltd, Flexus Global Solutions and Investment Ltd, United Capital Investment Company Limited".
"Members of the public are to note that by virtue of the provisions of Section 38(1) of the Investments and Securities Act (ISA) 2007, only persons registered with the Commission can engage in capital market activities, thus making the actions of these entities listed above unlawful.
"Consequently, the general public is hereby advised to refrain from investing in any scheme of the entities listed above, and WARNS that any person who invests in an unlicensed/unlawful scheme does so at his own peril".