Caution Still On NGSE, But Investors Should Target Sound, Dividend Stocks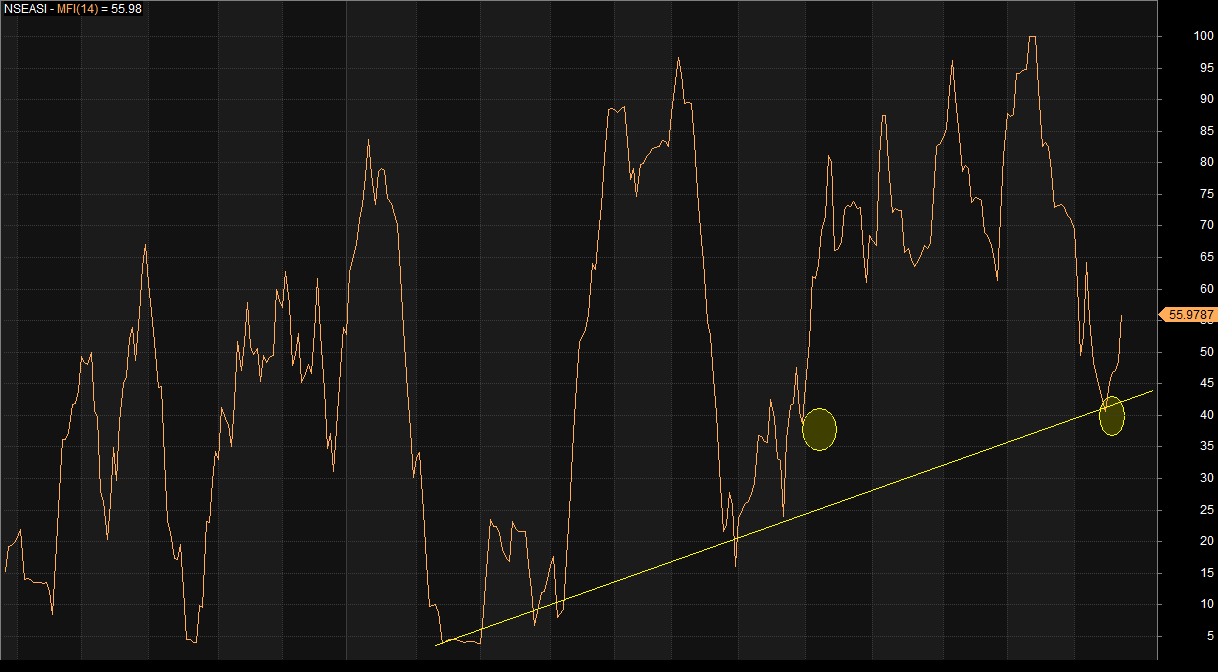 Market Update for December 22
There was noticeable display of indecision among buyers and sellers on the Nigerian Stock Exchange (NSE) on Tuesday, despite the inflow of funds into Dangote Cement in response to its share buyback programme, making the 2020 Santa Claus rally to seemingly stand on one leg. We note that other stocks that would normally drive the rally at this time are yet to move up, ahead of the seasonal holidays.
The composite NSE All-Share index, during the session, closed higher for the seventh consecutive session with price appreciation recorded by Dangote Cement, even as volume traded for was above average on a negative breadth that reflected a cautious trading pattern in the midst of a bullish trend. This revealed tell-tale signs of a struggling market and brisk recovery at the centre of Santa Claus rally that calls for cautious trading, following which we recommend that investors should stay in fundamentally sound stocks with high dividend payout history.
Also during the session, Money Flow Index revealed the entrance of funds into the market, despite the mixed session, but investors should target value and growth stocks while riding with the trend, ensuring like every smart investor that our Investdata 10 golden stocks for 2021 are in their portfolios. These are stocks expected to drive the NSE's ongoing V-shaped market recovery.
Notice that the benchmark index just broke out major resistance levels, trading above all the moving averages on the daily and weekly chart to indicate the presence of smart money.
Investors and traders also should not underestimate the possibility of market correction any time soon because profit-taking is inevitable, even while the market has a trading pattern that supports an uptrend. The summary is: anything is still possible, considering the negative position of market breadth and prevailing trading pattern.
Tuesday's trading started on the upside in the morning and was sustained for the rest of the session, despite oscillating on rekindled buying interests in banking stocks, and profit-taking that pushed the NSE index to an intraday high of 37,952.36 basis points from its low of 37,443.40bps. Thereafter, the index closed higher than it opened at 37,893.61bps.
Market technicals were positive, but mixed, with volume traded higher than the previous day in the midst of breadth favoring the bears on a positive sentiment as revealed by Investdata's Sentiments Report showing 88% 'buy' volume and sell position of 12%. Total transaction volume index stood at 0.90 points, just as the impetus behind the day's performance was relatively weak, with Money flow index looking up to at55.98pts, from the previous day's 48.50pts, an indication that funds entered the market as funds are looking for higher returns and yields.
Index and Market Caps
At the end of trading, the benchmark NSEASI gained 450.21 basis points, representing a 1.20% growth, from its opening figure of 37, 443.40bps, just as market capitalization rose by N235.3bn to N19.81tr, from N19.57tr, also representing 1.20% appreciation in value.
Attention: If you have not signed up for Investdata buy and sell signal setup, don't delay. We have just added 20 STOCKS TO WATCH THAT ARE BUILDING NEW BULLISH BASE to our watchlist. These stocks are with double potentials to rally considering their current market prices.
To become a member, send 'YES' or 'STOCKS' to the phone numbers below. Take advantage of this service to buy right and sell right at the current market recovery ahead of portfolio reshuffling and repositioning as we await an economic reform policy to stimulate and re-track the economy again.
The session's upturn was driven by demand for Dangote Cement, Zenith Bank, UBA, Access Bank, Cadbury, and Eterna, among others, which impacted positively on Year-To-Date gains, raising it to 41.17%, just as YTD gain in market capitalization soared to N7.18tr, representing a 48.63% growth.
Mixed Sector Indices
The performance indexes across the sectors were mixed and largely bullish, as the NSE Insurance and Oil/Gas closed 0.49% and 0.33% lower respectively, while NSE Industrial Goods led the advancers after gaining 3.35%, followed from afar by Consumer Goods and Banking that were higher by 0.61% and 0.06% respectively.
Market breadth was negative, as losers outpaced gainers in the ratio of 22:15; activities in volume and value terms were up by 3.72% and 136.01% respectively as investors exchanged 442.22m shares worth N10.29bn from the previous day 426.33m units valued at N4.36bn. Volume was driven by Zenith Bank, Mansard Insurance, Guaranty Trust Bank, Japaul Gold and FBNH.
Eterna and FTN Cocoa were the best performing stocks during the session, gaining 10% and 8.82% respectively, to close at N4.51and N0.74 per share, on the news about the entrance of a new majority investor, and sentiment. On the flip side, Consolidated Hallmark Insurance and Red Star Express lost 10% and 9.62% respectively, at N0.27 and N3.10 per share, on profit taking and market forces.
Market Outlook
We expect this trend to continue on buying interests in Dangote Cement, despite the profit taking that hit the stock ahead of December 31, 2020, while other stocks that drive the Santa Claus rally wake up. There is also on the interplay of market forces, as traders and investors interpret the impact of funds rotation and the current happens globally. Investors should, at this point, target solid stocks selling at discount in the midst of the ongoing cautious trading, portfolio diversification ahead of seasonal trends and expectations.
A breakout of 36,000 points will confirm a new uptrend as the market awaits the circular flow of funds to settle in higher yields instruments with a shorter timeframe, while waiting to see the impact of the adjustment in CBN policies. A breakout of this resistance level will create buy opportunities for discerning traders and investors.
Also important is the fact that technical indicators reveal overbought on the weekly and daily chart, while RSI reads 70 points and above, a situation that supports the likelihood of another correction.
However, the strong and faster recovery may continue, depending on market forces, going forward, as propelled by the quality of Q3 earnings presented, especially by the tier-1 banks, even as analyses of numbers released so far have helped repositioning of investors' portfolios on the strength of sectoral and company's performances.
The NSE's index action and indicators are looking up in the same direction on a very high traded volume and positive buying sentiments.
Again, the current undervalued state of the market offers investors opportunities to position for the short, medium and long-term, which is why investors should target fundamentally sound, and dividend-paying stocks for possible capital appreciation in the rest of the year.
Meanwhile, the home study packs on INVEST 2021 New Opportunities & New Paths To Profits Summit materials and 10 Golden Stocks for 2021, Strategies and How to invest profitably in this Changing Market Dynamics/ Recession, Mastering Earnings Season For Profitable Investing and Trading in any market situation/ cycles, Life Beyond COVID 19 Investment Opportunities In The Stock Market are now available. To obtain your pack send 'Yes' or 'Stock' to 08028164085, 08032055467, 08111811223 now.
Ambrose Omordion
CRO|Investdata Consulting Ltd
ambrose.o@investdataonline.com
Tel: 08028164085, 08032055467