The post-election positive sentiment and increasing buying interest in the month of May, and ahead of the transition of power to a new administration supported the uptrend and recovery mood of the Nigerian Exchange, as revealed by volume and volatility that creates buy and sell opportunities for technical traders and discerning investors.
The market's upbeat nature was attributed to the high expectations from the incoming government and low-price attraction, despite the mixed macroeconomic reports and headwinds. To avoid being caught in any web in this recovery or rally, understanding of market sentiment and psychology through technical tools like resistance and support levels, reversal and continuation chart patterns, indicators and other strategies is important.
Price actions and chart patterns are the fundamentals of technical analysis including price and volume at any given time necessary to support analysis and making investment decisions. Since chart patterns repeat themselves in any market cycle, they are relatively easy to spot because they appear on every time frame- daily, weekly and monthly.
There are three types of patterns, depending on how price is likely to behave after completion. The trend that develops after completion of the pattern is in the opposite direction to the trend prior to formation of the pattern is said to reverse, while the trend that develops after completion of pattern is in the same direction as the trend prior to formation of the pattern, is said to continue.
Below are price actions and chart patterns to watch in post inauguration week.
NGXASI WEEKLY CHART (Opening chart)
NGX Banking

NGX INSURANCE

NGX CONSUMER GOODS

NGX OIL/GAS

NGX INDUSTRIAL GOODS

NGX 30

PZ Cussons

CADBURY Nigeria

DANGOTE SUGAR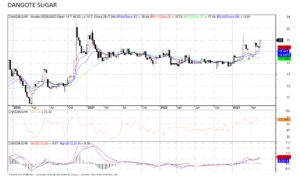 NASCON

CUTIX

TOTAL ENERGIES

GTCO

ACCESSCORP

ZENITH BANK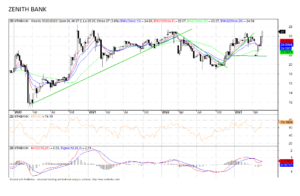 UBA Group

FCMB Holdings

FBN Holdings

AXA MANSARD

NAHCO