Company News
Dangote Says $2bn Fertilizer Plant Can Earn $400m Yearly Exports Revenue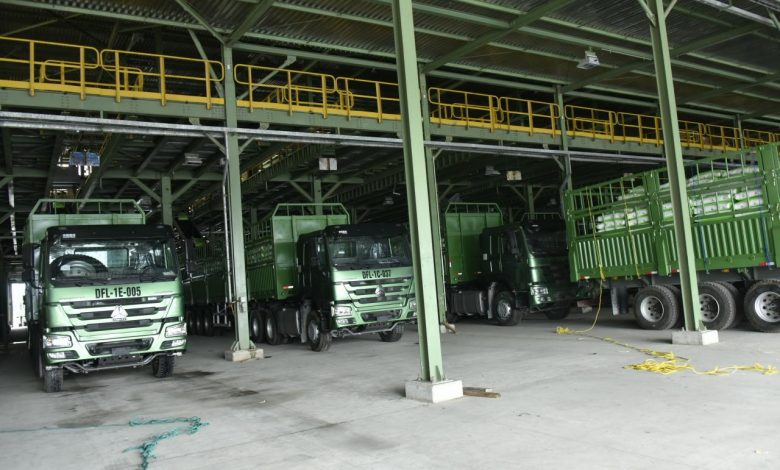 Picture caption: Some Dangote Fertilizer trucks at the Loading Bay, during the products Truck-Out to market in Lekki, Lagos on Friday, June 11, 2021.
Competition in the Nigerian fertilizer market is expected to become keener, following last Monday's reported entry of the Dangote Group, with the opening of its $2bn Urea fertilizer plant for business.
Group Executive Director, (Strategy, Capital Projects & Portfolio Development) · Dangote Industries Limited, Devakumar Edwin, announced at the weekend that the Plant has capacity for over 4,500 tonnes of urea and rolls out a minimum of 120 trucks daily.
The Fertilizer plant is expected to manufacture three million metric tonnes of urea per annum, enough to meet local demand and exports, thereby reducing the nation's fertilizer imports, and even generating $400m yearly from export to Africa countries.
Currently, he continued, national demand for fertilizer is less than one million tones, "and we alone can produce three million tonnes, so we can easily meet local demand and also produce for export to other West African countries."
Dangote Fertilizer, he stressed produces "a bulk application fertilizer, (and) ach crop in Nigeria or globally will require Nitrogen and this is a rich fertilizer, having 46% nitrogen…"
Aside fertilizer production, the company, according to Edwin is already working to support farmers with the requisite training on application of the fertilizer and even establish laboratories across the country for proper soil examination.
Continuing, he said the plant is unique, because apart from producing, there is a focus on supporting farmers also through education and "establishing laboratories across the country and even mobile laboratories where we can drive around and take soil samples for proper examination to effectively grow the agricultural outputs across the country."
Meanwhile marketers and farmers in Kano have described the newly introduced Dangote Fertilizer as a game changer for the expected agricultural revolution in the country.
The management of Dan-Hydro fertilizer Company in Kano, which took delivery of the first batch of trucks, applauded the timing and strategy for the introduction, expressing happiness that it would end the perennial shortage of fertilizer across the country.