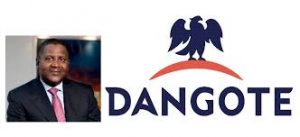 *To Provide 3,000 Jobs
Poised to conserve forex and in view of the huge amount spent annually importing thousands of trucks for distributing its products from plants within Nigeria and across the Africa continent, plans are now at advanced stage by the Dangote Group to begin assembly of Chinese heavy duty trucks at its Oba Akran, Ogba, Ikeja, Lagos premises.
The deal for the $100-million, 10,000 per year capacity plant was signed in May 2014, according to CHINA DAILY, making it the eighth of Shandong, China-based National Heavy Duty Truck Group Company Limited (SINOTRUK), to be built abroad.
The plant, a source told INVESTDATA News, will be 60% owned by Dangote Group, trading under Dangote Industries Limited, leaving SINOTRUK with the remaining 40% equity stake.
Consequently, Dangote Agro Sacks Limited, which occupied the Ogba premises until recently, has been relocated closer to the group's major operational hubs, particularly the cement plants in Obajana, Kogi State and Ibeshe, Ogun State.
The source also told INVESTDATA News that the assembly plant deal will generate employment for an estimated 3,000 workers.
Nigeria remains one of the most important markets for SINOTRUK, with Dangote Group using the product for distribution of its products, like cement, sugar, flour and pasta, among others, even in its plants across the continent.
The deal is also coming ahead of next year's opening of the $17 billion, 650,000 barrels per day capacity Dangote Refinery located in Lagos expected, to begin operations next year, creating over 300,000 direct and indirect jobs by first quarter of 2019, which would require a lot of long trucks for product distribution.
Still on the refinery, INVESTDATA also gathered at the weekend that about 300 engineers have been sent on training abroad to handle sensitive aspects of the multi-billion Dollar investment in petroleum products and petrochemical plant.
In 2014, according to reports, Dangote Group imported 12,000 trucks from China. That year alone, and despite shrinking domestic and overseas demand, Sinotruk still secured orders for 176,000 vehicles, up by 9.94% from the previous year.
Of this, Sinotruk sold 34,000 abroad, contributing to almost 20% of its total sales volume and making it the largest exporter of heavy trucks in China for 10 consecutive years. Revenue from overseas sales amounted to 9 billion yuan ($1.45 billion), accounting for about 13% of the total.
"We realized we had to become global more than ten years ago when few China made heavy trucks were being exported," Cai told China Daily, noting that the company secured good market shares in almost all developing countries.
Other 30 of its 96 export markets are in Africa, where about 15,000 vehicles are sold every year.
Earlier in 2013, the group represented by its President, Alhaji Aliko Dangote signed a contract in Beijing with the Chinese firm, through its chairman, Ma Chunji, for the supply of 1,700 heavy trucks and 1,700 semi-trailers.
Final technicalities on the deal were concluded on the eve of the state visit to China by then President Goodluck Jonathan, in what analysts said, marked a significant milestone trade relations between both countries.
Sinotruck with its headquarters and main manufacturing facility in Jinan, capital of Shandong province, was founded in 1956 as the pioneering enterprise in the development of heavy-duty truck manufacturing in China.
The truck rolled off the company's assembly line in 1960 and has developed strategic technical partnerships with major international brands such as Steyr in Austria and Mann in Germany. These have helped Sinotruk penetrate key global markets.