Expect Mixed Sentiments On Reactions To Q3 Earnings, Bargain Hunting, Low Prices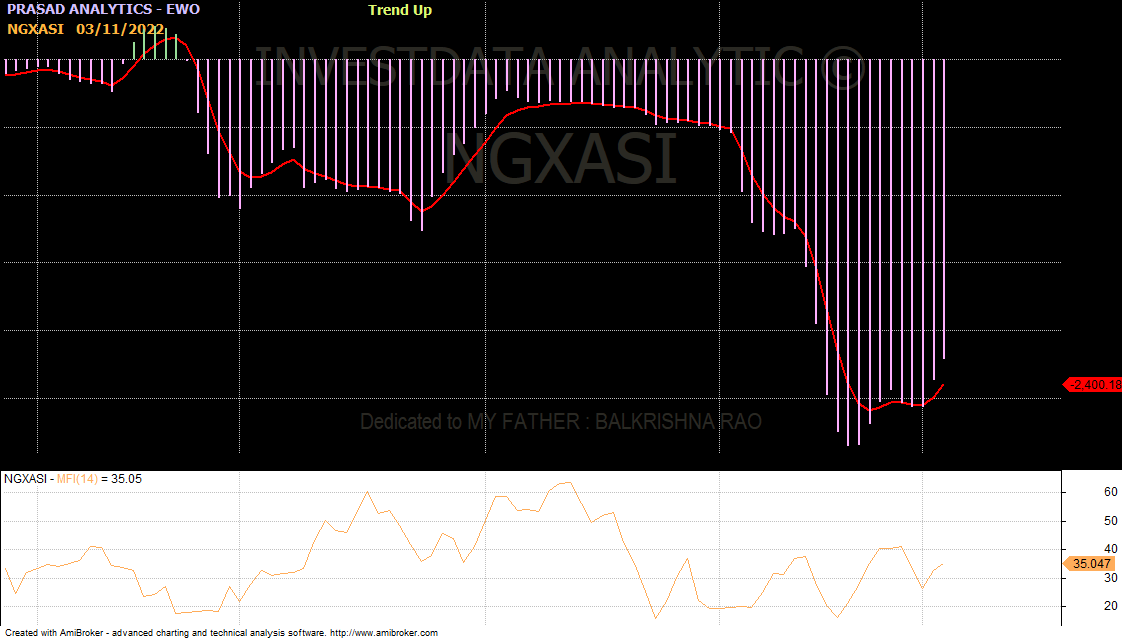 Market Update for November 3
Mixed sentiment continued on the Nigerian Exchange Thursday as the benchmark NGX All-Share Index closed lower again, thereby halting previous day's gain on a very high traded volume and negative market breadth. Also, market players continue to digest the recent released corporate earnings and align their portfolios ahead of year-end seasonality, macroeconomic reports like October inflation data, Q3 GDP and MPC meeting late in the month, coupled with the implementation of the Naira redesign by the Central Bank of Nigeria (CBN). All these are expected to shape the market in the midst of better than expected corporate earnings, especially now that most stocks have touched their 52-week lows and some are tending towards their year low, creating more entry opportunities for discerning investors.
Investing in the stock market requires deliberate efforts, if you must be on the winning side of the market at the right time, because it pays to take the opposite side of trade when bull or bear sentiments among market players hits an extreme level. This is called contrarian investing, which has been behind the famous quote by Warren Buffett: "be fearful when others are greedy and be greedy when others are fearful." It is important for investors to know what to do per time, relative to the state of the market and happenings in the area of market fundamentals and economy at large.
Despite the prolonged mixed investor sentiments that recently reached its lowest level due to selloffs and profit-taking resulting from low liquidity and confidence ahead of 2023 general election and other factors, this provides huge rally opportunities for discerning traders and investors, as the NGX seems to rebound and signal lower highs at the end of midweek's trading.
To navigate the rest of the year profitably using fundamental and technical analysis to run, join investdata live sessions at noon every trading day "and also get investdata technical toolbox to play the current state of the market do suggest that discerning investors are gradually becoming greedy, while others are fearful, as seen in the recent range market. Despite the mixed sentiment witnessed, it is time to go shopping for undervalued stocks, sectors and the next insider playing opportunity."
Oil price rebounded to continued its oscillation as it trades at $96.94, in the midst of another rate hike and other unfolding events.  Also, just as the continued fear of global recession and supply tighten due to Russia Ukraine war that are getting worst. Coupled with the impact of hawkish monetary policy by central banks, just as China COVID-19 lockdown come to an end. The up and down movement of oil price also continues to drive volatility in the face of rising interest rates and inflation. Despite the bailout package of the Chinese government to simulate economic activates and stable employment, as well as that of Germany aimed at managing the energy crisis.
Thursday's trading opened on the downside, which was sustained throughout the session on buying interests and profit taking in blue chip companies, a situation that pushed the NGX's index to an intraday low of 44,209.17bps from its highs of 44,286.16bps before closing below its opening level at 44,236.70bps.
Market technicals were positive and mixed, with higher volume of trade than the previous session in the midst of breadth favoring bears on a mixed sentiment as revealed by Investdata's Sentiments Report showing 36% buy position and 64% sell volume. The total transaction volume index stood at 1.38points, just as energy behind the day's performance was weak as Money Flow Index is looking up at 35.05pts, from the previous day's 32.62pts, indicating that funds entered the market, despite closing lower.
For you to successfully invest and trade in this volatile market, order for Investdata's video on Buy & Sell Technical Analysis Toolbox to navigate the volatile market profitably, enhance trading decisions and boost your bottom line. Also, to up your game in stock trading and investing, understanding the key to trading price and index action will go a long way to make the difference in your trading results, check out the video materials below.
Index and Market Caps
At the end of Thursday trading, NGX All-Share Index, slide by 46.32bps, closing at 44,236.70 basis points, after opening at 44,283.02bps, representing a 0.10% drop, just as market capitalization fell by N25.23bn, closing at N24.09tr from the previous day's N24.12tr, which also represented a 0.10% value loss.
Attention: If you have not signed up for INVESTDATA's buy and sell signal setup, don't delay, because the number of stocks entering their buying range has just increased to 24 as they build a new bullish base and positive chart patterns to be on our watchlist. These stocks have double the potentials to rally, considering their earnings prospects and the oscillating moves in a recovery market and economy.
To become a member, send 'YES' or 'STOCKS' to the phone numbers below. Take advantage of this service to buy right and sell right at the current oscillating market in the midst of earnings season, portfolio reshuffling, and repositioning as we await an economic reform policy that can stimulate and re-track the economy to the path of growth and development.
Meanwhile, the session's downturn was driven by selloffs and profit taking in the shares of Geregu, Oando, FBNH, Unilever, Transcorp, NB, Fidelity Bank, Caverton and NGX Group, among others, which impacted mildly on Year-To-Date gain, reducing it to 3.56%. Market capitalization gain YTD increased to N1.11tr, representing a 8.81% rise over the opening level for the year.
Mixed Sector Indices
Sectorial performance indexes were mixed as the NGX Banking and Industrial goods closed 0.05% and 0.01% higher respectively, while the NGX Insurance led the decliners after losing 1.01%, followed by Energy and Consumer goods with 0.96% and 0.21% respectively.
Market breadth was negative with losers and gainers in the ratio of 20:12; just as transactions in volume and value were up, with investors exchanging 215.15m shares worth N1.91bn. Volume was driven by trades in Accesscorp, Transcorp, Sterling Bank, Fidelity Bank and Zenith Bank.
UPDCRETI and Trans-nationwide Express were the best performing stocks, after gaining 9.09% and 8.82% each, closing at N3.00 and N0.74 per share respectively on market forces. On the flip side, Prestige Assurance and Caverton lost 9.80% and 9.38%, closing at N0.46 and N0.87 per share, purely on profit taking and selloffs.
Market Outlook
Being the last trading day of the week, we expect mixed sentiments to continue on reactions to corporate earnings and bargain hunting in the midst expected macroeconomic data and election uncertainty, as investors are taking advantage of the low prices to reposition ahead Q3 GDP report.
Invest 2023 Traders & Investors' Summit
Theme: Preparing For A Financial Market Reset
Sub-Topics
Stagflation, Economic Headwinds & The Stock Market: Are Market Players Prepared?
Comprehensive & Complete Wealth Building Actionable Strategies for 2023
Identifying Great Value Stocks For Santa Claus & Post-Election Rally
The Power of Technical Tools In Today's Volatile Market
Building Recession-Resistant Portfolios
The Role of Commodity Trading In Wealth Creation, Agricultural Development
Fixed Income Market Slice & Dice In A Changing Interest Rates, Inflationary Environment
8, Four Steps To Simplify Your Day Trading & Understanding the power of Breakout Trades
Investdata Consulting Ltd will hold the 11th edition of its annual Investment conference tagged Invest 2023 Traders & Investors Summit, which has over the years remained a game changer for market players. This edition is aimed at helping stakeholders prepare for the financial market reset expected to happen next year by identifying opportunities and bringing tradable ideas for profitable investment as we enter election year. This one-day event is yet "Another wealth transfers for the prepared as the bull is underway after this correction "
Are you prepare to move cash to profitable assets ahead of year-end and the 2023 general elections, Invest 2023 is a don't miss summit that is capable of completely changing your view about wealth creation in a disconnect system where the economy and stock market are headed and when you should fully plunge in or hold cash. Join equity market experts and other experienced professionals as they discuss a "Big Picture Perspective" of where the stock market and other investment windows are today, and what signs to watch for in the coming months.  Don't miss this summit.
This annual summit offers you, whether an investor, or trader an insight, perspective and expectation in the new year. This edition is exceptional, given the increasing headwinds across the globe and locally, ranging from the aggressive rate hikes, soaring inflation, geopolitical tensions, and uncertainties surround the 2023 general election like others before it. There will also analyses on the status of different investment windows and opportunities ranging from the economy, equity, bond, commodity markets, using fundamental and technical tools.
Looking at history, there is no doubt that a correction or rebound is on the cards at some stage over the coming months. However, this big questions on everybody's lips include when this will occur and whether it will end this bull-run or market recovery. Whatever happens, what is the best way to Prepare rather than trying to Predict? This and more, are what Invest 2023 Summit will address.
What to expect at this Summit?
A. How to take advantage of the correction for huge profit
B. Strategies to stay in profit, overcome market correction/pullbacks
C. How to hedge against inflation and preserve your portfolio
D. Understanding the power of liquidity and circular flow of funds in financial markets
E. Risk/return from Bonds to stocks right now.
F. Commodity trading as another  investment window to boost return
The exact sectors and tickers you should be looking at this volatile market
Market events and others you can use to trade in any market situatio
Benefits of attending
10 Golden Stocks for 2023
ii. Admission to Investdata Buy & Sell WhatsApp Platform
iii. Among others
"Invest 2023 – Connects you to new trade opportunities and ideas to enhance your trading returns
Don't miss this summit, if you have any exposure to the stock market, either directly or indirectly via managed funds of any kind……
Date: December 3, 2023
Time: 9am
Fee: N30,000
Venue: Zoom
If you want to reset your profit by taking advantage of opportunities in financial market and assets repricing in 2023? Send Yes to 08028164085, 08179547605 now.
Ambrose Omordion
CRO|Investdata Consulting Ltd
ambrose.o@investdataonline.com
Tel: 08028164085, 08179547605