Expect Mixed Trading As Selloffs Moderate Amidst Bargain Hunting On H1 Realignments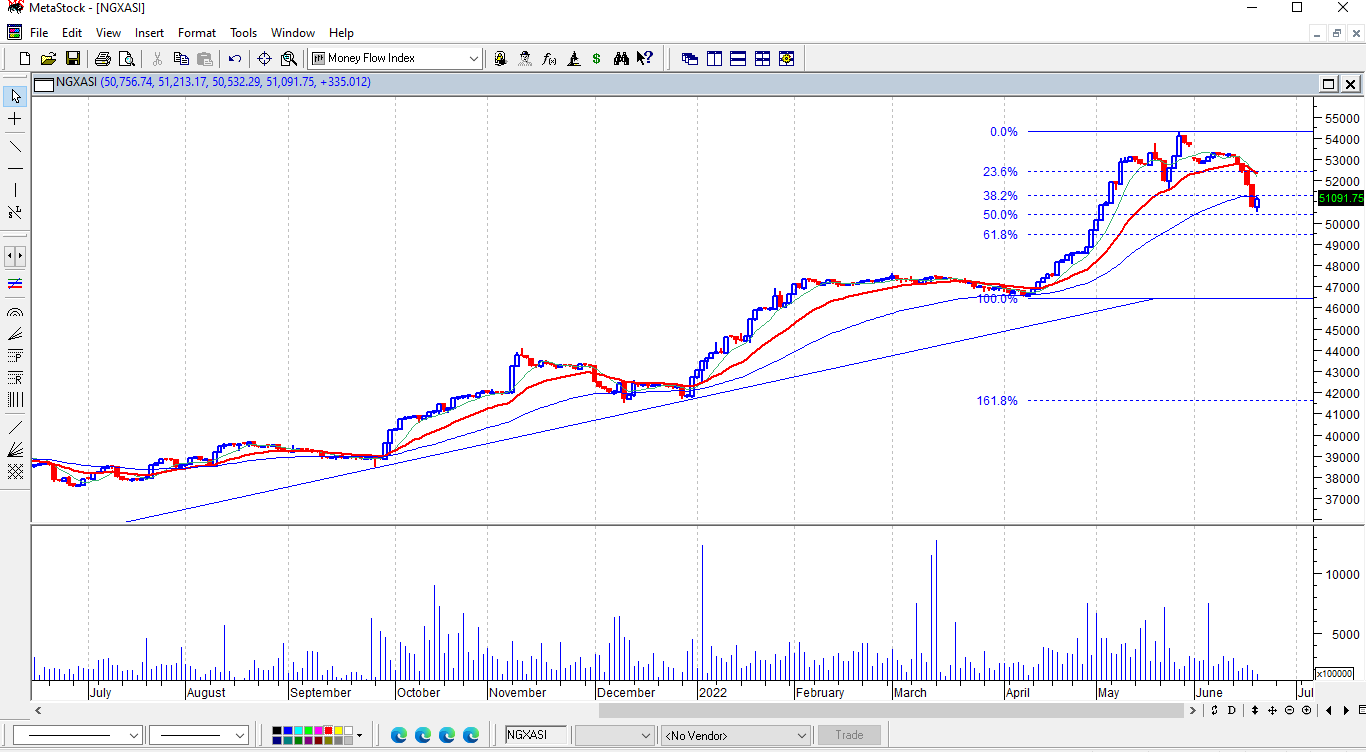 Trading on the Nigerian Exchange on Tuesday was mixed as the composite NGX All Share Index closed higher on low traded volume and negative market breadth, thereby halting five straight days of decline and selloffs as buying interests were rekindled across some major sectors. This impacted the index positively, just as sectorial performance for the session witnessed mixed sentiments and momentum following the rebound in industrial goods, banking and energy stocks.
The seeming rebound in the midst of a five-day price correction in reaction to the rate hike by the Central Bank of Nigeria (CBN) at the last Monetary Policy Committee (MPC) meeting needs to be confirmed ahead of the quarter's window dressing and the Q2 earnings reporting season, as it concerns the rising inflation across the globe and impending global economic recession. Also, all eyes are on the half-year corporate earnings and domestic economic data, while buying sentiments signal continues across some sectors, as funds flow into fixed income instruments from risk-averse investors. This is due to the increase in interest rate that followed the May inflation rate which soared to 17.71% the highest in 11 months since June 2021, according to National Bureau of Statistics (NBS) reports released recently.
The NGX index's action rebounded to trade above 51,000 basis points after pulling back to 50,532.46bps from its peak of 54,012.24points. This calls for a change in trading strategies, ahead of the interim dividend-paying season, just by allowing hot economic and market news to guide your investment decisions when picking stocks in this season and beyond, especially during this pre-election year volatility and uncertainties. We, however, note that fixed income market players are further threatened by the inflation rate that has been on the rise since November 2021, from 15.4% to 17.71%, just a few points shy of the 17.75% recorded in June 2021. This is driven by the sustained rise in food prices, given the nation's dependence on imported foods, especially grains. Also, there is the impact of rising insecurity, diesel prices, the shortage of US$, and the war between Russia and Ukraine, among others, all of which have kept inflation at double digits since 2016.
To avoid the old mistakes and costly losses of the past in this changing market momentum, we invite you to attend the Investdata Q3 Master Class, ahead of the half-year earnings reporting season and general elections. We note that the major political parties just concluded their primaries to select presidential candidates ahead of the February 2023 general election. Current developments in the market do suggest that discerning investors are gradually becoming greedy, while others are fearful, while actively buying more, as seen in the recent market corrections. Despite the selling sentiment witnessed before now, it is time to go shopping for undervalued stocks, sectors and hot stock opportunities for this market.
Oil prices pulled back again in the international market, oscillating to $109.8 per barrel, as the US economy for the first time since 1976 is set to outgrow China which has been slowed down by its zero COVID strategy, thereby impacting the demand for oil. This has been helped also by the discovery of new rigs in the US, just as the EU plans to cap gas prices in the midst of the embargo placed on the importation of Russian oil. There is a palpable worry that these chronic high energy prices continue killing the global economy, heightening inflationary pressures across the globe on a weak economic outlook. This is also influencing the monetary policies of central banks as they move to checkmate the impacts of the Russia-Ukraine conflict on the global economy to avoid economic recession. Nonetheless, Nigeria's soaring inflation is a potent threat to its fixed income market and investment yields, which should be an indication that there will be a reversal of funds flowing to the equity space in no distant time as institutional investors balance their portfolios.
Technically, the NGX index action signals a reversal that needs to be confirmed when trading opens on Wednesday. The index is trading below the 'T-Line' and 20-day moving average, as the market remains relatively strong, despite the negative outing it started the week. The strong support level has been within the 50,000-basis points region, while volatility persists and corrects towards the next breakdown is sported around 50,532.71bps. Should the index break this point, the next visible support is 50,247.43bps.
The possibility of the trend being sustained is high and a function of market forces and improved economic conditions during this month and beyond, following which we advise investors to play defensive stocks and reduce investment risks around the market. This, they can do by effectively using your stop-loss and trading your plans always by allowing your entry and exit strategies to guide you.
Tuesday's trading started slightly on the downside and was sustained till the signal of the afternoon, before rebounding on bargain hunting in Dangote Cement and other blue-chip stocks, a situation that pushed the NGX's index to an intraday high of 51,213.17bps from its lows of 50,532.29ps before closing above its opening points at 51,091.73bps.
Market technicals were negative and mixed, as volume traded was lower than the previous day in the midst of negative breadth and buying pressure as revealed by Investdata's Sentiments Report showing 82% buy position and 18% sell volume. The total transaction volume index stood at 0.50 points, just as momentum behind the day's performance was relatively weak as Money Flow Index is looking down at 31.28pts, from the previous day's 30.05pts, indicating that funds entered the market.
For you to successfully invest and trade in this volatile market, order for Investdata's video on Buy & Sell Technical Analysis Toolbox to navigate the volatile market profitably, enhance trading decisions and boost your bottom line. Also, to up your game in stock trading and investing, understanding the key to trading price and index action will go a long way to make the difference in your trading results, check out the video materials below.
Index and Market Caps
At the end of Tuesday's trading, the benchmark index NGXASI shed 335.01bps, closing at 51,091.75bps, after opening at 50,756.74bps, representing a 0.70% up. Similarly, market capitalization rose by N186.61bn, closing at N27.54tr, from the previous day's N27.36tr, which also represented a 0.69% value gain.
Attention: If you have not signed up for INVESTDATA's buy and sell signal setup, don't delay, because the number of stocks entering their buying range has just increased to 30 as they build a new bullish base and positive chart patterns to be on our watchlist. These stocks have double the potentials to rally, considering their earnings prospects and the oscillating moves in a recovery market and economy.
To become a member, send 'YES' or 'STOCKS' to the phone numbers below. Take advantage of this service to buy right and sell right at the current oscillating market in the midst of earnings season, portfolio reshuffling, and repositioning as we await an economic reform policy that can stimulate and re-track the economy to the path of growth and development.
Meanwhile, the session's upturn was driven by buying interests in Dangote Cement, MRS Oil. Livestock Feeds, Zenith Bank, Royal Exchange, Accesscorp, AIICO, UBA and Nahco, among others. This impacted positively on Year-To-Date gain, rising to 19.61%, while market capitalization growth stood at N4.74tr YTD, representing a 23.53% rise over the opening level for the year.
Mixed Sector Indices
Performance indexes across sectors were mixed, as the NGX Industrial goods, Energy and Banking indexes closed 3.86%, 0.68%, and 0.38% higher respectively, while NGX Consumer goods led the decliners after losing 0.11% followed by Insurance with 0.06%.
Market breadth was negative, as losers outnumbered gainers in the ratio of 22:14; just as activities in volume and value terms were down, after investors traded 166.96m shares worth N2.74bn, with volume driven by trades in Transcorp, UBA, GTCO, Zenith Bank and FBNH.
Livestock Feeds and MRS Oil were the best-performing stocks, gaining 10% and 9.80%, closing at N1.32 and N16.25 per share respectively on market forces and Q2 earning expectation. On the flip side, BUA Foods and Learn Africa lost 10% each, closing at N49.50 and N2.25 per share, on selloffs and profit taking.
Market Outlook
We expect a mixed trading as selloffs moderate in the midst of bargain hunters taking advantage of pullbacks in value stocks ahead of quarter-end window dressing and interim dividend season in Nigeria, while some March year-end audited accounts companies hit the market any moment from now. We note also the flow of funds into the fixed income segment on the rate hike by the CBN, as sector rotation persists and players digest the macro-economic data and earnings forecast released so far. Analysts are also expecting the inflation report to support recovery in the new July amid oil prices oscillation. Also, the market continues to interpret the rising inflation in relation to the crude oil price and other factors, in the midst of profit-taking and portfolio rebalancing. This will result in market players targeting fundamentally sound and dividend-paying stocks in the hope of dividend announcements.
Meanwhile, the home study packs on Comprehensive Stock Market trading course video, Stock Market Analysis Beyond Fundamental & Technical Analysis, 2022 Actionable Trading Plan and Opportunities in Q1,  INVEST 2022 Traders & Investors Summit materials and 10 Golden Stocks for 2022, Strategies and How to invest profitably in this Changing Market Dynamics/ Recession, Mastering Earnings Season For Profitable Investing and Trading in any market situation/ cycles, Life Beyond COVID 19 Investment Opportunities In The Stock Market are now available. To obtain your pack send 'Yes' or 'Stock' to 08028164085, 08179547605 now.
Q3 Investdata Master Class
Theme: Profiting From Asset Pricing In An Uncertain Market, Rising Rates Environment
The State of the Market & 2022H2 Opportunities: Looking at The Fundamental Mix, Alhaji Kurfi Garba MD/CEO Apt Securities & Funds Ltd
Power of Price Action in identifying Opportunities in Any Market Cycle, , Mr. Abdul-Rasheed Oshoma Momoh, Head Capital Market at TRW Stockbrokers Ltd
State of the Economy & Impact Doubling on Company Earnings in Negative Real Rate Of Return Environment. , Mr. Ambrose Omordion, Chief Research Officer, Investdata Consulting Ltd
Takeaway from the master class
Identifying profitable sectors and industries to hedge against inflation & down market
Growing your wealth through commodity-backed assets on the NGX
The power of double earnings on the share prices and performance of companies
Trading companies' earnings with technical tools for higher returns
Why all you need to make money in equity trading is price
The strength of NGX sectorial indexes in picking profitable trades
5 Hot Stocks to beat inflation and grow your portfolio
Benefits
Taking your trading to next level
Confidence to trade any market cycle
Set trading goals that will take processes, not financial goal of doubling money, or earning by 100%
Teach you how to handle your trading and decision making yourself
Trading your plan as pathway to higher results and stronger bottom-lines
Don't miss this ultimate source of knowledge about the market, if you desire financial independence through profitable trading, investing, and wealth-building for the rest of the year and beyond.
Date: July 2, 2022
Time: 9.am – 4pm
Venue: ZOOM
Fee: 50K
Smart investors and traders know that highly volatile markets create exceptional opportunities, while novice and amateur traders can often have a different response to volatility, which leads to FEAR.
Fear is the root cause of so many costly trading behaviors…hesitation to pull the trigger, incorrect position sizing, chasing the trend, and, market wave as a result of lack of trading plan and objective.
If you want to be on the list of successful investors and traders in Q3 2022, send STOCK to 08028164085, 08179547605 now.
Ambrose Omordion
CRO|Investdata Consulting Ltd
ambrose.o@investdataonline.com
Tel: 08028164085, 08179547605