Economy
FG Spends N6.643bn For Feeding Of Pupils In 20,000 Schools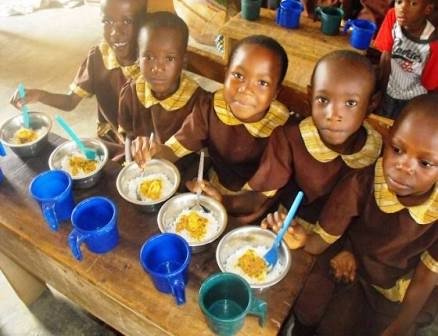 The Federal Government said on Monday that it has so far spent N6.643bn on a total of 2,918,842 schoolchildren from 19,881 schools in the 14 pilot states of the federation, under its National Home Grown School Feeding Programme.
The exercise, which kicked off late last year, is part of President Muhammadu Buhari administration's N500bn Social Investment Programmes, SIPs.
"With the commencement of a new academic session in September, it is expected that more schools will benefit from the programme, as more states would be added to the list, in line with the Federal Government target that 5.5 million schoolchildren would be fed by the end of 2017," according to a statement by Laolu Akande, Senior Special Assistant on Media & Publicity in the Office of the Vice President.
A breakdown of the figure showed that 3,325 schools have been covered in Kaduna State under the programme, with a total of 835,508 beneficiary schoolchildren who have been fed, making it the highest so far covered in terms of number of schools and pupils.
Benue followed closely with 2,220 schools and 240,827 pupils; while Zamfara recorded 198,788 pupils from 1,952 schools; and Bauchi has 1,904 schools already covered, comprising 307,013 schoolchildren.
In Osun, 1,850 schools have been covered and 151,438 pupils fed; 1,479 schools have been covered in Taraba, with 171,835 pupils benefitting so far; just as a total of 1,403 schools have been covered in Oyo State, comprising 107,983 pupils.
In Anambra, 807 schools have been covered and 103,742 schoolchildren fed so far, while in Enugu, 108,898 pupils in 622 schools have been fed; even as Ebonyi has so far covered 1,050 schools and 163,137 schoolchildren.
A total of 231,660 pupils from 903 schools have been fed in Ogun State; followed by a total of 95,134 schoolchildren in 882 Plateau schools; Delta and Abia states recorded 742 schools each, with 141,663 and 61,316 schoolchildren fed respectively.