Equities
Hope For More Full-Year Financials, Juicy Dividends To Positively Impact NSE Indices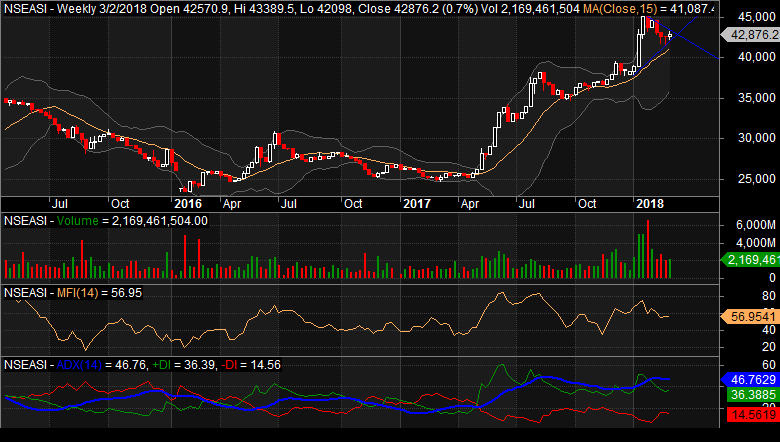 Market Update for Week Ended March 2 and Outlook for March 5-9
Trading on the Nigerian stock market last week followed through to consolidate the fortnight resistance of further decline of equity prices to halt the three-week of technical correction on the strength of increasing demand for dividend paying stocks and positive economic data that confirm continuation of the economic recovery and growth.
The expected corporate earnings are likely to reflect the nation's improving business environment on the performance of companies, just as has been the case with consumer goods makers released to the market so far.
For example, the numbers and payout from Nigerian Breweries and Nestle Nigeria, leaders in different segments of the manufacturing sector, reflecting the impact of the improving operating environment, compared to situation during the recession from which the country emerged in the second quarter of 2017. There are others in the financial service providers and oil companies like Africa Prudential, United Capital, Total and Seplat, which also submitted impressive numbers, recommending juicy dividend payouts. This has expectedly triggered interest among traders and investors as yields remain high despite the equally high sock prices, even as there are a few that are still hitting their new 52-week highs.
The mixed performance witnessed within the period under review followed recovery by stocks from the recent sell-offs as three more earnings reports were released within the period but were mixed as two beat market expectations. Africa Prudential and Nestle Nigeria posted strong numbers and announced dividend of 40 kobo and N27.50 respectively, just as United Capital's numbers were as projected, offering 35 kobo dividend.
On the strength of total dividend payout of N42.50 for 2017 financial year, Nestle Nigeria has impacted its yield to 16.96% which remain the highest so far in the market today.
The NSE's benchmark All-Share index for the week further resisted decline to remain above its 42,000 mark, as a result of the resumed buying pressure and short-lived panic sell-off ahead of the 2017 dividend declaration season that has resumed earnestly with more numbers trickling in during the period under view. Market technicals were strong and mixed for the period as traded volume was higher amidst negative breadth and stronger buying pressure of 80% and selling volume at 20% of the week's total transaction to halt three week's bearish transition as a result of the technical correction.
The NSE ASI for the period was up by 305.34 points to close at 42,876.23 points, after touching intra-week highs of 43,343.82 from an opening figure of 42,570.89 points, representing a 0.72% growth on a high volume higher than previous week's. Similarly, market capitalisation increased by N126bn to close higher at N15.4tr from its opening value of N15.3tr, representing a 0.82% value gain in investors portfolios.
There was positive sentiment with increasing buying positions targeted at dividend paying stocks, with particular attention at Zenith Bank, UBA, Guaranty Trust Bank and others in different sectors. With more numbers expected, there is the high possibility of them beating estimates to reflect the positive economic data being reported by the statistics office and the CBN. The market's year-to-date returns increased to 12.11%, even as market capitalisation growth for the period stood at N1.92tr, representing a 13.23% gain from the year's opening value.
During the period under consideration, low and medium cap stocks were the best performers, dominating the top advancers table. These are stocks that had suffered losses during the shakeout and those with high possibility of dividend payment.
Transactions were driven by activities in the financial services and industrial goods sectors.
Market breadth was negative with decliners outnumbering advancers in the ratio of 45:38 on a higher volume of trades to halt three-week seeming correction.
International stock markets closed lower over the past week, amidst the proposed increase in trade tariffs by U.S government and expected interest rate hike that triggered bearish performance in developed markets to elongate the technical correction. The fear of trade war after U.S President Donald Trump announced plans to impose a 25% tariff on steel imports and 10% tariff on aluminum imports from Europe. In Asia, China's vote to end term limits for President Xi Jinping in a move that has some investors and human right activists are concerned. Also, being the largest exporter of steel and aluminum, the proposed 25% tariff could affect US imports.
Back home, the market recorded a mixed performance as the All-Share Index advanced in three of the week's five trading sessions, closing marginally up by 0.02% on Monday, before declining on Tuesday by 0.70%. This was reversed at the end of midweek's trading when the index rose by an impressive 2.4%, before another pullback on Thursday when it lost 1.10% on profit taking. The index closed flat on Friday at 0.08% green, bringing total gains for the period to 0.72% as traders and investors continued to reposition ahead of the release of more earnings reports in the market.
The composite index and all sectoral indices closed in green for the period, except the NSE AseM, NSE Banking and NSE Pension that were red with 1.14%, 0.59% and 0.09% respectively. Market activities in volume and value were up by 7.5% and 79.9% to 2.17bn shares worth N39.09bn from the previous week 2.01bn units valued at N21.74bn.
The week's best performing stocks were Japaul Oil and Unity Bank that gained 50% and 18.4% respectively to close at N0.56 and N1.77 per share, due to market sentiments for second-tier banking stocks, while Japual's resulted from speculations on the strength of the $350m financing deal with a foreign company. The worst performing stocks for the period were Sovereign Insurance and Unic Insurance that lost 20.8% and 18.5%, which closed at N0.36 and N0.32 respectively, on the back of market forces.
Market Outlook
Being the last month of the quarter and peak of the earnings reporting season when more companies are expected to release their full-year results for the period ended December 31, 2017. This is expected to have positive impact on the market this new week as more traders and investors take position in value and dividend paying stocks, as the economy remains upbeat on positive macro-economic indices to drive performance.
Also, expect volatility and repositioning to continue, while profit taking will reduce on the strength of expected payout and earnings surprises.
However, we would like to reiterate that investors should not panic but go for equities with intrinsic value, especially during this season when dividend payment is approaching.
We advise investors to allow numbers guide their decisions while repositioning for the rest of the year's trading activities, especially now that stock prices remain volatile amidst improving company, economic and market fundamentals.
It is time to combine fundamentals and technical tools to take decision by knowing the support and resistant level to reposition or exit any position. A stock market is in cycles. You must know the cycle it, or particular stocks therein are to successfully manage your trading and investment risk. For stocks that should be on your shopping list to buy in these seasonal changes as the year unfolds, sign up to INVESTDATA BUY AND SELL signal setup by calling 08032055467.
Get your home study pack of the INVEST 2018 Traders & Investors Summit and ride with the current recovery on Nigeria's stock market and economy, thereby ensuring that you invest and trade with knowledge. You can also access stocks analysed in the home study pack of the INVEST 2018 traders and the investors' summit held on February 24, 2018, including the 15 stock-picks for 2018 are available now to guide your positioning as trading for the year.
Comprehensive training materials on stock Trading and Investing for Financial Independence series are Available, you can play and watch on your mobile phone, laptop, desktop and TV set. Kindly call or send yes to 08032055467, 08028164086 or 08111811223.
Meanwhile, a big THANK YOU to facilitators and participants that made the Chart Summit held on February 24, 2018, a huge success. The eyes of participants were opened to the three tents of technical analysis and how it can enhance traders income, as well as simple trading indicators and tools for successful traders were revealed. Charting of the NSE Index on short and long term direction movements were carried out to guide investors and traders using technical indicators to know the energy behind funds entering the market, or individual stocks and when such funds begin to exit.
Here are some of the great feedbacks from the Chart Summit:
I have not seen a more lucid, concise, organized & insightful trading and investing educational presentations than the chart summit. All the speakers opened my eyes to how to manage risk using TA, despite the fact that I have been playing the market for 21 years. Mr Ambrose thank you. Please keep this good work you are doing for Nigerians.
Ikechukwu Olisa
Ambrose and Tunde's presentations were the simplest, clearest and best understood of the many that I have heard in my trading lifetime of nearly 25 years, please keep it up. Thanks for your time
Oyebola Ademola
The Invest 2018 home study pack content was what attracted me to attend this chart summit today, it was so good that I just couldn't stop watching. Today's chart summit was the best class I have attended in over 10 years. It's going to make a big difference in my trading.
Patrick Udo
Thanks Mike for opening my eyes to risk management and portfolio selection using Technical Analysis tools. Thanks to investdata for putting chart summit together for novice and advance traders. It was well presented and right to the point. Again thanks so much for the beautiful presentation. It's superb.
Musa Ahmed
Chart Summit on technical analysis for novice and advance traders home study pack will be available on Friday, March 2, 2018, for those who have booked for the USB, you can play it on your phone, TV and laptop. Those interested in the pack should send 'Yes' or call any of: 08032055467, 08028164086 or 08111811223.

Ambrose Omordion
CRO | Investdata Consulting Ltd
info@investdataonline.com
info@investdata.com.ng
ambrose.o@investdataonline.com
ambroseconsultants@yahoo.com
Tel: 08028164085, 0803205546