As Curtain Closes On Earnings Season

Market Update for March 27
The nation's stock market indices had a slow day with huge volume of trade to close marginally higher on seemingly positive sentiments as revealed by the volume index of 2.46 with buying position of 86% and selling volume of 14% to reverse the four trading sessions of bear run on the first day of week. The earnings reports that trickled to the market during session were mixed in performance and of the three companies, only Consolidated Hallmark Insurance recommended a dividend of 2kobo, while CCNN and Champion Brewery were silent on that subject.
The apex bank continues to provide liquidity in the forex market thereby further crashing exchange rate in the black market to N360, a good omen that could boost economic recovery, going forward if sustained.
Moreso, as we have repeatedly noted in INVESTDATA, a single exchange rate in the country will help to attract more foreign funds by way of investment with such investors knowing the rate they are entering to determine when they can cash out after factoring in other dynamics like inflation and time value. Where the last two factors remains constant variables, it is difficult confusing, where more than five exchange rate exists in a single economy, made worse, when the investors is unable to repatriate his funds at the point of exit because there is scarcity of foreign exchange, leaving them with sourcing forex from the streets, a very untidy arrangement. Currency traders are already crying and threatening to boycott the Central Bank of Nigeria (CBN) weekly auction trade because the rate of N381 to the US Dollar does not favour them. The however forget that even the US Dollar in the international market is hitting its four-month low.
Stock markets around the world were seriously under pressure as the U.S Dollar and oil prices continued to slide. Meanwhile, the U.S market broke down its 50 DMA, confirming a major correction.
Also, the date for Britain to trigger Article 50 of the Lisbon Convention to kick-start the much talked about exit from the Europe zone and healthcare reforms are all major sources of concern for investors.
Back home, the composite NSE All Share Index gained 30.24 point to close at 25,485.17 points, from an opening figure of 25,454.93 points on a huge volume, compared to the previous day's figure.
Similarly, market capitalisation for the day gained N11.15bn to close at N8.82tr, from an opening value of N8.81tr.
The All-Share index's year-to-date negative position reduced slightly to 5.17%, while market capitalisation for the period adjusted to N428.75bn, representing 4.64% loss YTD, from the opening value.
Market breadth for the day reversed to positive as the number of advancers outnumbered decliners in the ratio of 17:12 to stop the down markets.
Market activities in volume and value were up by 292.30% and 56.50% respectively to 561.48m shares from 142m in the previous day and N2.47bn, from N1.58bn respectively.
Financial services stocks like Staco, Zenith Bank, Fidelity Bank, Stanbic IBTC and Guaranty Trust Bank dominated the day's activity chart as most traded equities by volume.
The NSE All-Share index and all sectoral indices were in the green except for NSE Industrial Goods that was in red at 1.13% to close the day trading.
During trading, Champion Brewery, CCNN and Consolidated Hallmark Insurance released their 2016 full-year earnings reports, while others like Medview Airline and Cornerstone Insurance notified the exchange of their directors meetings. Daar Communication filed for late submission.
7-Up led the advancers log with 5.25% to close at N80 driven by market forces, followed by Unilever Nigeria with 4.95%, to close at N33.9 on sentiments; while Champion Brewery topped the decliners log, losing 5.00% to close at N2.28, and Fidelity Bnak, 4.94% to close at N0.77 per share. It is not clear whether the loss by Champion Breweries is related to the decision of the directors not to compensate shareholders in the second straight year of reporting positive year-end numbers after years of being in the red.
NSEASI DAILY TIME FRAME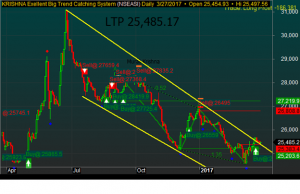 NSEASI on a daily time frame halt selling pressure to seemingly reversed, outside of the bearish channel on a huge volume and positive sentiments as revealed by the sell/buy volume index. The expected earnings reports and market forces will determine continuation of trend or reversal as the market open this morning.
The index candlestick formation pattern as at close of trade supports a bear move, depending however on the strength of numbers expected. But funds are entering the market as indicated by MFI, while the current trending ability of the market on a daily time frame is weak, as ADX is below 20 at 17.61, MACD is still bullish and has remained so over the past 13 trading sessions, while RSI is reading 52.38 as at the close of trading.