Investors Realign Portfolios, Target High Dividend Yields, ROI, Full-Year, Q1 Earnings
Market Roundup For January 2020
The Nigerian Stock Exchange (NSE), in the month of January 2020, resisted a continuation of the two years of bear-run. In the process, it broke out the downtrend, defying what has come to be known and accepted as the "January effects," on the strength of changes in regulatory policies in Q3 2019, which triggered a sharp drop in money market rates, as well as fixed instruments yields, resulting in positive sentiments for equity assets. Also important is the fact that most of these stocks had become considerably undervalued ahead of the market's major corporate earnings season, as investors and traders positioned early, hence the reversal in the negative slant of the previous month.
At the close of trading for the month of January 2020, the composite NSE All-Share index recorded 7.46% gain, ushering in the much-anticipated market recovery, helped by the unconventional monetary policy stance of the Central Bank of Nigeria (CBN). This may have reawakened the need to stimulate economic productivity in the fiscal authorities, thereby driving the growth needed to support the performance of quoted companies, among others.
This is also without undermining the overall effects of economic stability. This has also been helped by the continued intervention in the foreign exchange market, even as the relatively low-interest rate and border closure has boosted and strengthened the nation's manufacturing and agricultural sectors. This is likely to reflect on the score-cards of companies.

The mixed, but upmarket in January, was driven by the low price attractions and the renewed investor confidence in Nigerian stocks, which propelled the NSE to the top of global stock markets for the period. Also, noteworthy is the fact that the apex bank successfully maintained relative stability in the exchange rate of the Naira, in addition to boosting the nation's manufacturing sector, resulting in the Purchasing Managers' Index, although it dropped to 59.20 points in January from 60.8% in December 2019.
The market, during the 22 trading sessions of January recorded mixed performance, with 13 sessions of up and nine of down market drive by the negative reactions to the CBN's adjustment in the Cash Reserve Requirements of banks to 27.5% at its first Monetary Policy Committee meeting in 2020. This left resulted in the last trading week of the month with five consecutive days of losses, as the NSEASI closed red at 28,843.53 points on Friday, January 31, after touching the month's high of 29,909.06 basis points and low of 26,657.32bps.
The index had opened for the month at 26,842.07bps, representing 7.46% growth over the period. The 'buy' volume of total transactions for January was 67%, while the 'sell' position stood at 33%, reversing the previous month's bear market.
Also, market capitalisation for the month gained a total of N1.96tr, closing at N14.86tr, from its opening value of N12.96tr, representing 14.66% appreciation in value, helped by the listing of BUA Cement Plc, and despite the delisting of Continental Reinsurance and Grief Africa from the NSE's Daily Official List.
Due to the amendment of Rule 39 of the Securities and Exchange Commission and NSE permitting companies to file unaudited results within 30 day of Q4 end has changed the pattern of company filings. This is why over 67 companies filed their quarterly earnings reports in the period under review, most of which came mixed and without dividend recommendations.
The audited financials for full-year ended December 31, 2019, with the accompanying corporate actions, are expected to start hitting the market this month and March 31. However, the unaudited numbers released so far should guide income investors on how to position for the dividend. It is noteworthy at the moment that many stocks continue to trade below their Book Value and 52-week high level.
Market breadth for the month was positive and mixed as advancers outnumbered decliners in the ratio of 41:31, halting the bear transition that trapped the December Santa Claus and year-end rally.
Sectorial Performance for the month was largely bullish, except for the NSE Consumer Goods, Oil/Gas and Mainboard indexes that closed lower during the period on the strength of negative sentiment for the sectors, which was due to unimpressive earnings, and market forces. The NSE Industrial Goods index was atop the month's performance chart, due to price appreciation in Beta Glass, Dangote Cement, and BUA Cement.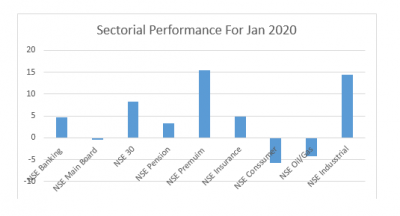 Best Performing Stock
The biggest gainers for the period under review were a mixture of kobo, medium and high cap stocks, which had been grossly impacted by improved 'buy' interest in equity and low price attraction before the recent adjustment in CRR that triggered some form of market correction and profit-taking.
The best performing stock for the month of January was Law Union and Rock Insurance, which gained 40% of its opening price, followed by Cornerstone Insurance with 31.11%, arising from the recapitalization exercise going on in that industry and the NSE's new pricing methodology that changed the trading pattern of kobo stocks. We advise that you study fundamentals of your target companies before jumping in, or out.
BetaGlass followed on the gainers' table, as its share price rose 30.11% on market sentiment; followed by Dangote Cement's 26.69% on low price attraction and the proposed share buyback scheme; while Vitafoam Nigeria chalked 25%, as a result of its impressive full-year and Q1 results.

Worst Performing Stocks
The losers' table was dominated by manufacturing companies due to the extended negative sentiments from the previous years, resulting from the sector's weak and mixed earnings reports. Eterna Oil led the decliners after losing, 33.33% as was as a result of its unimpressive numbers; followed by Unilever which shed 31.82% due to its weak Q4 loss account; just as ABC Transport lost 24.44% of its opening price for the month; and Boc Gas, 18.18%.

Volume and Value
The month's transaction volume was up by 85.1%, as stockbrokers crossed 8.44bn shares, up from the 4.56bn units traded in the month of December.
During the month, quarterly and some full-year earnings reports were published by an array of companies, with numbers coming mixed and below expectations except for Vitafoam, Julius Berger, Fidelity Bank and others that were above average.
Also, in the month of January, BUA Cement concluded their merger with CCNN, leading to the delisting of CCNN; just as Wapic Insurance and others concluded their primary market activities, while Stanbic IBTC listed additional shares as a result of bonus shares. Meanwhile, traders and investors continue to position for audited earnings season, amidst portfolio rebalancing, low valuations, capital wave, relatively low rates in money market and indecision among fund managers. Investors at this point are considering whether to HOLD, BUY or SELL, a decision that will depend on which audited full-year results beat market expectations, adequately reward shareholders.
Also, it is expected that the government would double ongoing efforts at developing the country's infrastructure, enhance national security architecture, as well as the enabling business environment, alongside the faithful implementation of Nigeria's 2020 budget in February, thereby supporting economic recovery. Considering these factors and relatively stabile polity around the market now, investors who understand the operations of the stock market should take this pullback wave as an opportunity to enter good stocks. Over 100 quoted companies with December 31, 2019, as financial year-end is due to release their audited report to the market before March 31. It is obvious that investment is against expectation, which is why when such expectations are not met, there is a need to quickly exit positions so as to protect your capital.
As investors, it is expected that you relate the current selling price of target stocks to their fourth-quarter unaudited earnings; as well as previous full-year Earnings Per Share; and the last dividend payout. This comparison will help you project whether the company can maintain, cut, or increase the dividend or not, before jumping in.
Note that earnings have always been a function of equity price movements, in addition to corporate actions of these companies, which are expected to attract more market players, dividend investors and possibly foreign bargain hunters to the market.
Over the years, the month of February on the Nigerian stock market is reserved for early filers, which suggests that traders and investors should be in the market before corporate score-cards start pouring in, so as to benefit from the earnings season momentum and volatility. Travel ban on Nigerians may further depress the market if foreign investors start exiting their positions.
In the history of Nigeria's post-election years since 2000, market performance in the month of February has been positive, with four up and just one down season as revealed by the NSE's index movement table above.
What to expect in February and March
• Continued volatility due to the lingering circular flow of funds, profit-taking and some disappointing some corporate results so far released. Also, the source of funds flow to the market may cause fluctuations as fund managers and institutional investors return to the market. The up and down movement will continue to create entry and exit opportunities.
• More audited earnings would be released into the market this period. Earnings from blue-chip companies may strengthen market fundamentals, especially from United Capital, Zenith Bank, Guaranty Trust Bank, Nigerian Breweries and Nestle Nigeria.
• As players reshuffle their portfolio to move in or out of equities, discerning investors should target strong fundamentally sound stocks, high Dividend Yield and the possibility of issuing bonus shares, we should expect stock prices to be in the upward direction if their numbers beat expectation.
• A more vibrant market as a result of market players positioning for audited full year and first quarter and then taking profit to reposition for the earnings season, even as we expect liquidity prices to improve with the entry of more foreign funds.
• Market outlook for the month of February and March is still very dicey, but investors should decide wisely, using dates, bids, offers, and volume while doing so.
• Managing risks and protecting capital at this point is very important, so you should be able to determine when to buy or sell by watching the stocks and the market, using technical analysis, aided by investdata buy & sell signal.
• Let numbers emanating from companies and releases/markdown dates guide you into a profitable investment.
Invest 2020 Opportunities & Trade Ideas Summit move to PORT HARCOURT
Attend our Port Harcourt INVEST 2020 Summit slated for February 8 at Emerald Hotel, No 193, Aba Road Rumuola, Time: 10.00 am. How to take advantage of the recovery stock market and 2019 corporate earnings season to change your financial position in a changing financial market and thinking as money market rates remain low.
The difference between you and others who are unaware of what I am sharing with you is ACTION. Take action that will transform your life throughout 2020 and beyond by getting the just concluded and life-transforming INVEST 2020 Opportunities & Trade Ideas Summit Home study pack (USB) that you can play on your phone, Laptop and Television set. The event, which held on Saturday, December 7, 2019, was yet another successful, insightful and educative outing that not only offered direction as to where investors should look for profitable trade in 2020, insight into industries, sectors, and companies to seek worthwhile returns. What stocks should you buy? Grab the pack for the 10 Golden Stocks for 2020 with the possibility of making returns not less than 40% in a year.
Don't sit on the fence call or text Stock to 08028164085, 08032055467, and 08111811223 now.
Ambrose Omordion
CRO|Investdata Consulting Ltd
info@investdataonline.com
info@investdata.com.ng
ambrose.o@investdataonline.com
ambroseconsultants@yahoo.com
Tel: 08028164085, 08032055467