It Time To Find Home-Grown Solutions To Nigeria's FX Woes- Emefiele
Photo caption: Panelists at the Non-Oil Export Summit
Amidst the nation's worsening foreign exchange woes, the governor of the Central Bank of Nigeria (CBN), Godwin Emefiele, on Thursday in Lagos challenged experts to urgently design and implement other home-grown supportive, and structural policies that would enhance the value and volume of Nigeria's export, while in the process improving availability of foreign exchange earnings.
Emefiele, who spoke at the maiden edition of the RT 200 Non-Oil Export Summit 2022 with the theme: " Setting the Roadmap Toward Achieving RT200 and Non-Oil Exports for Development," noted that such a homegrown solutions must be broad based, coordinated and focused on complementing the work of the monetary authority.
This, he continued, has become necessary because "as things stand (today), we really have very little choice left but to look inwards and find innovative solutions to our problems."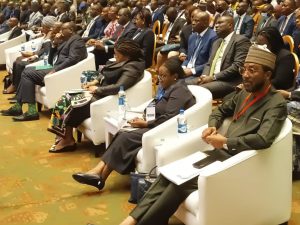 He urged participants at the summit, including representatives of agencies, businesspeople, financiers, and practitioners in the country's non-oil export space, among other stakeholders "to focus on strategies that can help us earn more stable and sustainable inflows of foreign exchange."
While urging participants to follow the best practices of other countries and earn from their mistakes to protect the economy from factors that are beyond immediate control, Emefiele lamented that "the Nigerian economy has been challenged in many fronts in recent years due to a combination of local and global factors."
These, he said, included the delays in global logistic value chains due to the COVID-19 pandemic, as well as local security challenges, which "impacted oil production and prices, disrupted trade and exports, reduced capital inflows and impacted food production. They also exposed the fragility of the Nigerian economy and the need for a more diversified economy," he stressed.
In the face of these challenges, he said the CBN "has been confronted with rising demand for foreign exchange for both goods, services, and other needs. With this unabating demand, the (CBN) has been working to manage both the demand and supply side to meet foreign exchange obligations."
Such challenges, he stressed, "have exerted undue pressure on our economy, making macroeconomic management very difficult," calling on participants "to candidly interact and make constructive and innovative suggestions towards exploring the non-oil export sector as a more sustainable means of increasing foreign exchange inflows into the economy and generating employment to spur growth."
The CBN Governor expressed hope that at the end of the one-day summit, the various presenters, panelists and participants will put on their thinking caps and come up with even more sustainable and innovative solutions to the problems of non-oil exports in Nigeria, as and the apex bank and its Monetary Policy Committee (MPC) had done in the past solutions.
He recalled that after three months of implementing the Non-Oil FX Rebate Scheme designed to incentivize exporters in the non-oil export sector to repatriate and sell their export proceeds in the local foreign exchange market and earn a rebate, Nigeria's recorded a significant increase in non-oil export repatriation, and have paid eligible exporters over N3.5bn in rebates.
Emefiele urged the participants to ensure the summit is a problem-solving gathering "that will guarantee that for every complaint, problem, issue, challenge, or difficulty that is presented or identified, there will be one or several agencies or practitioners that can articulate options for solving that problem. I strongly believe that the ideas harnessed from this maiden summit would be invaluable in helping us reach our ultimate goal of US$200 billion in non-oil exports over the medium term."
Although, the goal may appear unattainable, the CBN Governor expressed confidence it is achievable, given that "many countries much less endowed than Nigeria are doing it.
"Consider, for example, that agriculture exports alone from the Netherlands was about US$120 billion last year. Yet, Netherlands has a land mass of about 42,000 square kilometers, which is much smaller that the land than of Niger State alone, which sits on over 76,000 square kilometers."
No nation, he continued, is promised greatness by anyone, as citizens have to roll up their sleeves and work to achieve greatness, affirming that "economies that fail to transform themselves with the passage of time will fall off the growth path sooner rather than later.
According to Emefiele, this is the time, therefore, for all "to work together to reposition Nigeria on a growth trajectory by taking diversification of the economy serious business. This is the time to start working in synergy for the good of our nation. This is the time for us as a Banking Community to do more and support exporters who have been flying the flag of Nigeria in the international market space. There is indeed no better time than now!"