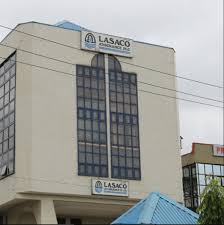 Directors of Lasaco Assurance Plc, on Wednesday gave shareholders reasons to cheer after years of drought, as they recommended a three kobo dividend out of the 16 kobo earnings per share achieved from its operations in the full year ended December 31, 2016. Last year, the board could not pay anything from the weak four kobo EPS,
Profit after tax rose by 233% during the period, faster than the 18% growth in gross premium written, which increased to N6.041bn in 2016, from N5.102bn; gross insurance premium income stood at N5.658bn from N5.807bn. Reinsurance expenses jumped to N4.258bn from N3.343bn in 2015, resulting in net insurance premium income of N1.4bn, down by N1.064bn or 43.18% from the previous N2.464bn.
Fees and commission income rose to N550.75m from N455.998m, bringing net underwriting income to N1.951bn, down from the previous year's N2.92bn.
Net claims expenses dropped to N622.776m from N706.929m; underwriting expenses rose slightly to N734.09m from N722.72m in 2015; increase in life fund stood at N120.988m from N281.579m; increase in annuity fund was N37.864m, as against the previous N29.584m; just as there was a N200.271m increase in health insurance fund, from N140.178m; resulting in total underwriting expenses of N1.715bn, down from N1.88bn in the prior year.
Underwriting profit for the year fell by 77.37% to N235.156m from N1.039bn; profit on investment contract dropped to N7.618m from N9.618m; investment income dropped to N441.141m from N661.528m; other income soared to N2.917bn from N203.519m. Other operating and administrative expenses rose to N2.458bn from N1.509bn; while Profit before tax improved by 183% from N404.113m in 2015 to N1.142bn; just as net profit stood at N944.461m from N283.32m.