Equities
Mixed Market, Rekindled 'Buy' Interest In Undervalued Blue Chips Ahead Of Year-end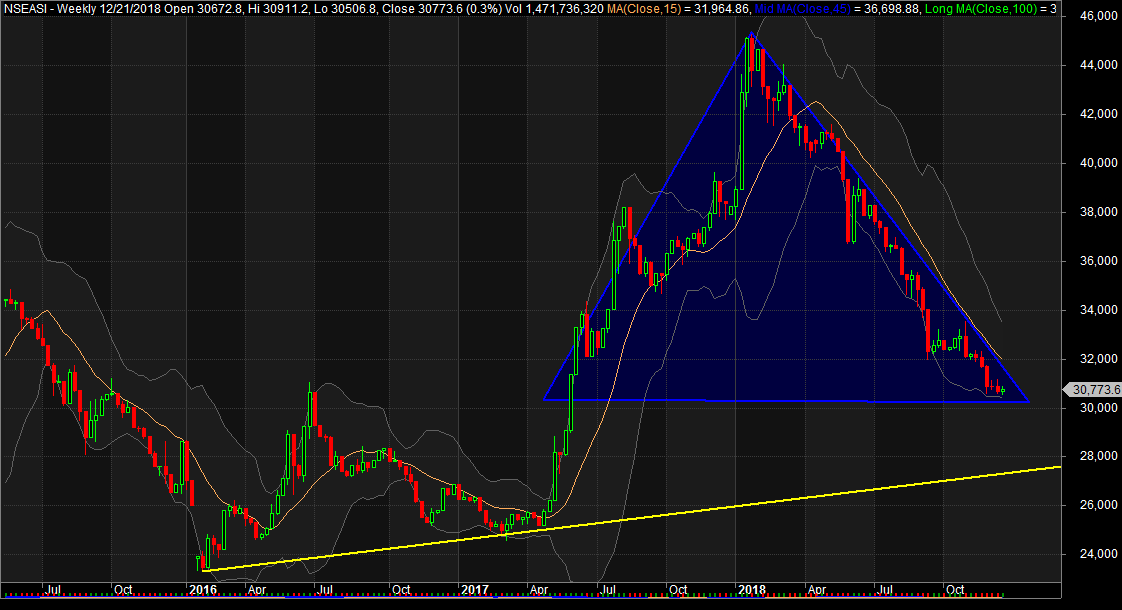 Market Update for the week ended December 21 and Outlook for Dec. 24-28
Nigeria's equity market had a mixed performance in the past week, halting five consecutive weeks of bear run, as buying interest seemingly improved to tactically usher in the long awaited Santa Claus rally associated with the year-end season. This has historically closed the month of December in positive note over the last four years on the strength of position taking by smart money and other players.
The risk associated with the pre-election year in Nigeria has been further heightened in 2018 as the economy struggles with recession and the lack of real change Nigerians craved for, resulting in the gale of defection among politicians.
This situation has not in any way been helped by a global financial market and economy that remains unstable due to continued rate hike in the U.S, tension arising from the trade war between U.S and China, the two largest economies in the world. There are also the effects of oscillating commodity prices, especially oil which is the major revenue for the government, which remains a major concern for 2019 after the Organisation of Petroleum Exporting Countries (OPEC) cut Nigeria's production quota to 1.63m barrels per day, as against the 2.3m proposed by government at a benchmark oil price of $60.
Last week also, President Muhammadu Buhari presented Nigeria's 2019 Appropriation Bill to the joint houses of the National Assembly, proposing to spend N8.83tr, a figure that is lower than the N9.12tr proposed for the outgoing year for consideration. Expectedly, the stock market index has moved down and up since the estimate was made known, in apparent reaction to market and analysts' interpretation of the figures and what the budget portends for the citizenry.
The budget cut may simply result in higher unemployment and increased poverty in the coming year, because even when it was higher and the government proposed to spend more, the living standard of Nigerians only worsened, while the economic fundamentals continue to be weaken.
Already, 2018Q3 employment data released by the National Bureau of Statistics (NBS), during the period under review showed that Nigeria's unemployment rate rose to 23.1% from 18.8% in the corresponding period of last year, while combined unemployment and underemployment rates increased from 40.0% in Q3 2017 to 43.3% in Q3, 2018 (READ MORE).
Back to the market, the benchmark Nigerian Stock Exchange (NSE) All-Share index closed negative in three of the five trading session as mixed sentiment continues to dominate trading on the exchange, while the losing momentum decreased on a high traded volume to close the period in green of 0.33% gain against a negative position of 0.63% recorded in the previous week.
The improved buying pressure in the week under review was driven by low valuation as market players took advantage of low prices to reshuffle their portfolios, in the Oil/Gas, industrial goods, consumer goods and insurance sectors. They recorded impressive gains that reflected in the positive market technicals, on high volume traded in the midst of positive market breadth and strong buying sentiment. As revealed by Investdata's weekly Sentiment Report, showing a sell volume of 34% and buy position of 66%. The volume index of total transactions within the week was 1.18.
The momentum behind the week's performance was weak despite the improved buying sentiment and increase number of stocks that recorded gains which reflected on the money flow index at 23.78bps, from 24.42bps in previous week, an indication that funds left some stocks in the midst of high-volume of transaction and low liquidity.
Equity Indicators Last Week
All Share Index for the period gained 100.85 basis points to close at 30,773.64 basis points, after opening at 30,672.79bps, hitting a high of 30,911.22bps, from low of 30,506.79bps on high volume. Similarly, market capitalization was up by N36.84bn closed at N11.24tr, from N11.20tr, representing 0.33% value gain.
NSE INDEX WEEKLY TIME FRAME
At the end week, low cap stocks dominated the advancers' table for the period as bargain hunters took advantage of the low price to accumulate position in expectation of Santa Claus and year-end rally to usher in the election year 2019 as weak economic fundamentals threaten investors confidence and 2019 budget.
Meanwhile, the NSEASI's year-to-date negative returns reduced to 19.53%, just as loss in market capitalization dropped to N2.43tr, or 17.34% below the year's opening value.
Bullish Sectors Indices
Sectorial performance for the period was largely bullish, except for the NSE Banking index that closed lower. Market breadth was positive, with advancers 'outnumbering decliners in the ratio of 49:23, to short-lived the previous weeks of bearish market.
Transaction in terms of volume and value were up by 26.99% and 33.98%% respectively to 1.47bn shares worth N18.68bn, compared to previous week's 1.17bn units valued at N14.76bn, boosted by trading in financial service, healthcare and industrial goods.
The best performing stock for the week were Diamond Bank and Unity Bank after topping the advancers'with their 57.89% and 39.13% gains respectively to close at N1.50 and N0.96 per shareon merger agreement and low-price attraction. On the other hand, UPDC Real Estate Investment Trust and Ikeja Hotel lost 18.52% and 9.63% respectively, closing at N6.60 and N1.69 on market forces and profit booking.
Last week, Cement Company of Northern Nigerian released its Q3 earnings report with impressive EPS of N3.19 against N1.69 posted in 2017 while Niemeth declare a bonus share of one new share for every 10 held till closure date
Market Outlook
We expect the overall market sentiment to remain mixed with rekindled buying interest on blue chip stocks that had suffered huge losses before now, with strong earnings capacity that is trending up. The prevailing cheap prices of stocks may trigger investor buying sentiments for short and long term gain.
However, we expect speculative trading on major stocks with strong potential upside to shape the breadth of market performance this week, while watching the political space, since Q3 numbers have given insights into what the expected Q3 GDP and full year company earnings power will be.
With the presidential campaign kicking off, Nigerians are expecting new strategies and roadmap to address the economy, especially the rising poverty level, human capital development, decayed infrastructure and education with timeframes for delivery. These campaigns are likely to drive prices north, or south, while determining market direction before or after the Presidential election.
Investors should review their positions in line with their investment goals, strength of the company numbers and act as events unfold in the global and domestic environment.
However, we would like to reiterate that investors should go for equities with intrinsic value,
We advise investors to allow numbers guide their decisions while repositioning in any stock, especially now that stock prices remain volatile amidst mixed company, economic and market fundamentals
RE: INVEST 2019
The difference between you and others who are not aware of what I am sharing with you is ACTION. Take action that will transform your life throughout 2019 and beyond by getting the just concluded and life transforming INVEST 2019 TRADERS & INVESTORS SUCCESS SUMMIT Home study pack (USB) that you can play on your phone, Laptop and Television set. The event, which held on Saturday, December 8, 2018, was yet another successful, insightful and educative outing that not only offered direction as to where investors should look for a profitable 2019, but industries, sectors and companies to seek worthwhile returns. What stocks should you buy? Grab the pack for the 10 Golden Stocks with possibility of offering in 2019 multiples of what broader stocks do, coming out of this market correction environment.
Don't sit on the Fence call or text Stock to 08028164085,08032055467, 08111811223 now.
Ambrose Omordion
CRO|Investdata Consulting Ltd
info@investdataonline.com
info@investdata.com.ng
ambrose.o@investdataonline.com
ambroseconsultants@yahoo.com
Tel: 08028164085, 08032055467