Mixed Trading, Profit-Taking, Ahead, As Investors Position For Economic Data, Score-Cards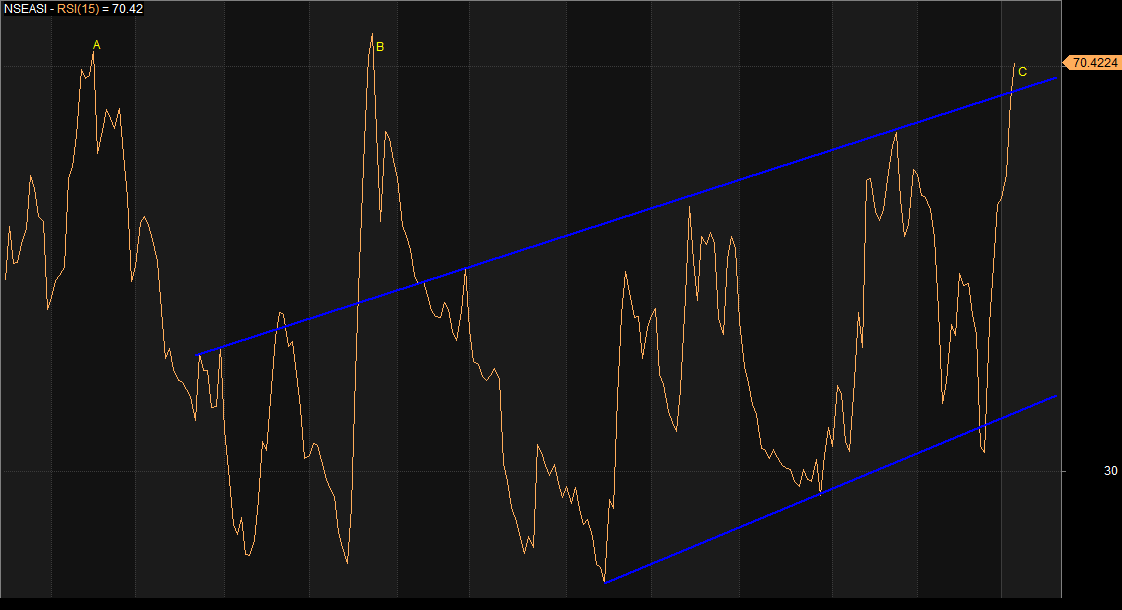 Market Update for January 7
Stocks closed higher on the Nigerian Stock Exchange on Tuesday, with the composite NSE All-Share index breaking out the recent resistance of 27,357.84 basis points to test 27,699.59bps in the course of its recovery mode. Thereafter, it pulled back on intraday profit booking after the market extended its rally for the seventh consecutive trading day on declining traded volume that remains above-average volume of the market.
The likely slowdown of the bull-run is part of the stock market with traders expected to book profit, and at the same time, the January effects. Also, the market's Relative Strength Index (RSI) is forming triple tops as it crosses 70 points, signaling overbought. On February 15, 2019, the RSI touched 71.48 points, after which it pulled back, following which on May 23, 2019, it rose to 73.00, after which it adjusted down on profit-taking and selloffs. It again crossed the 70 mark, hitting 70.42 points after Tuesday's trading; indicating that short-term profit-taking is underway. As NSE index action is currently trading above 100-Day Moving Average.  This does not, however, suggest the end of recovery, but a slowdown as factors behind the market rally is still intact. But despite the pullback in oil price, the possibility of rebounding is high as the conflict in the Middle East lingers.
Here is an analogy by Leigh, who has been keeping a watch on oil:  "The last great bull market in oil started in 1999; by 2004, everyone was still bearish. You had four years of a bull market before anyone really began to accept it. Once they did, commodity prices really took off and the investments took off … I think psychology is going to change. It's going to realize that US oil shale is not enough to balance the market."
Tuesday's trading opened on the upside in the early hours of the day before pulling back in the mid-morning and rebounded between midday to the afternoon on demand for financial services and Industrial Goods stocks, pushing the NSEASI to an intraday high of 27,699.59bps, from its low of 27,295.49bps. It however adjusted down at the last minutes on profit-taking, finishing the session higher at 27,586.93bps on a high traded volume.
The day's market technicals were positive and mixed, as volume traded was lower than the previous session, in the midst of positive market breadth and mixed sentiments as revealed by Investdata's Sentiment Report of 72% 'buy' volume and 28% sell position. The day's total transaction volume index stood at 1.72.  The impetus behind the day's performance was strong, just as Money Flow Index read 67.08 points, from the previous 64.63bps. This is an indication that money entered some stocks and the market at large despite profit-taking.
Index and Market Caps
The benchmark index at the end of Tuesday's trading added 247.25bps, closing at 27,586.93bps from the 26,339.68bps, representing 0.89% growth, just as market capitalization was up by N117.66bn to  N13.32tr, from an opening value of N13.2tr, which also represented a 0.89% appreciation in value.
Attention: If you have not signed up for Investdata buy and sell signal setup, don't delay. We have just added another risk management feature and new stocks of most revered traders and investors in corporate Nigeria to our watchlist. These stocks are with double potentials.
To become a member, send 'YES' or 'STOCKS' to the phone numbers below. Take advantage of this service to buy right and sell right at the current market recovery ahead of full-year earnings reporting season portfolio reshuffling and repositioning as we await an economic reform policy to stimulate and re-track the economy again.
The day's upturn was driven by buying interests in low, medium and high cap stocks like Dangote Cement, Zenith Bank, FBNH, UBA, Access Banks, ETI, Lafarge Africa, Flour Mills, Wema Bank, and PZ Cussons, among others. All of these impacted positive on the NSE's Year-to-Date gain, rising to 2.77%. Market capitalization YTD also stood at N357.89bn, representing a 2.77% growth over the year's opening value.
Bullish Sector Indices
The sectoral performance indices were largely bullish, except for the NSE Oil/Gas Index that closed 0.42% lower, while the NSE Banking index led the advancers, after gaining 1.85%; followed by the Industrial Goods Index's 1.66%. Others were the NSE Insurance and Consumer Goods which was up by 1.20% and 0.28% respectively.
Market breadth remained positive as advancers outnumbered decliners in the ratio of 25:20, while market activities were mixed with volume traded dropping by 14.25% to 446.38m shares, from the previous 520.43m units. The value of trades was up by 8.76% up to N5.82bn, from the previous day's N5.35bn. The day's volume was driven by UBA, Zenith Bank, FBNH, Access Bank and FCMB.
Fidson Healthcare and PZ were the best-performing stocks for the day, as they gained 9.8% each to close at N2.80 and N5.60 respectively, on low price attraction and market forces. On the flip side, NCR and Livestock Feed lost 10% and 8% respectively, closing at N4.05 and N0.46 on selloffs and profit-taking.
Market Outlook
We expect a mixed performance on profit-taking and position-taking as investors take advantage of low prices, ahead of economic data and portfolio managers repositioning for the New Year as the 364-day Treasury Bills rate fell to 5.2% and saving bond rate of 7.14%. Also, investors and traders are positioning in anticipation of the 2019 full-year earnings reports, amidst changing sentiments in the hope of improved liquidity and positive economic indices had pushed the market out of the bearish zone.
We see Investors focusing on the upcoming full-year earnings season, targeting companies with strong potential to grow their dividend on the strength of their earnings capacity.
Again, the current undervalued state of the market offers investors opportunities to position for the short, medium and long-term, which is why investors should target fundamentally sound and dividend-paying stocks for possible capital appreciation as the year winds down, giving way to 2020. This was noted in the 10 golden stocks and trading ideas for 2020, as discussed extensively during the Investdata 2020 Traders & Investors Summit.
Also, traders and investors need to change their strategies, owing to the NSE's pricing methodology, CBN directives and its impact on the economy in the nearest future.
Meanwhile, the Investdata team welcomes you to a bullish 2020. The home study packs of Invest 2020 Opportunities and Trade Ideas Summit containing the 10 Golden Stocks for 2020 are available. To obtain your pack send 'Yes' or 'Stock' to 08028164085, 08032055467, 08111811223 now.
 Ambrose Omordion
CRO|Investdata Consulting Ltd
info@investdataonline.com
info@investdata.com.ng
ambrose.o@investdataonline.com
ambroseconsultants@yahoo.com
Tel: 08028164085, 08032055467