Equities
NGSE Downtrend Continues, But Investors Project Bargain Hunting On Low Valuation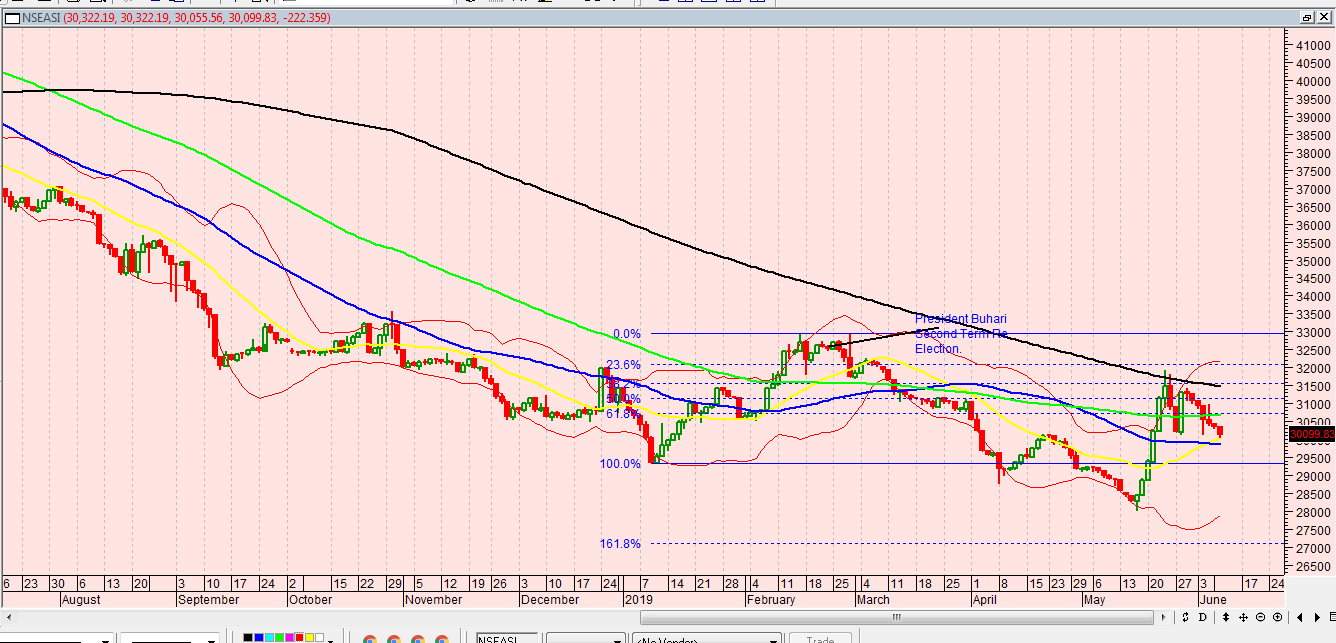 Market Update for June 11
It was another bearish session on Tuesday as the composite All-Share index of the Nigerian Stock Exchange (NSE) continued its downtrend for the seventh consecutive session on negative sentiments. Selloffs and profit taking were seen in high cap stocks like Dangote Cement, Nigerian Breweries, MTN Nigeria, Zenith Bank, and 11 Plc, thereby further dragging down the market as the government settles down gradually for the task of rebuilding the economy.
On Tuesday, Nigerians watched as the National Assembly was inaugurated, followed by the election of principal officers, ahead of the expected presentation of the list of cabinet members for screening and approval by the legislators in the coming days and weeks. The quality of cabinet members will show the government's direction and whether we would see effective economic reform policies that will propel national productivity and create jobs.
The flow of funds into the equity market has been slow due to the dwindling confidence level as investors look the way of other investment windows, especially the risk-free assets in the money and fixed income markets. The weak economic fundamentals have continued to militate against productivity and businesses, a situation that has made neighbouring Ghana take over as Africa's foremost destination for Foreign Direct Investment.
The benchmark NSEASI started the day trading on the downside and sustained it into the early afternoon before slightly retracing up, closing the day at 30,099.83 basis points, after the index had touched intraday low of 30,055.56bps, from its high of 30,322.19bps which was the opening figure.
Market technicals for the day were negative as volume traded was lower than the previous day in the midst of negative market breadth and high selling pressure, as revealed by Investdata's Daily Sentiment Report showing 'sell' volume of 83% and 'buy' position of just 17% of the total daily transaction volume index of 0.80.
The impetus behind the day's performance was relatively strong but down, reflecting the continued down market, with Money Flow Index at 60.40points, from previous day's 66.14bps, indicating selloffs in some positions.
Index and Market Cap
At the end of Tuesday's trading, the NSE All-Share Index lost 222.26bps, closing at 30,099.83bps, after opening at 30,322.19bps representing 0.73% decline, similarly. Market capitalization dropped by N97.93bn to close at N13.26tr, from its opening value of N13.36tr which also represented 0.73% depreciation in value.
Attention: If you haven't signed up for Investdata buy and sell signal setup, don't delay. We have just added another risk management feature and new favorite stocks of the most revered traders and investors in corporate Nigeria to our watchlist, these stocks are with double potentials. To become a member, send 'YES' or 'STOCKS' to the phone numbers below. Take advantage of this service to buy right and sell right during this portfolio reshuffling and repositioning ahead of Q2 numbers and fiscal stimulus.
The day's downturn impacted negatively on the Year-to-Date negative position, which increased to 3.53%, just as market capitalization gain dropped to N1.45tr, or 14.49%, from the year's opening level of N11.72tr.
Bearish Sector Indices
Again, all the sectoral indexes were in red, except for the NSE Insurance which closed in green by 0.47%, while the NSE industrial led the decliners after shedding 1.10%, followed by oil/gas with 0.85%, while banking and Consumer goods followed with 0.20% and 0.02% respectively.
Market breadth was negative as decliners outnumbered advancers in the ratio of 15:10, just as market activities were mixed with volume traded down by 5.64% to 233.45m shares from 247.39m units, while value went up by 1.04% to N3.5bn from N3.48bn. The day's volume was driven by financial services and ICT stocks like Wapic Insurance Zenith Bank, Courtville, Access Bank and Sterling Bank.
Unilever and ABC Transport were the best-performing stocks as they topped the advancers' table with 8.22% and 7.14% respectively to close at N30.95 and N0.30 per share respectively on low price attraction and market forces. On the flip side, Sovereign Trust Insurance and Japual Oil also lost 8.12% and 7.41% respectively, closing at N0.23 and N0.25, on profit-taking.
Market Outlook
We expect mixed performance and downtrend may continue until bargain hunters hit the market again, as discerning investors take advantage of low valuation to rebalance their portfolio ahead of March year-end numbers and second half interim dividend stocks.
They may also take into consideration the expected economic reforms as the new cabinet are set to start running and the plans of Central Bank of Nigeria (CBN) to reduce banks' participation in government securities while boosting private sector lending to drive economic activities and investment.
Investors look to government's policy direction as the market faced low liquidity problems in pre and post-inauguration season, vis-à-vis market and economic fundamentals.
The drop in prices of major blue chips in recent times has created entry opportunities, following which we expect speculative trading to shape the market direction going forward.
The ongoing volatility will continue as investors and fund managers rebalance their portfolios, with eyes fixed on political space and ongoing quarterly earnings position and post-election market dynamics. Investors should review their positions in line with their investment goals, the strength of the company numbers and act as events unfold in the global and domestic environment.
However, we would like to reiterate our advice that investors should go for equities with intrinsic value.
We advise investors to allow numbers to guide their decisions while repositioning in any stock, especially now that stock prices remain low in the midst of mixed company numbers, weak economic and market fundamentals.
Take Action
The difference between you and others who are not aware of what I am sharing with you is ACTION. Take action that will transform your life throughout 2019 and beyond by getting the just concluded and life-transforming INVEST 2019 TRADERS & INVESTORS SUCCESS SUMMIT, CHART SUMMIT, and POST ELECTION BULLS & BEARS Home study pack (USB) that you can play on your phone, Laptop and Television set. The events were a successful, insightful and educative outing that not only offered direction as to where investors should look for profitable trade in 2019 and beyond, insight into industries, sectors, and companies to seek worthwhile returns. What stocks should you buy? Grab the pack for the 10 Golden Stocks with the possibility of offering in 2019 multiples of what broader stocks do, coming out of this market correction environment.
Don't sit on the Fence call or text Stock to 08028164085, 08032055467, 08111811223 now.
Ambrose Omordion
CRO|Investdata Consulting Ltd
info@investdataonline.com
info@investdata.com.ng
ambrose.o@investdataonline.com
ambroseconsultants@yahoo.com
Tel: 08028164085, 08032055467