The nation's stock market rallied over the past week to show strong momentum and positive reactions to government policy outlook as the apex bank unified the nation's foreign exchange rate as proposed in the President's inaugural speech, putting an end to capital control and allow the free-float of demand and supply to determine rate.
Despite the NGX's mixed performance and profit booking, the market extended it bullish outing for the fourth consecutive week on the ongoing economic reforms that triggered increased buying interests across all sectors of the market. The economic reset, financial market and policy reformulation expected to put the nation on the path of progress while supporting production and growth. The rising confidence in the market and the uptrend may continue to reflect acceptation of long-awaited reforms and political will of the new administration.
A correction at this level could create new buying opportunities in the leading sectors and stocks, many of which are currently far extended from any entry. But in the short run, investors should be cautious about making new purchases especially in the first tiers banking stocks. Just as NGX index action hits 16 year high with many equites trading at their 52-week high. Market breadth was strong as it had improved significantly in the recent weeks. Below are the indexes and price action charts that should guide your investing and trading decision.
NGXASI Weekly Chart

NGX BANKING

NGXOIL/GAS

NGXINSURANCE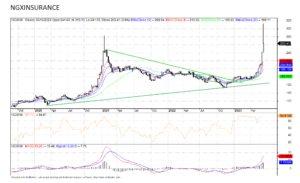 NGXCONSUMER GOODS

NGX INDUSTRIAL GOODS

NGX30

ACCESSCORP

GTCO

UBA

FBNH

ZENITH BANK

IKEJA HOTEL

MANSARD INSURANCE

PZ