Equities
NSE Index Falls Below 41,000bps, Amidst Weakening Money Flow Index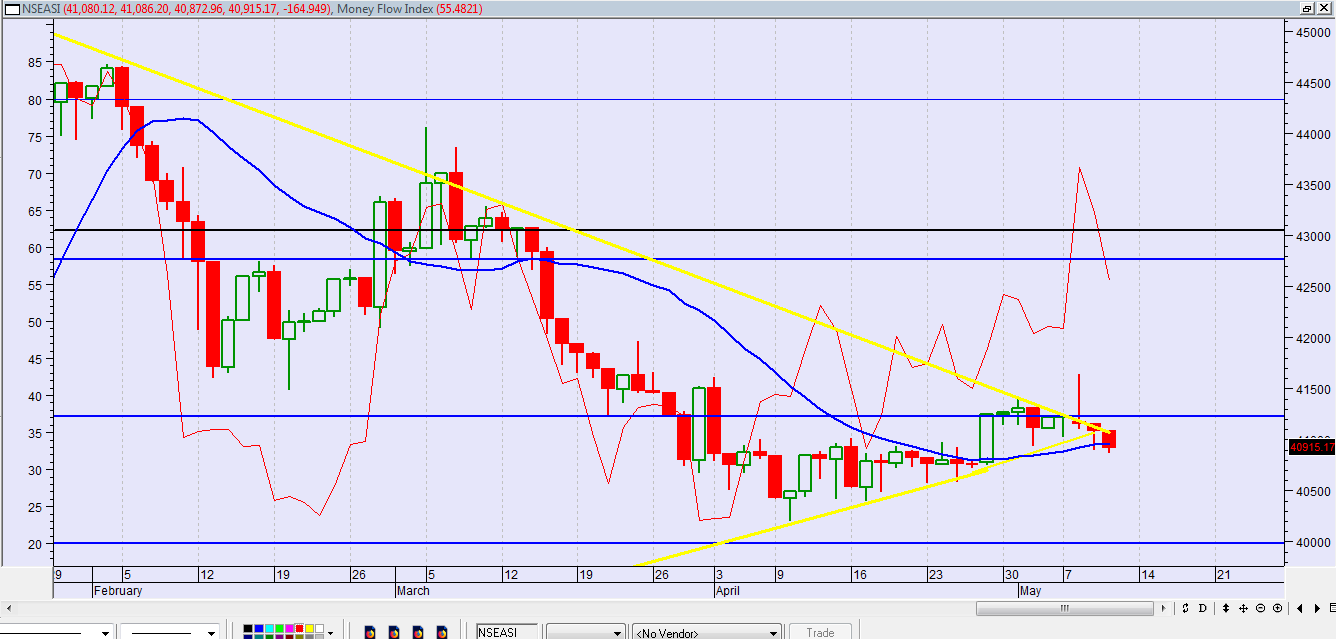 Nigeria's equity market witnessed an extension of bear dominance on Thursday, as the composite All-Share index tested the 20-Day Moving Average to break down on a low traded volume of 80% selling sentiment. The daily Investdata sentiment reports however reveals a struggle between the bulls and bears to take charge, flipping spots with bearish sentiment deepening from 69% to 80% as Money Flow Index continues to weaken.
Owing to the bearish mood of the market, stocks appear to have remained below their downtrend since the late January highs when the Money Flow Index began to show signs of weakness.
It is surprising that the market continues looking down at a time investors are expected to reposition their portfolio in line with impressive Q1 earnings reports posted by many companies. They ought to have digested these numbers by now, while waiting for Q1 GDP and inflation data to confirm their findings about the general economy.
The NSE index started the day with a slight gap up in the early hours of Thursday's trading session, before pulling back by the mid-morning to retest midweek lows that broke down the 41,000 psychological line to intraday lows of 40,872.96 basis points from highs of 41,086.20bps. It however retraced up by afternoon to close the day at 40,915.17bps, a pointer to the onset of another corrective wave with lower-low that is following through to the downside on a higher losing momentum.
Market technicals at the end of the day trading session were negative and mixed, as sell offs continued among the high cap stocks, in the midst of low volume high selling pressure and negative market breadth. Thursday's selling volume stood at 80% and buying pressure of 20% on a volume index of 0.63 of the day's total transaction. The bearish transition and profit booking by smart money has reflected in the money flow index that is pointing downward at 55.48 points from previous day's 64.68Points. This is an indication that funds in the market are weakening still.
Index and Market Cap
At the close of trading, the NSE All Share Index (ASI) shed 164.95bps to settle at 40,915.17bps, after opening at 41,080.12bps, representing a 0.40% decline on a low volume that was lower than the previous day's. Similarly, market capitalisation lost N59.84bn to close at N14.82tr from an opening value of N14.88 trillion, also representing 0.40% value loss that further put investors position into red.
The day's downturn arose from continued sell-offs in highly capitalized stocks like Dangote Cement, Guaranty Trust Bank, Forte Oil, Oando, Dangote Sugar, Dangote Flour and Flour Mills. This impacted negatively on the NSE's Year-to-Date returns, which dropped to 6.99%; while market capitalisation gains for the period fell to N1.21tr, shrinking to 8.90% above the year's opening value.
Bearish Sector Performance
Thursday's sectoral performance were expectedly bearish as most closed lower, except the NSE Industrial Goods and Insurance that closed up on the strength of sustained value gains in Cement Company of Northern Nigeria (CCNN), as well as Chemical and Allied Products. These reduced the impact of the sell-offs in Dangote Cement, Linkage Assurance, Lasaco and Equity Assurance. The NSE Banking, Consumer and Oil/Gas were in the red as a result of profit taking in Seplat, Forte Oil, Oando, Guaranty Trust Bank, Flourmills, Dangote Sugar, Dangote Flour and others.
Market breadth remained negative as decliners outweighed advancers in the ratio of 26:22 to continue the bear transition.
Market activities were down in volume and value by 28.2% and 56.1% respectively to 244.92m shares worth N4.09bn from the previous day's 341.06m units valued at N9.33bn.
Transaction volume was boosted by financial services and industrial stocks like Zenith Bank, Access Bank, UBA, Fidelity Bank and CAP which witnessed increased trading to top the activity chart.
The best performing stocks were CCNN and VeritasKapita which topped the advancers' table gaining 10% and 5.4% respectively to close at N27.05 and N0.39 each. This was due to market sentiments that greeted their impressive numbers, payout and market forces
On the flip side, Niger Insurance and Fidson Healthcare were the worst performing, after losing 7.4% and 5% respectively to close at N0.25 and N5.13 each purely on profit taking and market forces
Market Outlook
Thursday's was a solid down day as a result of profit booking, which may likely continue on Frday, being the last trading session of the week in the midst of volatility as investors reshuffle their portfolios, banking on companies that started the financial year with stronger numbers as economic fundamentals become more robust on a daily basis. Ahead, the consensus is that the expected Q1 GDP and April inflation data are likely to confirm the positive impact of monetary stimulus and extraneous factors like the upswing in oil price, among other global events now closely under watch.
However, we would like to reiterate that investors should not panic but go for equities with intrinsic value, especially during this season when dividend payment is ongoing and Q1 results are expected in the market arena.
We advise investors to allow numbers guide their decisions while repositioning in any stock, especially now that stock prices remain volatile amidst improving company, economic and market fundamentals.
It is time to combine fundamentals and technical tools to take decision by knowing the support and resistant level to reposition or exit any position. A stock market is in cycles. You must know the cycle it, or particular stocks therein are to successfully manage your trading and investment risk. For stocks that should be on your shopping list to buy in these seasonal changes as the year unfolds, sign up to INVESTDATA BUY AND SELL signal setup by calling 08032055467.
Get your home study pack of the INVEST 2018 Traders & Investors Summit and ride with the current recovery on Nigeria's stock market and economy, thereby ensuring that you invest and trade with knowledge. You can also access stocks analysed in the home study pack of the Chart Summit held on February 24, 2018, including the 15 stock-picks for 2018 are available now to guide your positioning as trading for the year.
Comprehensive training materials on stock Trading and Investing for Financial Independence series are Available, you can play and watch on your mobile phone, laptop, desktop and TV set. Kindly call or send yes to 08032055467, 08028164086 or 08111811223.
Ambrose Omordion
CRO| Investdata Consulting Ltd
info@investdataonline.com
info@investdata.com.ng
ambrose.o@investdataonline.com
ambrose.o@investdata.com.ng
ambroseconsultants@yahoo.com
Tel: 08028164085, 08032055467