Uncategorized
Portfolio Rebalancing, Profit Taking, As Q3 Season Peaks, Amidst Year-End Positioning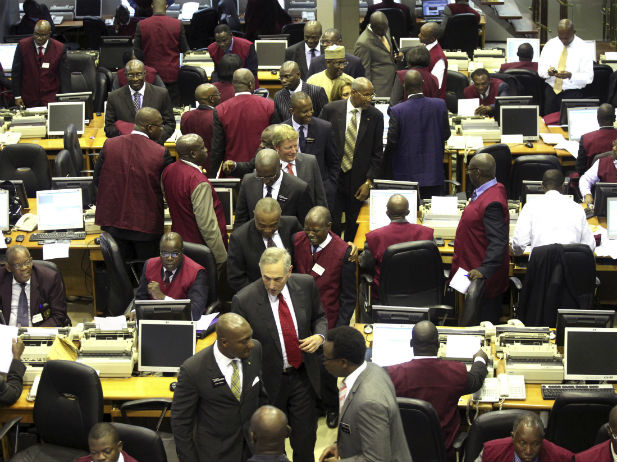 Market Update for October 24
It was yet another interesting trading session on the Nigeria Stock Exchange on Tuesday, as the market turned positive for the first time on the back of a deluge of financials in what is traditionally the rush hour, or peak of the earnings season, particularly given that most of the results released are impressive numbers. At the same time too, market breadth turned positive on a low volume traded.
There was mixed technicals as the market retraced back to the recent resistant level on gradual response by traders and investors to more impressive financials, given also, the undervalued nature of most stocks on the bourse relative to their fundamentals as measured by the Price-to- Earnings Ratio.
At the early hours of trading, the NSE All-Share index gaped down marginally but bounced back from the morning dip and stabilized to start intraday rally as more stocks gained value around the midday, which was successful, running up and closing the day higher, after touching intraday high of 36,551.59 and low of 36,406.89.
Despite the low volume traded, buying pressure increased with volume index of 0.82 for the day, while buying position was at 86% and 14% selling volume of the day's transaction, to halt the two day down market.
There are expectations of seasonal changes and trending as the year winds down with the Q3 impressive corporate earnings and ahead of the release (hopefully) of a much more positive Q3 GDP data, as different macro-economic indices continue pointing to improvements in national output. Some of these included last month's Purchasing Managers' Index (PMI) that came at above 55 points, a pointer to improvements in the nation's manufacturing sector, as well as the continued, although sluggish, decline in inflation rate.
Other factors at play include: End of year portfolio rebalancing and repositioning by smart money, foreign investors, institutional and high net worth in dividend on the strength of third quarter earnings positions of the companies. We have discussed the importance of third quarter earnings and how to use it in our previous write ups. You can visit Investdata News online platform ( www.investdata.com.ng).
Meanwhile, the All-Share Index gained 119.89 basis points up to close at 36,531.62 from 36,411.73 points, which represented a 0.33% growth, just as market capitalisation increased by N41.27bn to close at N12.57tr, from previous session's N12.53tr, also representing 0.33% value gained in investors' portfolios.
Price appreciation in consumer goods and banking stocks impacted positively on the ASI's year-to-date return, to 35.93%, just as market capitalisation notched N3.33tr YTD, representing a 35.99% rise above the year's opening value.
Market breadth for the day was positive with the number of advancers outpacing decliners in the ratio of 22:14 on a low traded volume that was lower than previous day's level, thereby halting the bear transition.
Market activities, in terms of volume and value were down by 21.17% and 32.93% respectively to 199.86m shares, valued at N1.81bn from the previous day's 253.54m units valued at N2.7bn.
Transactions in the shares of UBA, Access Bank, Fidelity Bank, Zenith Bank and Jaiz Bank topped the volume chart.
At the close of the day's trading, National Salt topped the advancers' table, gaining 10.23%, to close at N14.33 per share, on impressive Q3 earnings reports and was followed by Caverton with 4.17%, which also released impressive Q3 numbers during Tuesday's trading session.
On the flipside, C&I Leasing lost 5.00% to close at N1.71 on profit taking activities, followed by Transcorp which shed 4.30% to close at N1.36 per unit on profit taking by traders, despite the company's impressive Q3 numbers.
Also, during the trading session, Fidson Healthcare, NEM, National salt, Learn Africa made their Q3 earnings available to the market.
TODAY'S OUTLOOK
As the market opens this morning, volatility may continue in the midst of repositioning and profit taking, being the peak week for earnings reporting season, as more companies are expected to release their quarterly results.
One thing that is clear in the current market situation is that smart investors are accumulating and enhancing their positions in selected stocks.
Again, we advise that investors allow numbers to guide their decisions while repositioning for the rest of the year trading activities, especially now that prices of stocks are looking down amidst improving economic and market fundamentals.
It is time to use your technical tools to take decision by knowing the support and resistant level to reposition or exit any position. Market is in phases know it in order to manage your trading and investing risk. For stocks that should be on your shopping list to buy in this oscillating market or pullbacks sign up to INVESTDATA BUY AND SELL signal setup by calling 08032055467.
Get your home study pack today and ride with the current recovery on Nigeria's stock market and economy. By investing and trading knowledgeable
The workshop materials on Trading and Investing for Financial Independence series are Available. Kindly call or send yes to 08032055467 or 08111811223.
Attention! Attention!! Attention!!!
INVEST 2018 FINANICAL SUCCESS
If you are still asking yourself why Trade Stock? We have all the answers for you in this upcoming summit! INVEST 2018 TRADERS & INVESTORS FINANICAL SUCCESS
Are you a Bitcoin, Forex Trader or Real Estate Investor?
You need to see the advantages of trading STOCKs – Daily or weekly compared to any other market.
Have you ever traded Stocks?
In the coming INVEST 2018 you will learn:
• How to generate a consistent income trading stocks on your own via phone and laptop
• The power of trading quarterly and full year earnings reporting season
• Our rules-based approach to trading stocks.
• How our buy & sell signal setup works
• How to take advantage of best market timing strategies to positon before Major market earnings reporting season.
• How to quickly and accurately "predict" the next market reaction
• Learn why trading less is making more
• Learn how to make use of trend identification, resistant and support to double your returns
• Learn how to follow the institutional money flow and much more
Also, it is an opportunity to know you can identify opportunities in different sectors, especially with the Federal Government's plan to spend almost N8 trillion for 2018, which if implemented will quicken ongoing economic recovery.
Discover how you can unleash your Income Potential Trading stocks.
You will also discover why trading and investing in stock is the way to go.
Trading or investing is no Rocket science – it just requires a blend of discipline, patience and knowledge of market and economic fundamental and technical analysis to pick the right stock and sell at the right time.
Is this the summit that will pays for your vacation trip, puts your kids through college and some income in your pocket?
Maybe or Maybe not…but you will be kicking yourself everyday on the way to that work place everyday if you miss this!
"70% of success in life is SHOWING UP and taking steps"
We'll take care of the rest if the 30%….
This summit is the perfect opportunity to learn from the best industry experts and to get the personal attention in the exclusive Q&A session after presentations!
Saturday December 9, 2017
To register for the coming summit Kindly call or send yes to 08032055467 or 08111811223.
Best regards
Ambrose Omordion
CRO | Investdata Consulting Ltd
info@investdataonline.com
info@investdata.com.ng
ambrose.o@investdataonline.com
ambroseconsultants@yahoo.com
Tel: 08028164085, 08032055467
N.B: At this event you'll hear real case studies and see examples of exactly how you can use these same techniques. This summit is packed with great content, but the room only has capacity for 100 people and registration is ongoing, so you'll need to act fast.
If you are looking for a way to make money in the market as a Full-time or Part-time trader, this is your opportunity.
Dream it! Wish it! Do it! Enjoy it!