Q3 Earnings Season Kicks off Amid Hope Of Interim Divs From Presco, Okomu, Others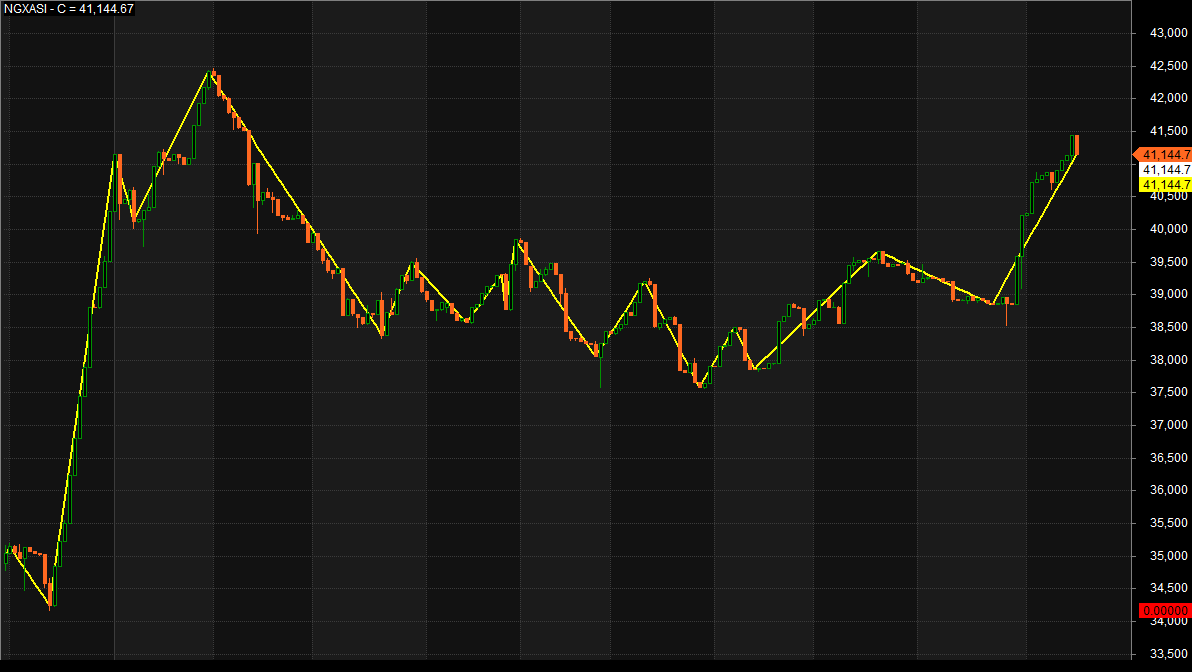 Market Update for October 18
Trading on the Nigerian Exchange Limited for the third week of October started mixed and down Monday as sellers dominated the session amidst profit-taking, following which the benchmark All-Share Index closed lower, halting four consecutive sessions of bull-run on a low traded volume and negative market breadth.
The session witnessed a series of price corrections as expected, even as the pullback ought not to cause panic while creating opportunities for repositioning in fundamentally sound stocks. The pullback also offers the market recovery more strength to rally higher, especially as the Q3 earnings reason has already kicked off with numbers from United Capital. Living Trust Mortgage Bank and Infinity Trust Mortgage Bank beating market expectations.
The market slowdown or pullback after sessions of the rally is normal, just as profit-taking is part of stock market dynamics and ensures that the graph is never straight under any situation or cycle, no matter which of the four phases- accumulation, markup, distribution, and decline, the market is. Understanding these phases as an investor or trader, and applying it to the market, sector rotation, and stock selection, will make the difference in your decisions for higher profit.
Technically, the market has adjusted back for momentum, but a new uptrend will be confirmed when the NGX index action breaks out the resistance levels of 41,510.19bps and 41,584.85bps, which is possible this week as more quarterly earnings hit the market. The state of these expected earnings reports and the level of liquidity in the equity space will determine the possibility of another rally for the rest of the month and beyond. All eyes are on the FGN Bond Auction rates that will kick off any time from now, even as transactions in the last two and three-year savings bonds with rates of 6.9% and 7.9% respectively are being concluded. The money flow index slipped down slightly to 91.14points to reflect the profit-taking activities of investors.
Investors should hold onto their high value and growth stock positions, even as the direction of the fixed income market by way of yields and rates is still not clear, which is not unexpected since funds flow to where there is higher returns.
Meanwhile, Monday's trading opened in the downside and oscillated for the rest of the session on profit-taking that pushed the NGX index to an intraday low of 41,125.06 basis points, from its highs of 41,438.93bps, after which it closed below the opening points at 41,144.67bps.
Market technicals were weak and mixed as volume traded was lower than the previous day's in the midst of a slight negative breadth and selling sentiment as revealed by Investdata's Sentiment Report showing 6% 'buy' position and 94% sell volume. The total transaction volume index stood at 1.03 points, just as the impetus behind the day's performance was strong, but slowed down as Money Flow Index dropped to 91.31points, from the previous day's 94.54 points, indicating that some funds left the market.
To navigate the new month and rest of the year profitably, order Investdata's video on Buy & Sell Technical Analysis Toolbox to enhance trading decisions and boost your bottom line. Also, to up your game in stock trading and investing, understanding the key to trading price and index action will go a long way to make the difference in your trading results, check out the video materials below.
Index and Market Caps
The composite index NGXASI, at the close of day trading, shed 293.41 basis points and closed at 41,144.672bps after opening at 41,438.19bps, representing a 0.71% decline, just as market capitalization fell by N153.15bn, closing at N21.47tr, from the opening value of N21.62tr, also representing 0.71% depreciation in value.
Attention: If you have not signed up for INVESTDATA's buy and sell signal setup, don't delay, because the number of stocks entering their buying range has just increased to 30 as they build a new bullish base and positive chart patterns to be on our watchlist. These stocks have double potentials to rally, considering their earnings prospect and the recovery move of the market at this time.
To become a member, send 'YES' or 'STOCKS' to the phone numbers below. Take advantage of this service to buy right and sell right at the current oscillating market in the midst of earnings season, portfolio reshuffling and repositioning as we await an economic reform policy to stimulate and re-track the economy to the path of growth and development.
Monday downturn was driven by profit-taking and selloffs in FBNH, MTNN, Nestle, Dangote Sugar, Ucap, Champion Breweries, May & Baker, and Livestock Feeds, among others, which impacted negatively on Year-To-Date gain, reducing it to 2.17%. Market capitalization stood at N257.48bn YTD, representing a 2.01% growth from the year's opening value.
Mixed Sector Indices
Performance indexes across sectors were mixed, as the NGX Banking and Industrial goods closed higher by 0.43% and 0.31% respectively, while the NGX Consumer goods led the decliners after shedding 2.53%, followed by Insurance and Energy with 1.66% and 0.31% respectively.
Market breadth was slightly negative, as losers outnumbered gainers in the ratio of 21:20, while transactions in volume and value terms were down, after investors exchanged 338.15m shares worth N4.06bn, from the previous day's 726.96m units valued at N10.21bn. Volume was driven by trades in FBNH, Access Bank, Transcorp, GTCO, and Fidelity Bank.
NGX Group and Ikeja Hotel were the best performing, gaining 9.86% and 9.32% to close at N19.50 and N1.15per share respectively on market sentiments. On the flip side, May/Baker and Royal Exchange lost 8.02% and 7.81% respectively, closing at N4.36 and N0.59per share purely on profit-taking and market forces.
Market Outlook
We expect a mixed trend as investors take advantage of the pullback to reposition for the Q3 earnings season and year-end, as more quarterly corporate earnings are expected to hit the market after the holiday. Just as candlestick formation and volume traded at the end of Monday's trading revealed the trend intact as institutional players are not selling. It is equally noteworthy that this pullback is for accumulating more positions ahead of the earnings reporting season. Also, many stocks are trading within their buy ranges, a situation expected to attract more funds into the equity space, given the Dividend Yield capable of serving as a hedge against inflation.
Also, institutional investors and others continue to digest recently release economic data, the outcome of the Treasury Bill auctions were 91 and 182 days tenor rate remain unchanged and 364 days slightly down by 25 points to 7.25% for a whole one year ahead of earnings season portfolios repositioning. Also, investors are still observing the interplay of forces in the FX market as the CBN's new digital currency platform. The day's low volume suggests that institutional investors are not making a sell move yet in the market, as they look at the economic data and policy direction of the economic managers. It is noteworthy that oil price rebounded in the international market; corporate actions, as well as the interim dividend possibilities, are around the corner for companies like Total, Seplat, Okomu Oil, Presco, Lafarge Africa, and others.
Meanwhile, the home study packs on Comprehensive Stock Market trading course video, Stock Market Analysis Beyond Fundamental & Technical Analysis, INVEST 2021 New Opportunities & New Paths To Profits Summit materials and 10 Golden Stocks for 2021, Strategies and How to invest profitably in this Changing Market Dynamics/ Recession, Mastering Earnings Season For Profitable Investing and Trading in any market situation/ cycles, Life Beyond COVID 19 Investment Opportunities In The Stock Market are now available. To obtain your pack send 'Yes' or 'Stock' to 08028164085, 08179547605 now.
Ambrose Omordion
CRO|Investdata Consulting Ltd
ambrose.o@investdataonline.com
Tel: 08028164085, 08179547605