Reactions To Influx Of Q1 Earnings May Impact NGXASI Amid Profit-Taking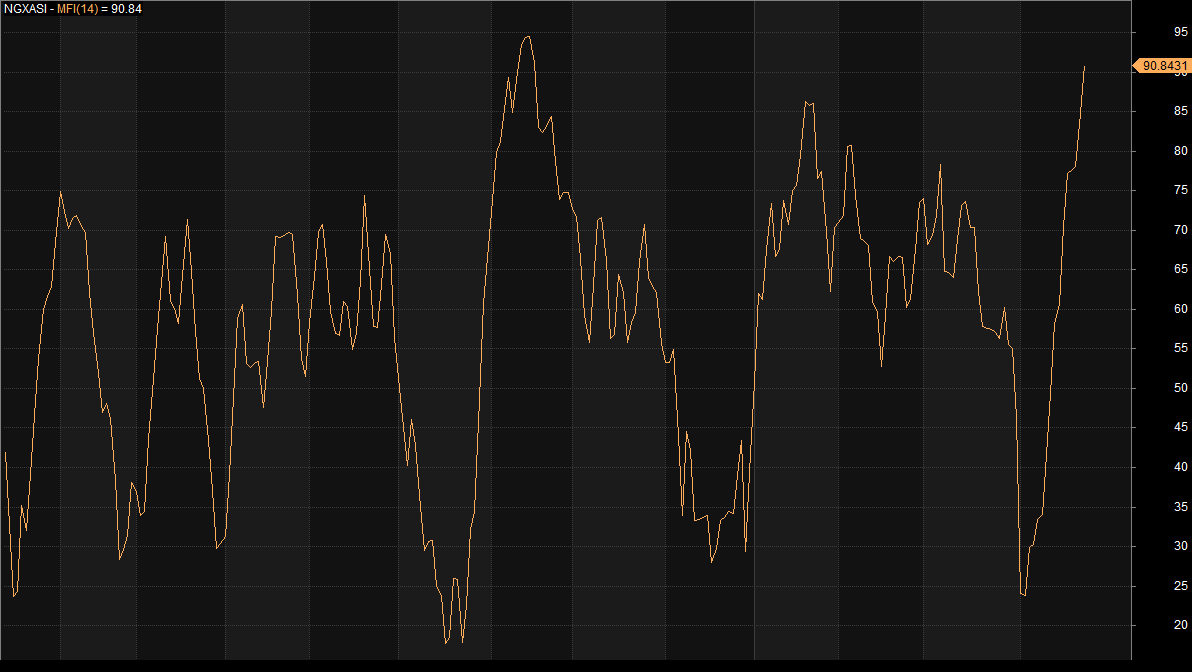 Market Update for April 26
Trading activities on the Nigerian Exchange maintained the bullish momentum in the face of profit-taking and buying interests that pushed the benchmark index marginally higher on a very high traded volume and positive market breadth. Thereby sustaining its positive outing for the 11th consecutive session of bull transition.
This uptrend was attributed to bargain hunting in value stocks and blue-chip companies with high earnings and dividend yields as an influx of Q1 unaudited earnings reports continued to hit the market and give direction ahead of Wednesday's Treasury Bills' primary market auction. On Tuesday also, UBA and UPDC released impressive Q1 results, while GTCO, Livestock Feeds, FTNcocoa, and Morison Industries made available their mixed numbers, which the market will expectedly react to as its opens for the midweek's activities.
The expected Q1 earnings reports which are now being released on the NGX have continued to support the market upswing, as players look forward to decent earnings releases across the board to temper selling sentiment by investors reluctant to leave gains in the market. History has shown that for the most part of inflationary pressure, equities are actually a pretty good hedge against inflation, as companies push up prices in response to rising input costs.
The positive sentiments in the market, support the ongoing bull rampage as momentum indicators and technical tools are confirming the bullish sentiment on a high traded volume as the NGX All-Share index's action makes higher highs. This is on the back of the fixed income market ticking up, as well as the impact of oscillating oil prices in the international market as crude oil continues to trade above $100 per barrel. These are expected to impact stock prices and the behaviour of some quoted companies on the exchange.
The mixed outlook for the quarter remains, as the filing of first-quarter earnings reports continued in the midst of corporate actions, qualification, price adjustment, AGMs, and payment of dividends by listed companies. However, there is a need to watch the current trends, especially with bargain hunters still in the market cherry-picking fundamentally sound stocks. There are also the expected market reactions to the markdown of prices for dividends and payment dates as announced by companies through the exchange. We note that today and tomorrow are the qualification date for NEM Insurance, Mansard Insurance, and Wema Bank for the dividends of 22 kobo, 25 kobo, and 24 kobo per share respectively.
Despite, the ongoing rally, players should watch their stop-loss and profit targets to adjust positions and take profit as their target is met. Tentatively, the index action has formed a bearish hammer pattern reversal which requires confirmation in today trading, just as uptick in the fixed income market yields and oscillating rates of TBs may support the flow of funds into other assets like equity and real estate.
The Russia-Ukraine war, in the midst of the COVID-19 cases in China, resulting to lockdown in some provinces have continued to influence commodities prices, especially crude oil which oscillates in the international market to trade above $103 per barrel, after touching $120.27 in the previous days. This has continued to push production costs up, worsening inflationary pressure across the globe and weakening economic outlooks for 2022 and 2023, thereby influencing the monetary policy of central banks as they move to checkmate the impacts of the Russia-Ukraine conflict on the global economy to avoid a global recession.
Slowdown in market momentum at the midst earnings reporting season has created 'buy' signals for institutional investors and discerning traders. However, we warn that market corrections are not over yet because profit taking is part of the market dynamics, hence the need to rely on your stop-loss effectively. This is because the uptrend signals that profit-taking is underway, especially as indicated by bearish hammer candlestick formation which need confirmation.
Technically, the NGX index is making a higher high, as the session witnessed mixed sentiment that could be linked to profit booking and repositioning of portfolios ahead of more Q1 numbers and reactions to corporate action dates. The possibility of the market sustaining this trend is a function of the state of Q1 numbers and improved economic condition during this Q2, following which we advise investors to play defensive with sectors having strong demand and dividend stocks to reduce investment risks around the market.
Tuesday's trading started on the upside and oscillated throughout the session on selloffs and buying interests across sectors. This pushed the NGX's index to an intraday high of 48,662.56 basis points from its lows of 48,540.73bps, before closing marginally above its opening point at 48,568.57bps.
Market technicals were positive and mixed, as volume traded was higher than the previous day, in the midst of breadth favoring the bulls on selling sentiment as revealed by Investdata's Sentiments Report showing 23% 'buy' volume and 77% sell position. The total transaction volume index stood at 1.48 points, just as impetus behind the day's performance remained strong with Money Flow Index looking up at 90.84pts, from the previous day's 84.86pts, indicating that funds entered the market.
For you to successfully invest and trade in this volatile market, order for Investdata's video on Buy & Sell Technical Analysis Toolbox to navigate the volatile market profitably, enhance trading decisions and boost your bottom line. Also, to up your game in stock trading and investing, understanding the key to trading price and index action will go a long way to make the difference in your trading results, check out the video materials below.
Index and Market Caps
At the close of Tuesday's trading, the benchmark NGXASI inched up by 25.21points to close at 48,568.57bps, after opening at 48,543.36bps, representing a 0.05% up. Similarly, market capitalisation rose by N13bn, closing at N26.18tr, from the previous day's N26.17tr, which also represented a 0.05% appreciation in value.
Attention: If you have not signed up for INVESTDATA's buy and sell signal setup, don't delay, because the number of stocks entering their buying range has just increased to 30 as they build a new bullish base and positive chart patterns to be on our watchlist. These stocks have double the potential to rally, considering their earnings prospects and the oscillating moves in a recovery market and economy.
To become a member, send 'YES' or 'STOCKS' to the phone numbers below. Take advantage of this service to buy right and sell right at the current oscillating market in the midst of earnings season, portfolio reshuffling, and repositioning as we await an economic reform policy that can stimulate and re-track the economy to the path of growth and development.
Meanwhile, Tuesday's upturn was driven by buying interests in Seplat, Lafarge, NB, Presco, Unilever, Flour Mills, Champion Breweries, and UCap, among others. This impacted mildly on Year-To-Date gain, which increased to 13.70%, while market capitalization growth stood at N3.24tr YTD, representing a 16.83% rise over the opening level for the year.
Bullish Sector Indices
Performance indexes across sectors were bullish, except for the NGX Banking that closed 1.39% lower, while NGX Oil/Gas led the advancers after gaining 3.35%, followed by Consumers goods, Insurance and Industrial goods with 1.10%, 0.88% and 0.03% respectively.
Market breadth remained positive, as gainers outnumbered losers in the ratio of 28:23; just as transactions in volume and value terms were up as players traded 464.73m shares worth N7.01bn. Volume was driven by trades in Transcorp, Aiico, Zenith Bank, FBNH AND Sovereign Trust Insurance.
Academy Press and Champion Breweries were the best-performing stocks after gaining 10% and 9.78% respectively, closing at N1.21 and N2.47per share respectively on expected earnings and impressive Q1 numbers. On the flip side, Multiverse and International Breweries lost 8.70% and 8.04% respectively, closing at N0.21 and N5.15 per share, on selloffs.
Market Outlook
We expect the influx of Q1 earnings to impact the market positively in the midst of profit-taking and market reaction to impressive Q1 numbers, as market players digest 2021 full year numbers and 2022 unaudited financials amid revaluation of quoted companies ahead of more Q1 2022 earnings expectation. This is expected to support this uptrend during this season, amidst oscillating oil prices, just as the market continues to interpret economic data in relationship with the crude oil price and other factors, in the midst of profit-taking and portfolio rebalancing. This will result in market players targeting fundamentally sound and dividend-paying stocks in the hope of dividend announcements, while the International Monetary Fund projected the nation economy to grow by 3.4% in 2022 on rising oil price.
Meanwhile, the home study packs on Comprehensive Stock Market trading course video, Stock Market Analysis Beyond Fundamental & Technical Analysis, 2022 Actionable Trading Plan and Opportunities in Q1, INVEST 2022 Traders & Investors Summit materials and 10 Golden Stocks for 2022, Strategies and How to invest profitably in this Changing Market Dynamics/ Recession, Mastering Earnings Season For Profitable Investing and Trading in any market situation/ cycles, Life Beyond COVID 19 Investment Opportunities In The Stock Market are now available. To obtain your pack send 'Yes' or 'Stock' to 08028164085, 08179547605 now.
Ambrose Omordion
CRO|Investdata Consulting Ltd
ambrose.o@investdataonline.com
Tel: 08028164085, 08179547605