SEC Nigeria, Oando Plc Reach Landmark Settlement After Four-Years Faceoff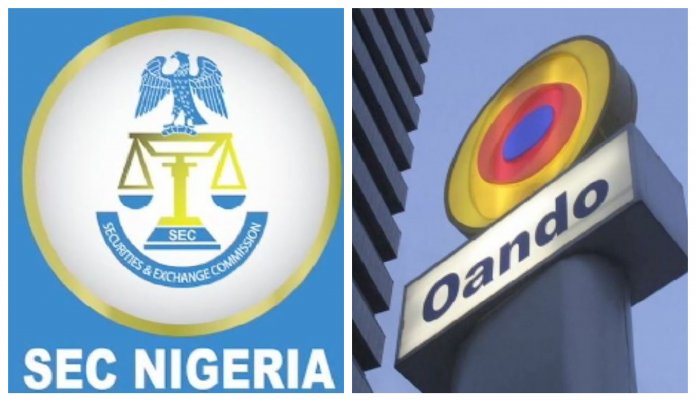 After over 48 months of long-drawn battle, the management of both Nigeria's Securities & Exchange Commission (SEC), on Monday confirmed in separate statements that they have entered into a settlement that would result in the withdrawal of a plethora of court cases.
According to the SEC, the settlement, which confirms a story by Investdata News of an impending political solution to the faceoff, was entered into on Thursday, July 15, 2021, "in the overriding interest of the shareholders of the company and the capital market," even without Oando Plc "accepting or denying liability."
Terms of the settlement, the commission's management explained, included "amongst others: Immediate withdrawal of all legal actions filed by the company and all affected directors; payment of a monetary sum; and an undertaking by the company to implement corporate governance improvements."
Describing the settlement as a win for the nation's capital market and especially shareholders, Oando Plc said in its statement, that the settlement is a win for the Capital Market, specifically shareholders who have been the hardest hit, especially in light of the nature of challenges the country has been faced with, will enable its management "focus on its business operations."
As part of the terms, Oando Plc is to submit "quarterly reports on its compliance with the terms of the Settlement Agreement; the Investments and Securities Act, 2007; the SEC Rules and Regulations; the National Code of Corporate Governance and the SEC Guidelines to the Code of Corporate Governance."
Pursuant to the powers conferred on it by the Investments and Securities Act 2007, and the Rules and Regulations made pursuant thereto, the Commission recalled that in its letter dated May 31, 2019, Oando Plc was given certain directives and sanctions imposed.
The directives and sanctions, which followed investigations conducted pursuant to two petitions filed with the Commission in 2017, were challenged by the company and some of its affected directors "in a series of suits commenced at the Federal High Court.
The company, the SEC continued, "subsequently approached the commission for a settlement of the matter, and both parties have now agreed to settle in consideration of the impact that a further prolonged period of litigation would have on the Company's shareholders and the value of their investments as well as remedial measures to be put in place by the company in enhancing its corporate governance practices and strengthening its internal control environment."
The commission, therefore, reiterated "its commitment to ensuring the fairness, transparency, and integrity of the capital market, while upholding its mandate to protect investors."
Continuing, Oando listed the task ahead of its management to include ensuring value creation "for its shareholders, and in the immediate, (and) to convene its 42nd Annual General Meeting (AGM) to give its shareholders the opportunity to exercise their rights to receive information as well as vote on company affairs."
Reacting, Engr. Patrick Ajudua, a shareholder of the company, who expressed great delight at the news of an amicable settlement expressed hope " that lessons have been learnt and efforts must be made to assist the management team return to business as usual and recover from the lengthy dispute in order to deliver value to us. On the part of the regulator, we are grateful to them for towing the part of a peaceful resolution. To the Board and Management of Oando, I want to commend their resilience and patience all through the period of the dispute."