Selected NGX Stocks To Watch Ahead Of CBN MPC Meeting Outcome
It is obvious that the nation's stock market witnessed correction in the last five to six months as a result of the market reacting to the aggressive rate hike by the Central Bank of Nigeria (CBN), and other economic headwinds including profit taking in highly capitalised companies that had supported the market before now on their price rally and impressive performance.
This pullback has sent panic selling to many investors and traders that do not understand the market dynamics of overbought and oversold in different phases of the equity market or trading, just as everyone is focused now on Nigeria's 2023 general election, rising inflation and projections for future MPC policy. So, It is easy for many market players to overlook the indicator that really matters most, which is corporate earnings of listed companies. Going into the Q3 earnings season in October, many expressed fear that companies were going to post leaner numbers, fuelled by the gloomy economy and persistent price pressures. But that wasn't the case, instead the quoted companies posted better than expected earnings that are likely to support higher pay-out at the end of the current financial year, which is around the corner.
Many sectors of the market posted impressive earnings, despite the increasing headwinds in the economy and sovereign risk.  This is an indication that some industries are benefiting from the rate hike, war situation in Ukraine and Russia. Also, the rising inflation for the companies that were able to pass their cost to final consumers.
In all these, a progressive economy will support a stronger stock market as all eyes are on post-election economic reforms in the new dispensation, so as a discerning investor and trader take advantage of the prevailing low prices and higher dividend yields.
NGXASI (see opening chart) rebounded in the previous week as revealed by the chart below and others.
GTCO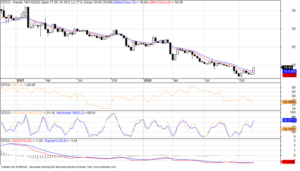 UBA
UCap
Fidson Healthcare
Zenith Bank
Accesscorp
Stanbic IBTC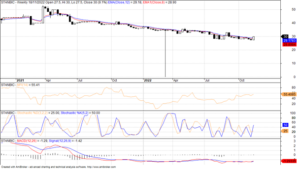 ETI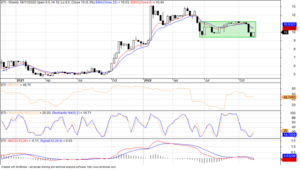 UBN
Eterna
It can be easy to get the best from the current market situation, if you understand the dynamics of stock market trading or investing and the wealth creating opportunities that comes with financial market or economic reset in 2023 as actions of economic managers are already pointing to.  As you are keeping your eye on earnings power that support higher pay-out.
To help you position for 2023.  I am offering all readers 20% discount to attend Invest 2023 Traders & Investors Summit, holding December 3, 2022. This discount window expire November 24, 2022 midnight.
Invest 2023 Traders & Investors' Summit
Theme: Preparing For Financial Market Reset In 2023 & Beyond
Sub-Topics
1, Budget 2023, Economic Headwinds & The Stock Market: Are Market Players Prepared? Mr Olatunde Amolegbe, CEO, Arthur Steven Asset Management Ltd & Immediate Past President of CIS
Comprehensive & Complete Wealth Building Actionable Strategies for 2023 Mr Oladipo Ajayi Head of Fixed Income at Chapel Hill Denham
2023 Stock Market Outlook And Identifying Great Value Stocks For Santa Claus & Post-Election Rally Alhaji Garba Kurfi MD/CEO APT Securities & Funds Ltd)
The Power of Technical Tools In Today's Volatile Market Mr Rotimi Olubi. MD ARM Securities Ltd
Building Recession-Resistant Portfolios In A Financial Reset Mr Muktar Mohammed, MD Muktar Finance Ltd
The Role of Commodity Trading In Wealth Creation, Agricultural Development
Fixed Income Market Slice & Dice In A Changing Interest Rates, Inflationary Environment Mr Teriba Adeboye, MD/CEO, Qualinvest Capital ltd
8, Four Steps To Simplify Your Day Trading & Understanding the power of Breakout Trades Mr Abdul-Rasheed Oshoma Momoh, Head Capital Market at, TRW Stockbrokers Ltd
9, 10 Golden Stocks for 2023,  Mr Ambrose Omordion, CRO. Investdata Consulting Ltd.
Investdata Consulting Ltd will hold the 11th edition of its annual Investment conference tagged Invest 2023 Traders & Investors Summit, which has over the years remained a game changer for market players. This edition is aimed at helping stakeholders prepare for the financial market reset expected to happen next year by identifying opportunities and bringing tradable ideas for profitable investment as we enter election year. This one-day event is yet "Another wealth transfers for the prepared as the bull is underway after this correction "
Are you prepare to move cash to profitable assets ahead of year-end and the 2023 general elections, Invest 2023 is a don't miss summit that is capable of completely changing your view about wealth creation in a disconnect system where the economy and stock market are headed and when you should fully plunge in or hold cash. Join equity market experts and other experienced professionals as they discuss a "Big Picture Perspective" of where the stock market and other investment windows are today, and what signs to watch for in the coming months.  Don't miss this summit.
This annual summit offers you, whether an investor, or trader an insight, perspective and expectation in the new year. This edition is exceptional, given the increasing headwinds across the globe and locally, ranging from the aggressive rate hikes, soaring inflation, geopolitical tensions, and uncertainties surround the 2023 general election like others before it. There will also analyses on the status of different investment windows and opportunities ranging from the economy, equity, bond, commodity markets, using fundamental and technical tools.
Looking at history, there is no doubt that a correction or rebound is on the cards at some stage over the coming months. However, this big questions on everybody's lips include when this will occur and whether it will end this bull-run or market recovery. Whatever happens, what is the best way to Prepare rather than trying to Predict? This and more, are what Invest 2023 Summit will address.
What to expect at this Summit?
A. How to take advantage of the correction for huge profit
B. Strategies to stay in profit, overcome market correction/pullbacks
C. How to hedge against inflation and preserve your portfolio
D. Understanding the power of liquidity and circular flow of funds in financial markets
E. Risk/return from Bonds to stocks right now.
F. Commodity trading as another  investment window to boost return
The exact sectors and tickers you should be looking at this volatile market
Market events and others you can use to trade in any market situatio
Benefits of attending
10 Golden Stocks for 2023
ii. Admission to Investdata Buy & Sell WhatsApp Platform
iii. Among others
"Invest 2023 – Connects you to new trade opportunities and ideas to enhance your trading returns
Don't miss this summit, if you have any exposure to the stock market, either directly or indirectly via managed funds of any kind……
Date: December 3, 2023
Time: 9am
Fee: N30,000
Venue: Zoom
If you want to reset your profit by taking advantage of opportunities in financial market and assets repricing in 2023? Send Yes to 08028164085, 08179547605 now.
Ambrose Omordion
CRO|Investdata Consulting Ltd
ambrose.o@investdataonline.com
Tel: 08028164085, 08179547605