Understanding The Big Picture and Changing Your Trading Strategies For Profit
The investing public at this stage, ought to understand and identify the stage the nation's economy is in the economic cycles as the different impetus associated with various stages that would help in analyzing sectors, industries and companies.  This would enable them also to know sectors that would do well in a particular cycle or period, and as such guide them on how to pick the best industry or company at the right time.  These economic cycles are classified into five namely the early expansion, middle expansion, late expansion, early contraction and late contraction and they all offer different investment opportunities.  
To know what stage of an economic cycle we are in, you must first identify the current stage of the economy and which sectors have done well, looking at such economic indicators as interest rates, inflation and industrial production which is the national output. It is better investors understand these economic cycles now as the post-election economy is disintegrating, so as to know where to pitch their tent in the new dispensation.
The early expansion stage of an economy is where the interest rate is relatively low, or inflation has decline to a low level while the national output is increasing on the strength of industrial production to drive the whole system. Nigeria's economy is not at this stage now, but investments thrive in these sectors and industries: capital goods, technology, transportation, manufacturing, communication equipment, airlines and construction.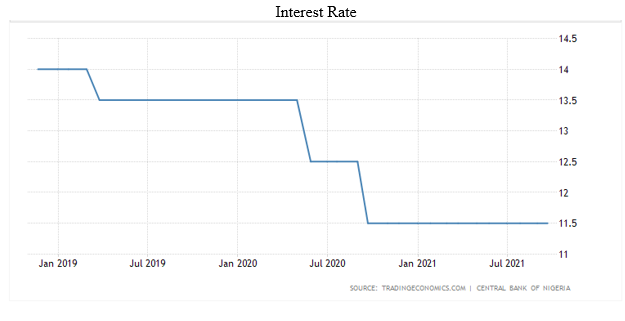 Interest Rate
At the mid expansion stage of any economy, the interest rate is on the gradual increase as inflation rate remains down for a time while the output of the nation has increased geometrically on the strength of low cost of funds for expansion of business and take off of new enterprises to boost development and growth. At this stage, manufacturing, machinery, construction and industrial goods do well, meaning that companies in these sectors or industry would thrive and investors must focus on companies in these sectors.
The late expansion of an economy is at the point where interest rates have increased geometrically with inflation to keep national output at a constant level. Here the cost of borrowing is high and the prices of goods and services are high as well, due to the inflationary pressure on the system. The sectors that thrive under this condition are energy, consumer staples and basic materials, like power, oil & gas, chemicals, Alumium , Beverages, foods, distributors, health care, hospital management, household products and medical products.
Inflation Rate
The early contraction stage is where the economy starts dwindling because the interest rate has remained high and inflation continues to rise, thereby causing a serious decline in national output as industrial production decreases on the influence of high cost of production. The sectors or industries that thrive at this stage are the financial services, utilities and consumer staples. Examples are the energy companies, house-wares and electric companies.
Industrial Production
Finally, the late contraction stage occurs when interest rate begins a gradual decline with high inflation rate and national output degenerates due to the high cost of goods and services. At this stage, it is the financial and consumer sectors that do well while the industries and insurance, investment bank, banks, as well as savings and loans.
Understanding the big picture in equity investment would go a long way to help traders and investors in any economic and market situation, since the stock market cannot be divorced from the economy, as a leading indicator that tells what is happening now and pointing to the future of each sector, industry and company. In stock trading, what influences share price is beyond company performance, as 80 percent of what moves equity prices comprises of the economy, the market, the sector and the industry. When the economy is recovering the share prices of listed companies are likely to be in the same direction of recovery or looking up, also the market itself has influence on prices when it experienced system or economy induced downturns or upturns. The sector and industry also have influence on share prices, when a sector or industry is doing well it goes down to impact companies operating in that space. As earlier mentioned, the economy has cycles of boom and bust which goes with the different stages of early expansion to late contraction.
After identifying the stage our economy is now, which sectors should you invest in for profit after the market remained in the red for over three months? The bearish market created another opportunity to buy low and sell high when prices rebound. To identify value in a recovering economy when market is oscillating in upward direction due to happenings in the global and domestic environment, the sectorial performance YTD would reveal industries that have witnessed slowdown or suffered losses but with upside potentials. This is just as year-end seasonality and others are expected to playout before the year winds down.
SECTORIAL INDEX PERFORMANCE YTD.
From the sectoral performance, there are indications that prices have change from low to high as shown in the indices above, except for the NGX Insurance and Consumer Goods thatare negative due to their relatively unstable price movement year to date. The down trodden sectors have been affected by the economy and the market, but some of the companies operating within the sector still have strong fundamentals regardless of market perception and sentiments for low share prices that have value now for investors to identify.
In the current market situation price is key but let value guide you, what gives value is derived at the right time when position is taken at a lower price, because equities that have high margin of safety at relatively high price before now are selling lower due to conditions that had forced prices down.
In the current situation cash is king, as it allows investors reposition on time at any breakout of the market from the current trend that had characterized the up and down movement of prices in recent times. Exiting positions in toxic stocks and selling those with low marketability at a discount to hold cash is necessary to help you as a trader, or investor position at the reversal of any market trend.
Do not make the mistake of staying in toxic stocks, because they are always the first to take a hit in the form of huge losses. Leaving your money in any company that has no clear business model capable of supporting its performance, or that you do not trust wholeheartedly is very dangerous to your portfolio.
Identifying stocks that would attract the attention of foreign investors who are currently standing on the sidelines, when they start return to the market is important, because they are major drivers of the market due to high volume of transaction they control, which the local institutional investors or players have taken over. This is coupled with the advantage of exchange rate that is in favour of international investors who enter with little forex to buy over the market.
Sectors to target in this economic situation include the banking, healthcare, if the government and regulators of that industry wake up to their responsibility and begin to protect local manufacturers, and the conglomerates, especially those companies that are highly diversified, as well as agribusiness, consumers and industrial goods.
Invest 2022 Traders & Investors Summit
Theme: Master The Market, Get The Best Of Pre-Election Year 2022


Sub-Topics
1. Balanced Trading: Playing Nigeria's Multiple Exchanges For Diversification, MrOlatundeAmolegbe, CEO, Arthur Steven Asset Management Ltd&President of CIS
2. Agriculture, Economic Recovery & Diversification: Where Is Commodity Trading In Your Portfolio, MrAkinyinkaAkintunde, Business Development Manager, AFEX Commodities Exchange Ltd.
3. Technical Outlook & Indicators For Profitable Market Timing, Mr Abdul-Rasheed OshomaMomoh, Head Capital Market at, TRW Stockbrokers Ltd
4. Benefits & Dangers Of Fixed Income Instruments In An Inflationary Environment, MrTeribaAdeboye, MD/CEO, Qualinvest Capital ltd
5. Economic Outlook and implications of the N16.45 Trillion 2022 Budget On Sectors/Stock Market, MrOluwasegunAkinwale, Senior Portfolio Manager,Coronation Asset Management Ltd
6. Profitable Stock Picks Made Easy, Using Fundamental Tools, Mrs. Ebiere Helen Fumudoh, MD/CEO, Norrenberger Securities Ltd
7. The Role of Real Estate & REIT Instruments In the Ecosystem, Mr Tope Ojo, Managing Partner,Tope & Tunde Estate Surveyors &Valuers
8. Trade Opportunities & 10 Golden Stocks for 2022, Mr Ambrose Omordion, Chief Research Officer, Investdata Consulting Ltd
Investdata Consulting Limited holds the 10th edition of its annual Investment conference tagged Invest 2022 Traders & Investment Summit, which has over the years remained a game changer for market players. This edition is aimed at helping stakeholders identify opportunities and bringing ideas for profitable trading as we enter a pre-election year.
Invest 2022 is a not-to-be missed summit capable of completely changing your view about where the economy and stock market are headed and when you should fully plunge in or hold cash. Join the experts and experienced professionals to discuss a Big Picture Perspective of where the stock market and other investment windows are currently placed and what signs to be vigilant about over the coming months and year 2022. Don't miss this summit.
We have held this annual summit since 2012, to give investor and traders insight, perspective and expectation in the new year. This year Invest 2022 Summit is exceptional being vaccination driven economic recovery after Covid 19 disruption. The big picture of what is happening and outlook for 2022, analysis of the status of different investment windows and opportunities, ranging from the economy, equity, bond, commodity, real estate and others using fundamental and technical tools.
More than 80% of the golden stocks pick during Invest 2021 Summit have beaten their targets, returning more than 40% to 60% in less a year. Due to growing concern and fear around the globe and domestic economy/stock market as analysts are predicting a big melt-down in stocks from ant time soon, to sometime in 2022.
Looking at history, there is no doubt that correction or pullbacks are on the cards at some stage. However, this big questions on everybody minds are when will this occur and whether it will end this bull run or market recovery.
Whatever happens, what is the best way to Prepare rather than try to Predict? This is what Invest 2022 Summit will address. So you are invited to Speck or facilitate at this event
What to expect at this Summit?
A. Why the market is on high alert for the New Year rally, or Correction
B. Strategies to stay in profit, overcome market correction/pullbacks
C. How to position in stocks for robust profit ahead of 2022
D. How to take advantage of the circular flow of funds in financial markets
E. Risk/return from Bonds to stocks right now.
F. Key to profitable trading and investing in the stock market/other investment windows
Benefits for attending
1,10 Golden Stocks for 2022
2, Admission to Investdata Buy & Sell WhatsApp Platform
3, Among others
Don't miss this summit, if you have any exposure to the stock market, either directly or indirectly via managed funds of any kind…….
"Invest 2022 – Connects you to new trade opportunities and ideas to boost your trading results/bottom line"
Don't miss this summit, if you have any exposure to the stock market, either directly or indirectly via managed funds of any kind……..
Date: December 4, 2021
Time: 9am
Venue: Zoom
Want to be among the successful investors and traders in 2022? Send Yes to 08028164085, 08179547605 now.
Meanwhile, the home study packs on Comprehensive Stock Market trading course video, Stock Market Analysis Beyond Fundamental & Technical Analysis, INVEST 2021 New Opportunities & New Paths To Profits Summit materials and 10 Golden Stocks for 2021, Strategies and How to invest profitably in this Changing Market Dynamics/ Recession, Mastering Earnings Season For Profitable Investing and Trading in any market situation/ cycles, Life Beyond COVID 19 Investment Opportunities In The Stock Market are now available. To obtain your pack send 'Yes' or 'Stock' to 08028164085, 08179547605 now.
Ambrose Omordion
CRO|Investdata Consulting Ltd
ambrose.o@investdataonline.com
Tel: 08028164085, 08179547605