UPDC Raises N16bn Ahead Of Unbundling, Positions For Growth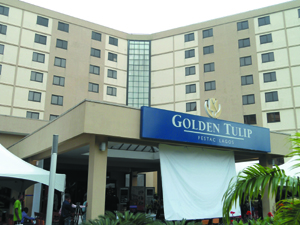 UACN Property Development Company Plc (UPDC), Nigeria's foremost real estate development firm, last week, held a virtual closing gong ceremony to mark its successful N16bn Rights Issue at The Nigerian Stock Exchange.
The offer, the company said in a notice to the NSE, was oversubscribed, indicating investor confidence in its future growth prospects, noting that proceeds of the Rights Issue have been used to improve capital structure and position it for growth.
A statement by the company quoted Fadahunsi, its Chief Financial Officer, as saying that "the Rights Issue has resulted in improved cash flow for UPDC, as finance cost has reduced from N4.8bn in 2018 to N700m.
"We will continue to reposition our property portfolio by actively selling lower yielding assets to provide further liquidity to fund new developments.
"The next stage of UPDC's strategic initiatives is its upcoming unbundling from UAC which will allow the platform to operate as an independent group, and UPDC looks to a future with greater flexibility and a solid foundation for growth," she added.
Continuing, Fadahunsi assured that UPDC's simplified structure, stronger capital base, technology driven approach, expert management team and well a defined development strategy, provides investors considerable growth potential and opportunities for generating attractive long term returns in the Nigerian real estate sector.
Expressing gratitude "for the confidence exhibited by our loyal shareholders and continued patronage from customers," she assured that the UPDC team remains "focused on leveraging these strengths to drive stakeholder value creation".
The statement also quoted Deborah Nicol-Omeruah, its Deputy Chief Executive Officer, as noting the company's "unparalleled market knowledge and track record, more than N20bn in assets, strong governance and an excellent facilities management business."
With the recapitalization exercise over, the company, in the statement jointly signed by the company's Deborah Nicol Omeruah, the Deputy Chief executive Officer, and Folakemi Fadahunsi, Chief Financial Officer, said it is set on a path to profitability, with an aggressive development strategy which will see the commencement of its first new project under its new management in Q4 2020.
The proposed residential development, known as Festival Flats, it explained further, is designed to be a 30 unit block of 2-bedroom apartments, targeted at the local middle income market.
Located next to UPDC's popular Festival Complex in Festac which currently includes the Festival Mall, Festival Hotel, and The Residences Apartments, it said the proposed new development will offer buyers a lifestyle where they can live, work and play at their doorstep.
The post-rights issue UPDC will be left with the long-term bond with a total outstanding balance of N4.3bn as its only interest-bearing obligation.
Also, both UACN and UPDC are proposing a restructuring that will see UPDC's Real Estate Investment Trust (REIT) unbundled and shareholders are allocated REIT units directly in proportion to their post-rights issue holdings in UPDC.
Restructuring of the REIT is expected to materially increase free float and liquidity in REIT units, just as it will release immediate value to UPDC shareholders who will benefit from a direct interest in the UPDC REIT, which is profitable and has a track record of dividend payments (READ MORE).