Equities
Volatility Still, Amidst Bargain Hunting, Portfolio Repositioning For Year-end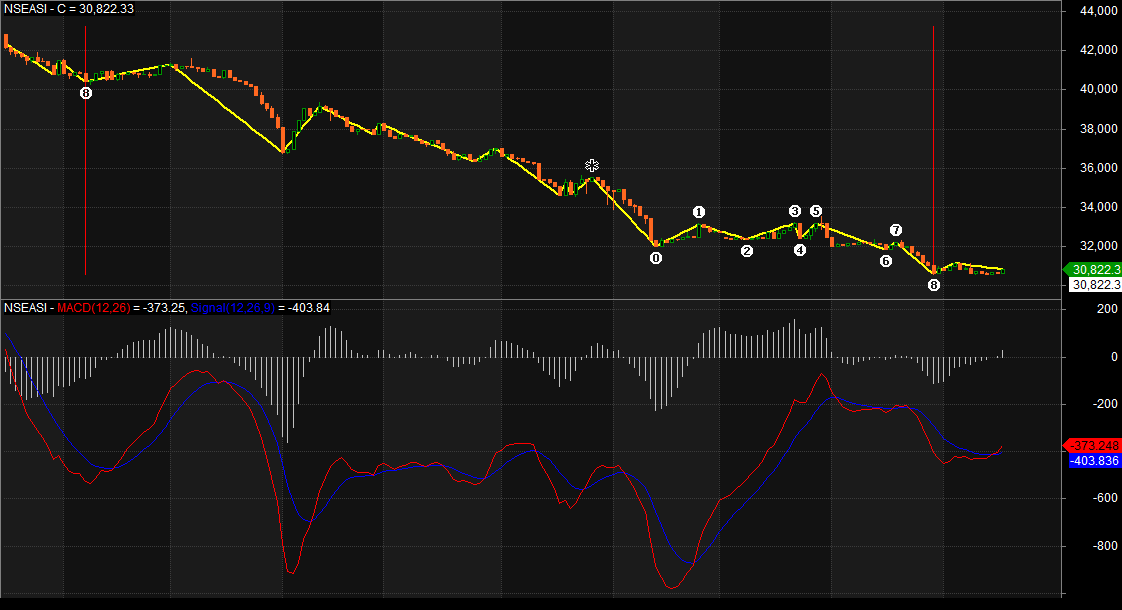 Market Update for December 18
Nigerian Stock market had a very interesting session on Tuesday, reversing previous day's negative sentiments on a high traded volume and positive market breadth to closed higher.
Trading for the day started off with a slide to the downside in the morning session, before rebounding in the mid-morning on very strong rally that was sustained till the end of the day, following which it recovered all of it losses in the last four sessions.
The session closed with the NSE All-Share index chalking 205.13 basis points at 30,814.19bps, a sign that strength is returning to the market and may usher in last minutes Santa Claus rally that the market had long expected. It may however be for a very short time because positive news and numbers have not so far impacted on the market and prices for long due to the prolonged downtrend.
However, the NSE index on four-wave decline extended as it took the index from intraday lows of 30,606.83bps, to a high of 30,822.33bps where it closed on a high buying interest that was evident in all sectors except insurance.
The mixed and weak performance of industrial goods sector was a clear reflection of the economic situation, given that the nation's decayed infrastructure continues to impact negatively on business activities. This has been very evident among companies in the building materials manufacturing sector, whose performance have been below expectation except for Cement Company of Northern Nigeria (CCNN) that has so far maintained up-trending numbers as revealed by its Q3 position. CCNN posted Earnings Per Share of N3.19, compared to the previous N1.61 in the previous Q3 (READ MORE).
Market technicals for the day were positive and strong as traded volume was higher than previous day's in the midst of positive breadth and strong buying pressure as revealed by Investdata's Daily Sentiment Report, showing a buy volume of 100% and 0% sell position. Volume index for the day's total transactions was 1.27.
The momentum behind the day's market performance was up, as reflected in the money flow index at 37.56bps, from previous day's 29.31bps, indicating that funds entering the market and some stocks in the midst of the prevailing low liquidity in the system.
Index and Market Cap
At the end of trading, the NSE All-Share Index gained 205.13bps to close at 30,822.33bps from the 30,609.06bps, representing 0.67% growth, just as market capitalization rose by N74.93bn to close at N11.26tr, from an opening value of N11.18tr, representing a 0.67% value gain.
NSE DAILY TIME FRAME
MACD on weekly and daily time frame crossed over yesterday on a high volume that signal strength and support reversal. So, let us watch trading this morning as market open.
Attention: Join Investdata buy and sell signal setup to get all our in-depths analysis on the picture and to get access to our carefully created watch list. To become a member, send 'YES' or 'STOCKS' to the phone numbers below. The number of stocks on our watchlist has increased due to the prolonged market correction. Take advantage of this service to buy right and sell right.
The uptrend was impacted by price appreciation recorded by medium and high cap stocks like: Dangote Cement,Guaranty Trust Bank,FBNH, 11 Plc, Forte Oil, CCNN, Dangote Flour and Honeywell Flour. This impacted positively to reduce Year-to-Date loss position, to 19.43%, while market capitalization decline YTD came to N2.35 trillion from its opening level in January, representing 17.30% decline during the period.
Bullish Sectors Indices
The sectoral indices were largely bullish except for the NSE Insurance index that closed red, just as market breadth turned positive with more advancers than decliners in the ratio of 24:11.
Market activities were up in volume and value by 47.10% and 193.46% respectively to 316.20m shares worth N5.09bn, compared to previous day's 214.96m units valued at N1.73bn. Transaction volume was driven by financial services and industrial goods stocks like: Zenith Bank, Mansard, Lafarge Africa, Access Bank and Guaranty Trust Bank.
Niemeth Pharmaceuticals and CCNN were the best performing stocks, after topping the advancers table with gains of 10% and 9.92% respectively to close at N0.66 and N18.85 each on market forces and impressive Q3 numbers. The decliners' side was led by Access Bank and Mutual Benefits, following their 5.52% and 4.76% loss to close at N7.70 and N0.20 each, on profit taking and market force.
Market Outlook
We expect this volatility to be sustained as bargain hunting and portfolio repositioning for year-end to shape performance of the market, with MACD on weekly and daily time frame crossing over on high volume supports uptrend depending on market forces, as the market is still resisting further decline. This is especially as the number of companies hitting new 52-week low reduced.
The ongoing volatility will persist as Q3 numbers assist investors and fund managers rebalance their portfolios, while watching the political space and ahead of full year company earnings position and post-election market dynamics. These are likely to drive prices north, or south, while determining market direction before or after the Presidential Election.
Investors should review their positions in line with their investment goals, strength of the company numbers and act as events unfold in the global and domestic environment.
However, we would like to reiterate our advice that investors should go for equities with intrinsic value,
We advise investors to allow numbers guide their decisions while repositioning in any stock, especially now that stock prices remain low in the midst of weak company, economic and market fundamentals.
RE: INVEST 2019
The difference between you and others who are not aware of what I am sharing with you is ACTION. Take action that will transform your life throughout 2019 and beyond by getting the Just Concluded and life transforming INVEST 2019 TRADERS & INVESTORS SUCCESS SUMMIT Home study pack (USB) that you can play on your phone, Laptop and Television set. The event, which held on Saturday, December 8, 2018, was yet another successful, insightful and educative outing that not only offered direction as to where investors should look for a profitable 2019, but industries, sectors and companies to seek worthwhile returns. What stocks should you buy? Grab the pack for the 10 Golden Stocks with possibility of offering in 2019 multiples of what broader stocks do, coming out of this market correction environment.
Don't sit on the Fence call or text Stock to 08028164085,08032055467, 08111811223 now.
Ambrose Omordion
CRO|Investdata Consulting Ltd
info@investdataonline.com
info@investdata.com.ng
ambrose.o@investdataonline.com
ambroseconsultants@yahoo.com
Tel: 08028164085, 08032055467