Uncategorized
Volatility Still, Amidst Month, Q3-End Portfolio Rebalancing, Profit Taking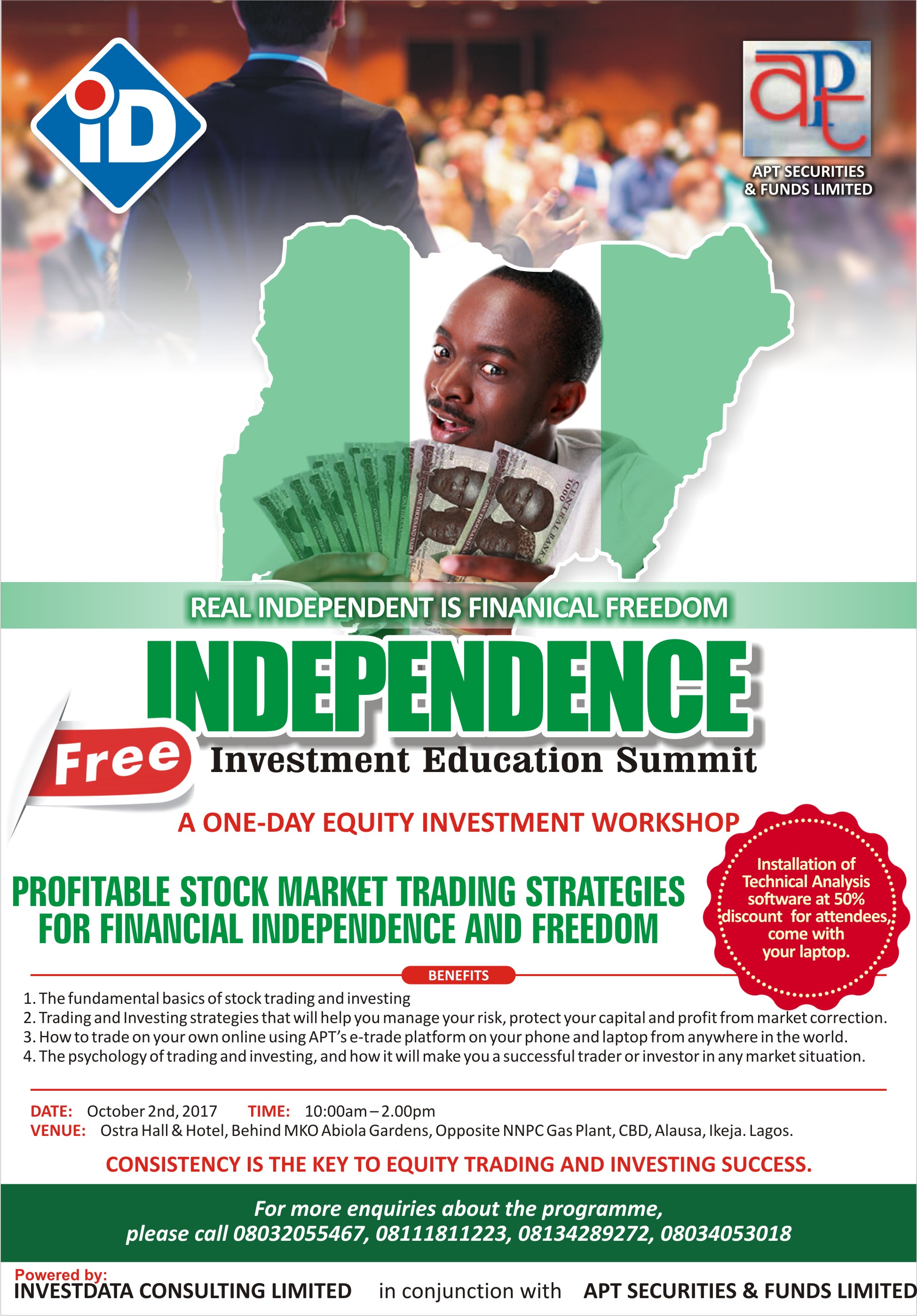 Market Update for September 28
Nigeria's stock market on Thursday had another mixed session to consolidate the previous day's gains as September struggles to close positive, depending very much on what happens on Friday, the last trading one for the month. At the close of Thursday's activities, the Nigerian Stock Exchange's All Share Index loss for the month of September had reduced to 0.21%, which has a high possibility of being wiped off, if the market closes mildly positive.
The seeming post-Central Bank of Nigeria Monetary Policy Committee (MPC) meeting market rally was due also to end of third quarter/month sentiments as fund managers balance their trading accounts for the period, ahead of last quarter seasonal changes. These, of course, include the onset of the Q3 earnings season, return of speculators to position for, and trade the season ahead of year end expectations.
The day started out with a gap down till midday and afterwards as losing position oscillated, before a snap back rally occurred by the afternoon, at about 20 minutes to session close, the indicators turned positive on high cap gains. The market closed at the recent resistance level of 35,429.31 after touching the intraday high of 35,433.52 and low of 34,847.79 on above average market traded volume with a stronger buying pressure as revealed by the volume index for the day, that stood at 1.47 and buying position at 99% and 1% selling volume of the day's transaction.
Also, more companies notified the investing public of their closed period for 2017 third quarter earnings reports, as well as more primary market activities in form of right issues and bond issuance, ahead of last quarter, all of which are likely to prolong the current volatility in the market going forward just as oil price continue to rally with relatively stable exchange rate that had supported the market.
Meanwhile, the composite NSEASI gained 325.91 basis points to close at 35,429.31 from an opening figure of 35,103.40, representing a 0.93% growth, just as market capitalisation for the day was up by N112.35bn to close at N12.21tr, from the previous session's N12.1tr, also represented a 0.93% value gain in investors' positions. The upturn in the share prices of medium and highly capitalized stocks expectedly impacted positively on the All-Share Index's year-to-date return to 31.83%, just as market capitalisation gain stood at N2.97tr representing 32.08% above the year's opening value.
Market breadth for the day reversed to negative as the number of decliners outweighed advancers in the ratio of 23:20 on a high volume traded that was higher than the previous day's level to halt the down market.
Market activities in terms of volume and value were up by 154% and 214.83% respectively to 346.22m shares worth N4bn, as against the previous day's 136.4m, units valued at N1.27bn recorded in the previous session.
Transactions in the shares of Skye Bank, AXA Mansard Insurance, Transcorp, Meyer, and Access Bank topped the volume chart.
At the close of Thursday's trading, Fidson Healthcare topped the advancers' table with a 10.19% gain to close at N3.57 per share on expectations of stronger Q3 numbers, followed by BOCGas with a 5.00% notch at N3.78 per share on market forces. On the flipside, Nascon lost 8.24% to close at N12.02 on profit taking, followed by Cement Company of Northern Nigeria, which shed 5.00% to close at N8.36 per unit on market forces.
TODAY'S OUTLOOK
Expect market volatility and end of the quarter sentiments to continue as trading opens this morning, amidst profit taking, October Q3 earnings season and year-end activities.
One thing that is clear in the current market situation is that smart investors are using the ongoing correction to accumulate and enhance their positions in some stocks.
Again, we advise that investors allow numbers to guide their decisions while repositioning for the rest of the year trading activities, especially now that prices of stocks are looking down amidst improving economic and market fundamentals.
It is time to use your technical tools to take decision by knowing the support and resistant level to reposition or exit any position.
Meanwhile, As we countdown to the Independent Day Free Investment Education Summit jointly organised by APT Securities & Funds Ltd/Investdata Consulting Ltd, because real independence is financial freedom, prepare to attend and enhance your returns .
Theme: PROFITABLE STOCK MARKET TRADING STRATEGIES FOR FINANCIAL INDEPENDENCE AND FREEDOM
Have you traded the stock market before and failed? It is a known fact that about 90% of people who trade without knowledge and understanding of the dynamics will end up losing 90% of their capital most of the time.
You don't have to be one of them. Therefore, when you attend this Independent Day Free Investment Education Summit this seminar and learn how to trade such that you could be one of the lucky 10%, who manage to consistently play the market profitable by themselves through our online portal from your phone and laptop anywhere in the world. Consistency is the key to equity trading and investing successfully.
At APT Securities and InvestData we have been teaching investors simple and proven strategies which when implemented makes you a successful trader and investor in any market conduction, especially when it comes to equipping them well enough to know how to protect their portfolios and profit from market correction in a recovering economy and market.
We have also, over time, focused attention on attuning the mindset of investors and traders to managing risk, while eliminating emotions when trading so as to avoid irrational investment decisions.
Attend the Independent Day Free Investment Education Summit and our team of expert and time-tested resource persons will show you how you too can successfully and confidently trade and invest in stocks profitably on your own from your phone, laptop and/or desktop computer.
The workshop holds on:
DATE: October 2. 2017
TIME: 10am – 2.00pm
VENUE: Ostra Hall & Hotel, Behind MKO Abiola Gardens, Opposite NNPC Gas Plant, CBD, Alausa, Ikeja. Lagos.
What you will learn at this the Independent Day free workshop:
1. The fundamentals of stock trading and investing
2. Trading and investing strategies that will help you manage your risk, protect your capital and profit from market correction.
3. How to trade on your own online, using the APT eTrade platform on your phone and laptop.
4. The psychology of trading and investing and how it will make you successful.
Registration is free, register to participant by clicking on this link: http://investdataonline.com/oct-2nd-independence-seminar/
There will be sales of stock trading and investing materials for further understanding at the end of the workshop, Fundamental and Technical Analysis materials, including home study packs you can play and viewed on your phone, laptop and television set, all at 20% discount for attending. You need to prepare yourself and profit from the market and the recovery economy to truly achieve your financial independence and freedom.
For more enquiries about the programme, please call 08028164085, 08034053018 and 08111811223
Ambrose Omordion
CRO | Investdata Consulting Ltd
info@investdataonline.com
info@investdata.com.ng
ambrose.o@investdataonline.com
ambroseconsultants@yahoo.com
Tel: 08028164085, 08032055467