Equities
Volatility Still, As Investors Review Q3 Numbers, Rebalance Portfolios, Ahead 2019 Polls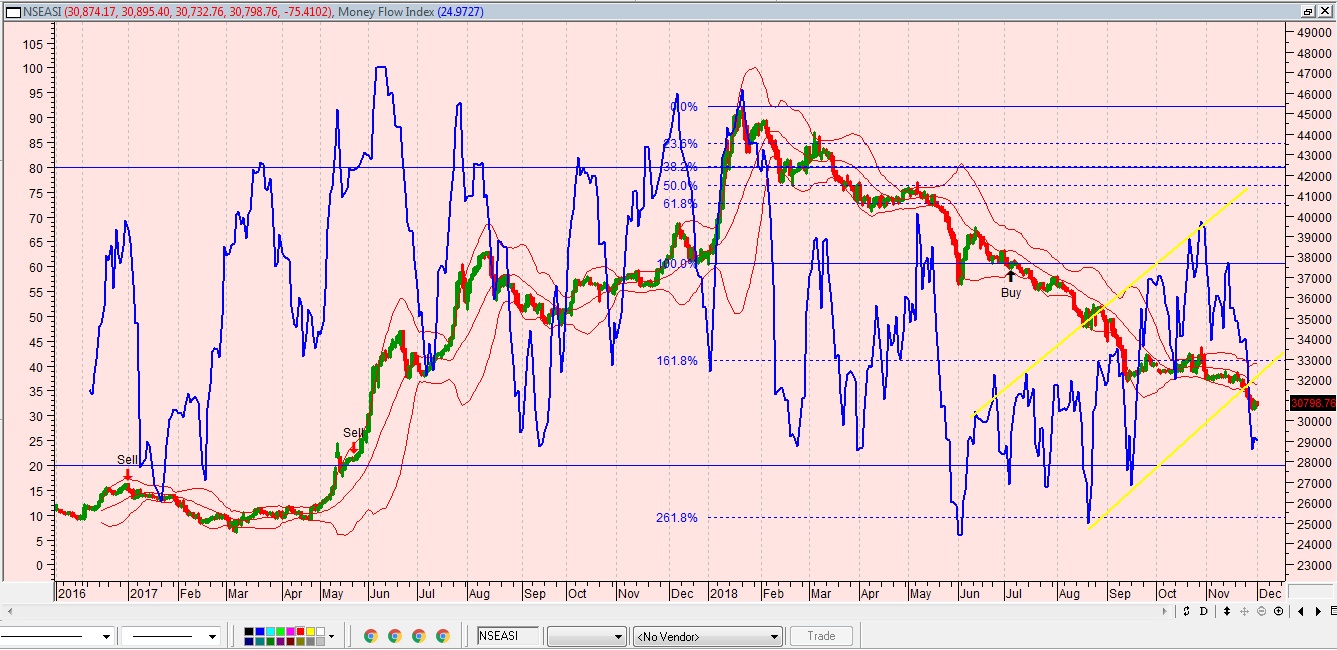 Market Update for December 3
The nation's equity market had a mixed session on Monday to kick start the new month on a negative note as the composite All-Share index closed lower to halt previous day's gains on a mixed sentiment and low traded volume.
Friday's seeming improved buying interest was attributed to traders and fund managers end-of-month window dressing of their trading accounts and portfolios which pushed the market up. Trading opened on Monday with marginal gap up and then sell-off at mid-morning to early afternoon as high cap stocks like Dangote Cement, Nigerian Breweries and Stanbic IBTC lost value alongside profit booking in insurance stocks. The index however retraced up after touching intraday low of 30,732.76 basis points from highs of 30,895.41bps before finally closing at 30,798.76bps on a positive market breadth.
The rebound in the manufacturing activities as reported by CBN as PMI stood at 57.9 points in November against 56.8 in October, signaling a significant expansion in the sector is expected to reflect on Q4 economic data ahead of the earnings reporting season in 2019Q1. In addition to positive trade talks that came out of G20 summit where the U.S and China agreed a 90-day ceasefire for re-negotiation, added to the rebound in oil price ahead of this week's meeting of the Organisation of Petroleum Exporting Countries (OPEC).
Monday's market technicals stayed weak and mixed with lower volume traded than the previous day's in the midst of positive market breadth and mixed sentiment as revealed by Investdata's Daily Sentiment Report, which shows a sell position of 59% and 41% buy volume. The volume index for the day's total transactions was 0.76.
The energy behind the market's performance was further weakened, as Money Flow Index dropped to 24.79bps, from previous day's 25.96ps, indicating that funds are leaving some stocks for others and also the market in the midst of prevailing low liquidity ahead of year end rally
Index and Market Cap
At the end trading on Monday, the Nigerian Stock Exchange's ASI shed 75.41bps, closing at 30,798.76bps after opening at 30,874.17bps, representing 0.24% decline, just as market capitalization dropped N27.54bn at N11.24tr from an opening value of N11.26tr, representing a 0.24% value loss.
Attention: Join Investdata buy and sell signal setup to get all our in-depths analysis on the picture and to get access to our carefully created watch list. To become a member, send 'YES' or 'STOCKS' to the phone numbers below. The number of stocks on our watchlist has increased due to the prolonged market correction. Take advantage of this service to buy right and sell right.
The day's downturn increased Year-to-Date loss position to 19.47%, as market capitalization YTD decline stood at N2.37tr from its opening level in January, representing 17.56% down.
Mixed Sectors Indices
Sectorial performance indices were largely bearish, except for the NSE Banking and Oil/Gas that closed higher, just as market breadth was positive with advancers outnumbering decliners in the ratio of 19:14.
Market activities were mixed as volume fell by 16.93% and 63.58% to 207.24m shares from previous day's 249.42m units, while value improved by 6.63% to N2.55bn from Friday's N2.39bn, with transaction volume boosted by financial services stocks like: FCMB, FBN Holdings, UBA, Diamond Bank and Zenith Bank.
Jaiz Bank and Diamond Bank were the best performing stocks, topping the advancers table, after gaining 10% and 9.23% respectively, closing at N0.44 and N0.71 each on low price attraction and market forces. The decliners' side was led by Continental Reinsurance and MRS Oil that lost 10% and 9.98% respectively, closing at N1.80 and N25.70 each, on market forces and profit booking.
Market Outlook
We expect sustained bargain hunting and portfolio repositioning for year-end to shape performance of the market ahead of Santa Claus rally, as number of companies hitting new 52-week low are on the increased to reflect undervalue state of the market.
The ongoing volatility will persist as Q3 numbers assist investors and fund managers rebalance their portfolios, while watching the political space and ahead of the expected Q3 GDP and full year company earnings position. These are likely to drive prices north, or south, while determining market direction before or after Presidential Election.
Investors should review their positions in line with their investment goals, strength of the company numbers and act as events unfold in the global and domestic environment.
However, we would like to reiterate our advice that investors should go for equities with intrinsic value,
We advise investors to allow numbers guide their decisions while repositioning in any stock, especially now that stock prices remain low in the midst of weak company, economic and market fundamentals.
Attention! Attention!! Attention!!!
Invest 2019 Traders & Investors Summit
Theme: Best Returns In 2019 & Beyond: Adopting The Billionaire Mentality In Stock Selection
Sub-Topic
1. Pre-election year performance Review and post-election Investing opportunities
2. Simple Strategies for picking undervalued stocks With Fundamental & Technical Tools
3. Psychology of Equities Trading For Managing Positions & Money
4. Mastering Market Dynamics & Dividend Techniques To Grow Your Income in 2019
5. Picking the Right Stocks to Retire Rich In Financial Independence
6. Nigeria's Post Election Economy & 2019 Sectoral Analysis
7. Understanding the big picture of Budget Delay & Its Implication on the Economy/Stock Market
Investdata Consulting Ltd presents The 8th edition of its TRADERS & INVESTORS SUCCESS SUMMIT tagged: INVEST 2019, designed to be the biggest yearly workshop for stock market traders &investors in Nigeria.
Theme: Adopting The Billionaire's Mentality In Stock Selection.
Venue: Ostra Hotel & Hall, Alausa, Opposite NNPC Gas-Plant Ikeja Lagos.
Date: Saturday, December 8, 2018.
Time: 10a.m.
The huge decline in stocks from its January 2018 peak has not necessarily been due to the fundamentals of quoted companies, but investors flight for safety over uncertainties arising from next year's general elections, participants will learn from experts/facilitators at the workshop, how and where to position for juiciest returns, depending on investment horizon.
Previous editions have attracted participants from diverse class of investors and traders, as well as several world-class professionals and experts as speakers and facilitators, including representatives of quoted companies and stockbroking firms. The event has helped market players to effectively time opportunities for higher returns in the New Year.
In today's equity market, there is wisdom in being able to identify 'buy' opportunities very early and sell for maximum returns, while minimizing loss in any market situation.Understanding the dynamics of the stock market during any cycle is the very key to successful trading and investing. For this to happen, we must arm ourselves with knowing the essential driving forces behind the market as they move up and down.
At the INVEST 2019 TRADERS & INVESTORS SUCCESS SUMMIT (TISS) you will discover some seldom considered aspects of investing and trading that can help you bag more big winners, while ratcheting down the number of losers in 2019 and beyond.
This summit will provide answers to these six crucial questions AND others
• What exactly is it we are trying to do as traders & investors?
• What occurs every post-election year that we wish to take advantage of?
• What are the prevailing market moves and who are the dominant players?
• What is 'smart money' doing?
• Where should we look to enter the market or exit?
• Is it the same every day, season and year?
When you answer these important (and frequently overlooked) questions correctly, your trading/investing skills will launch into new levels.
For Registration kindly send YES or REG to 08028164085, 08032055467, and 08111811223 now for details.
Ambrose Omordion
CRO|Investdata Consulting Ltd
info@investdataonline.com
info@investdata.com.ng
ambrose.o@investdataonline.com
ambroseconsultants@yahoo.com
Tel: 08028164085, 08032055467