We Were Never Served Court Processes, SEC Says, As Oando Shares Rally On 'Judgment'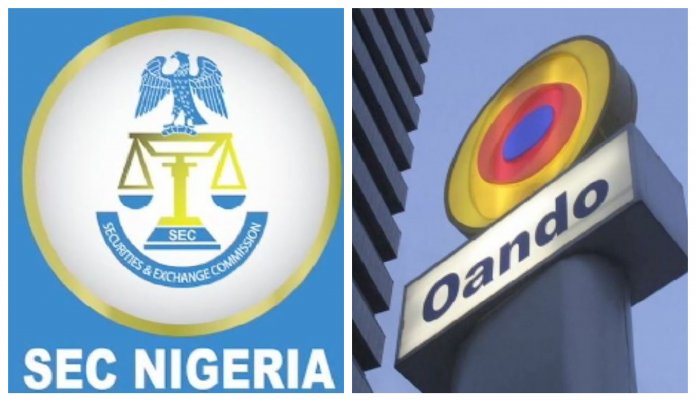 Oando Plc closed midweek's trading on the Nigerian Stock Exchange (NSE), chalking the maximum 10% gain, the first time in several months, following which its share price rose from N3.18 to N3.41, in apparent investor reaction to the news in major Nigerian dailies that morning of a ruling by Justice O A Musa of the High Court of the FCT.
The ruling followed a suit by Engr. Patrick Ajudua, a shareholder, challenging the decision of the Securities and Exchange Commission (SEC) to suspend Oando's Annual General Meeting two years ago. The suspension, he argued, was in breach of his right to freedom of association as guaranteed under Section 40 of the Nigerian Constitution, among others.
Denouncing news of the ruling, the SEC said in a statement that it also learnt of it through the media, stressing "that it was never at any time served with court processes with respect to the purported matter at the FCT High court."
The commission's management assured that it "will consequently take all necessary steps to verify and set aside the purported decision of the said Court."
Nonetheless, Ajudua was reported as lamenting the lingering delay in resolution of the conflict, which he said, "has brought untold hardship, financial difficulty and loss of capital appreciation on our investments.
"Therefore, we receive this judgement with humility and the pray that with all hands on deck, we can move the company forward. We plead with the regulators to give peace a chance and allow for a harmonious resolution to the conflict. The shareholder community will continue to protect our investments by ensuring a high compliance with code of corporate governance and integrity of the company's operations in the capital market."
Another Oando shareholder, Engr. Olowola Kehinde, and Coordinator, Sage Shareholders, and Inc noted how the positive court ruling "has seen our share price go up by 10%, imagine how much more it could have appreciated if it had been given a favourable operating environment since 2017.
"The SEC issue has evidently, harmed our share price and we hope the regulator can see this and will look fora resolution that benefits shareholders".
Recall that in 2019, after the SEC dismissed Oando's board over allegations of poor corporate governance and management infractions, the company's share price dropped by 20% from N4.65 per share on Friday, May 31, 2019, on the day of the announcement to N3.80 per share on Monday 3 June 2019. Nearly two years on and as a result of the suspension of the company's AGM, there has been no insight into the company's corporate initiatives and financials leaving little room for capital appreciation.