Equities
Year-End Portfolio Rebalancing By Investors, Traders, Keeps NSE Indicators On Edge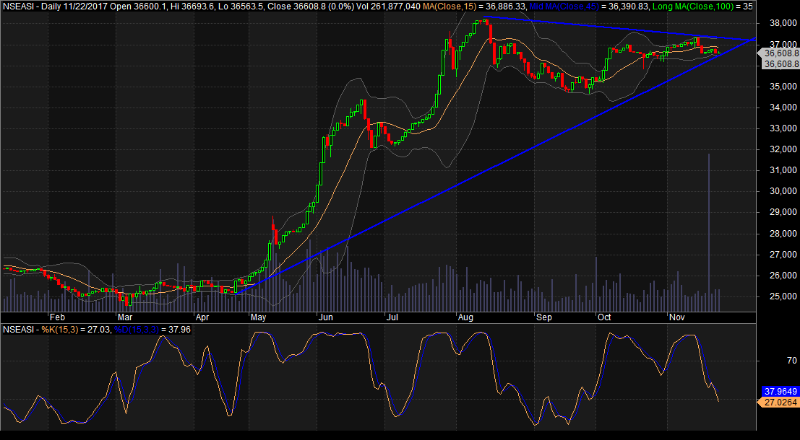 Market Update for November 22
Nigeria's stock market ended trading at the midweek on a flat note, with marginal gain and weak technicals, as market players continue to weigh the expected impact of positive macro-economic data over the recent downgrade by Moody's and MSCI Index rebalance on the market performance as the year draws to a close, and in view of the end of the year Santa Claus rally and other seasonal changes, this is especially given that the market and economy remain on the path of recovery, given the seeming slower than expected growth pace of the Q3 GDP released on Monday.
The market's composite index opened the day green and started moving up and down by the mid-morning, rallying at midday to a high of 36,693.59 before the downward pull by profit taking activities. It failed to break down the recent support at 36,563.43 points. This was until the last hour when a 5-wave advance slightly took formation from a double bottom chart pattern that supports uptrend and recovery, which was not strong enough to make meaningful impact. Thursday's market sentiment and direction will however confirm it.
The selling pressure in the market remain relatively high at 65% on negative breadth with improved volume as revealed by the volume index of 0.88 and buying position at 35% of the total transactions of the day to reverse the previous day's bear market in search of direction. all the sectorial indexes were in green, except the NSE Pension that closed in red, while Nestle Nigeria's share price hit another all-time high at N1,300 on the strength of its impressive third quarter earnings report and positive market sentiment on its consistent dividend payout, irrespective of the yield and its shareholding structure that had always supported the price.
Meanwhile, All Share Index for the day gained slightly 8.69 basis points to close at 36,608.76 from the 36,600.07 points it opened, which represented a 0.02% growth, just as market capitalisation was up by N7.29bn to close at N12.75tr from the previous N12.74tr, representing a 0.02% marginal appreciation.
The seeming upturn resulted from value gain by medium and high cap stocks like Nestle, Zenith Bank, Unilever, Dangote Sugar and International Brewery, as investors and traders took position ahead of year-end rally, a situation that helped the ASI's year-to-date return to 36.22%, just as YTD growth in market capitalisation stood at N3.5tr, representing a 37.88% rise over the year's opening value.
Market breadth for the day was negative as the number of decliners outnumbered advancers in the ratio of 23:17 on a high traded volume that was higher than previous day level.
Market activities in terms of volume and value were up by 28.42% and 68.99% respectively to 331.24m shares valued at N5.56bn from previous day's 257.93m units worth N3.29bn.
At the end of Wednesday's session also, Unilever topped the advancers' table, gaining 5.69% to close at N39.95 per share, on the strength of its improving fundamentals and it retention on the MSCI index. It was followed by Nestle, which notched 3.08% to close at N1300 as investors react to its interim dividend of N15 and based on its improved earnings.
On the flipside, GSK shed a further 9.70% to close at N22.80 each on market forces and profit taking, ahead of Flour Mills which lost 4.98% to close at N31.5 each also, on profit taking.
TODAY'S OUTLOOK
As market opens, expect volatility to continue as interpretation of the recent positive economic data like inflation, Q3 GDP and retention of MPR at 14% continues, in the midst of profit booking, portfolio rebalancing and repositioning ahead of the year-end rally as commodity price of oil in the international market remain relatively high to boost the nation reserve.
Again, we advise that investors allow numbers to guide their decisions while repositioning for the rest of the year's trading activities, especially now that stock prices remain volatile amidst improving company, economic and market fundamentals.
It is time to combine fundamentals and technical tools to take decision by knowing the support and resistant level to reposition or exit any position. Market is in phases know the cycles in order to manage your trading and investing risk. For stocks that should be on your shopping list to buy in this seasonality changes as the year winds down, sign up to INVESTDATA BUY AND SELL signal setup by calling 08032055467.
Get your home study pack today and ride with the current recovery on Nigeria's stock market and economy. By investing and trading knowledgeable
The training materials on stock Trading and Investing for Financial Independence series are Available, you can play on your mobile phone, laptop, desktop and Tv. Kindly call or send yes to 08032055467 or 08111811223.
Attention! Attention!! Attention!!!
INVEST 2018 TRADERS & INVESTORS FINANICAL SUCCESS SUMMIT
Sub Topics
The Pre-election Economy & 2018 Budget: Implementation and Impact On the Recovery Bull Market
In this presentation, Mr Olufemi Awoyemi the founder/CEO of Proshare Limited, chartered Accountant and seasoned financial analyst will review the economy and impact of government policies so far, discussing how the proposed N8.6tr budget will influence the economy in a pre-election year. He will also take participants through the outlook for the stock market in 2018, while attempting to answer a question like: Is there really any reason to cheer from the mere size of the 2018 budget, considering how those of the past two years have been implemented, especially during this economic recovery phases?
Impact and Implication of NSE New Rules on your Equity Investment in 2018 and Beyond.
The new strategies to trade and invest in a transforming market will be revealed to boost players profit and minimized losses by Alhaji Garba Kurfi, a chartered accountant, Fellow CIS and Managing Director of APT Securities & Funds Limited. He will also tell participants about classes of stocks to focus on, in this new market normal value of 1kobo in 2018.

The Secret For Finding Better Trades & Investment Opportunity
Mr. Abdul-Rasheed Oshoma Momoh, Head, Capital Market in TRW Stockbrokers Limited will handle: "Discover how to Trade Smarter, How You Can Stay on the Right Side of the Market Most of the Time," as well as specific, high winning probability, chart patterns: "Trading Price Direction based on Momentum Flows, The current market cycles, how they are used for trading price direction, in addition to How to set realistic & achievable profit."
Comprehensive Earnings Guide for Investing and Trading in 2018 Earnings Season Profitably
"Equity price movement is a function of earnings in the short run and long term," market reaction to earnings in any market cycles is prolonged by dividend payout, relative to price. It makes a lot of sense to trade in the direction by knowing the companies that will grow their payout in 2018… as long as you identify such stocks in their early stages. Hindsight, as they say, earnings calendar, trend, surprise and quality of numbers are very useful in making profitable investment decision in 2018 and beyond, which would be handled by Ambrose Omordion, Chief Research Officer of InvestData Consulting Ltd
How to Pick Investable Securities: Using Econometric Models and Other Strategies Of Successful Traders To Improve Your Trading Margin
In this presentation by Engr Mike Ekwueme Anyadibe, CEO of X-Front Trader Limited, you will learn how financial engineering can be applied on NGSE market data: How the gurus pick securities, depending on their client's different investment goals, whether for dividend Income. Or, are you a momentum or trend following trader who wants to grow your wealth through the stock market? Even If you're a complete beginner – What is model, And Why Was It the profitable strategy between 2009 – 2017 so far.
This summit is the perfect opportunity to learn from the best industry experts and to get the personal attention in the exclusive Q&A session after presentations!
The summit holds on December 9, 2017 at Ostra Hall & Hotel, Behind M.K.O Abiola Gardens, Opposite NNPC Gas Plant, CBD, Alausa, Ikeja. Time is 9:00am. The fee is N25,000 per participant. Payment made on or before December 1, 2017 attracts 10% discount. Companies sending more than two representatives would enjoy 15% discount. Those who have participated in our previous seminars and workshops will enjoy 15% discount. Payment should be made into Investdata Consulting Limited; Zenith Bank Acct. No: 1013033032 or UBA, Acct. No: 1020288683.
To register for the coming summit Kindly visit our site www.investdataonline.com OR www.investdata.com.ng also you can call or send yes to 08032055467, 08111811223 or 08179547605
N.B: At this event you'll hear real case studies and see examples of exactly how you can use these same techniques. This summit is packed with great content, but the room only has capacity for 100 people and registration is ongoing, so you'll need to act fast.
If you are looking for a way to make money in the market as a Full-time or Part-time trader or investor, this is your opportunity.
Dream it! Wish it! Do it! Enjoy it! Don't Miss out
Best regards
Ambrose Omordion
CRO | Investdata Consulting Ltd
info@investdataonline.com
info@investdata.com.ng
ambrose.o@investdataonline.com
ambroseconsultants@yahoo.com
Tel: 08028164085, 08032055467