Expect Mixed Sentiment With All Eyes On December Inflation Data, Q4 GDP, Financials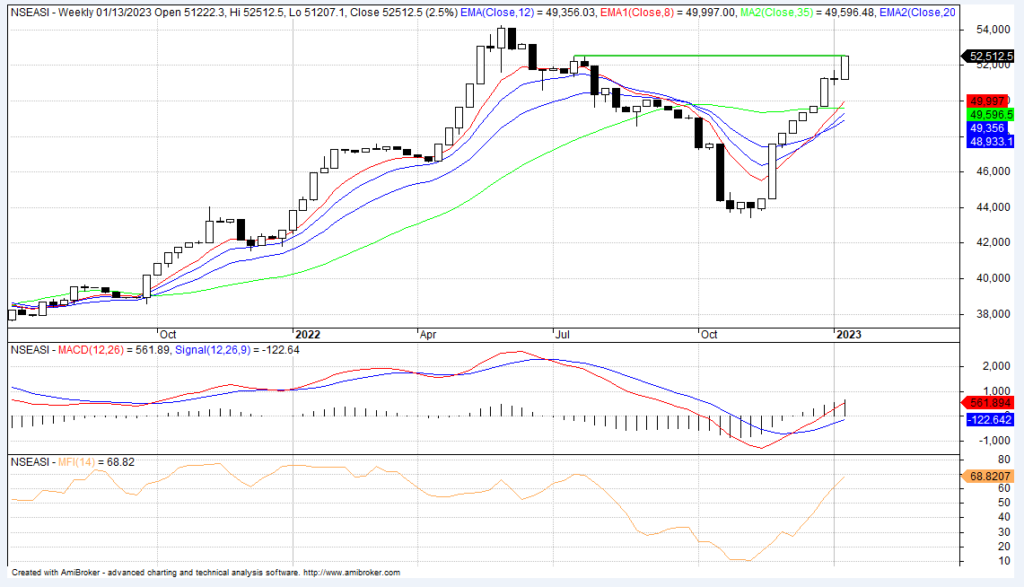 Market Update for the Week Ended January 13 and Outlook for Jan 16-20
The bulls resurfaced on the Nigerian Exchange last week to solidify gains for the second week of the year gains and recovery so far, as buying sentiment and momentum waxed stronger ahead of the expected December consumer price index and fourth quarter unaudited corporate earnings reports. This is happening amidst the increasing volatility at the peak of NGX historical earnings reporting season, while increased liquidity, momentum, surprises and disappointment are expected to influence stock prices positively or otherwise.
The NGX seems to be following a trend pattern of January in the recent years as a result of changed in market holding structure with less dependence on foreign investors and regulations that shaped the market in the first month of the year to reduce January effects and others, even in an electioneering environment of high uncertainty and economic risk. Also, the changing rates and yields environment in the fixed income market has supported the market's uptrend on a high inflow of funds into high dividend paying stocks and blue chip companies with strong earnings that will drive high payout.
The NGX All-Share index crossed the 52,000 psychological line, on a very high traded volume to trade above the T-line, 50 Day Moving Average, 200 DMA and 'V' shaped bullish chart pattern that signal the continuation of markup phase and a bullish pattern in the midst of  continued closed period and board meeting notification of listed companies. Price correction or profit taking at this level is part of market dynamics that will support the recovery move and create opportunity for new buyers to enter the market, as we expect policy shift that will give birth to the financial market, economic and political reset in 2023 that will help investors to create and build wealth.
To navigate Q1 2023 and the rest of the year profitably using fundamental and technical analysis to run, join investdata live sessions at noon every trading day "and also get investdata technical toolbox to play the current state of the market do suggest that discerning investors are gradually becoming greedy, while others are fearful, as seen in the recent range market. Despite the low volume of transaction witnessed, it is time to go shopping for undervalued stocks, sectors and the next insider playing opportunity."
As oil price continues its oscillation, to trade at $85.32 per barrel.  on looking US consumer price index and border reopening in China in the midst of fear of recession as another rate hike by FED and ECB, Russia oil caped and China confusing rising cases of COVID-19 with its reopening, geopolitical tension and inflation across the globe. Also supply tighten due to the Russia-Ukraine war that has been lingering.  The up and down movement of oil price also continues to drive volatility across the globe.
Movement Of NGXASI
The NGX had a bullish week of one down market and four sessions of upmarket amid position taking across the major sectors of the market and blue chip companies had increased as all eyes are on inflation data and corporate numbers to guide players' decisions in a declining yields environment. Despite the seeming profit taking on Tuesday during the week, NGX index witnessed a breakout of resistance levels of 52,000 mark and 52,418 points on above average traded volume for the period.
The week's trading opened on a positive note, extending the previous session's gain by 0.93%, which was short-lived on Tuesday as the index lost 0.49% on profit taking in highly priced stocks like Airtel and BUA Cement, but rebounded at the midweek, gaining 0.55% which were sustained on Thursday and Friday after inching up by 0.73% and 0.90% respectively. This brought the period total gain to 2.52%, compared to the previous week's 0.06% loss.
In all these, the benchmark NGX All-Share Index gained by 1,290.14 basis points, closing at 52,512.484bps, compared to the week's 51,222.34 points opening level, after touching intra week high of 52,512.48 from its lows of 51,207.13points. Similarly, market capitalisation rose by N703bn, representing a 2.52% appreciation in value, as it closed at N28.60tr, from the previous week's N27.90tr,
The top advancers' table for week was dominated by low and medium cap stocks, amid buying sentiment in dividend paying companies, on a continued volatility and portfolio rebalancing. Also notable is the fact that investors are taking advantage of low price to buy into value, strong earnings and high dividend yield companies as market recovery persist heading for 54,000 level.
Market metrics revealed a positive breadth as advancers outnumbered decliners in the ratio of 51:27 on a buying pressure as indicated by investdata sentiment report showing 100% 'buy' volume and 0% sell position. Money Flow Index looking up to 68.82bps, from the previous week's 61.67points, an indication that funds entered the market on a weekly chart to reflect positioning in some stocks.
The NGX index's action sustained uptrend, after forming a 'V' shape chart pattern on a weekly time frame, despite profit taking and volatility, as buyers are in control to trade above the T-line and 200-DMA, reaching a topping level that signaled reversal or continuation of trend, depending on market forces, as index is heading for 53,000 mark, that needs confirmation as trading opens. We note that the volume that supported this recovery and rally remain mixed and above the market's traded average, just as corporate actions and others could support the uptrend further in January.
Bullish Sectoral Indices
Sectorial performance indexes for the week closed green, save for the NGX Insurance that closed in the red by 1.64%, while NGX Banking led the advancers' after gaining 3.48%, followed by Industrial goods, Energy and Consumer goods with 3.34%, 3.19% and 0.68% respectively.
Transactions in volume and value were up, as investors exchanged 1.29bn shares worth N29.63bn, compared to the previous week's 921.86m units valued at N27.15bn, with volume driven by Financial Services, Industrial goods and Conglomerates. Specifically, the week's volume was driven by trades in FBNH, Sterling Bank, GTCO, BUA Cement and Transcorp.
Thomas Wyatt and Chams were the best-performing stocks during the week, gaining 52.58% and 17.39% respectively, closing at N1.48 and N0.27per share on market forces. On the flip side, Chellarms and Royal Exchange lost 33.66% and 10.78% respectively, at N1.34 and N0.91 per share, purely on sellofs.
Outlook for the week
We expect a mixed trend and sentiment to continue ahead as all eyes are on December inflation data today, Q4 GDP and Q4 unaudited accounts. Even as the market index eyes 53,000 psychological level in the new week, just as retracement to 50,578.12 mark and below is possible on selloffs as events unfold globally and domestically here in the midst of expected corporate actions and positioning for full year financials.
Crucial Announcement
As the new year begins, you need to get started with activities that will help you in achieving your goals for the year. To this end, I must tell you that events and activities that happened in 2022 will shape 2023.
As a result, it is only investors who have improved on their skills and knowledge that will be able to scale through and withstand circumstances beyond their control in the market.
However, we want all to benefit from what 2023 investment has to offer.
As a result, the management have met and decide to assist everyone who have been following InvestData Consulting Limited to participate and secure your portfolio starting from Now through participating in the *InvestData Live Session Jumbo pack.*
*This is not new because I have been talking about it for the Past 6 months*
This Consist of the following…
Access to NGX Q&A Class with Ambrose Omordion
Access to the NGX Q&A Class with Ambrose Omordion Replay.
Access to the Past NGX Q&A Class with Ambrose Omordion Replay
Access to Weekly Stock Pick.
Access to Buy and sell signal
Access to the Daily Live Academy Class
It all goes for N50000 and it is for one year.
Simply put, if you want to participate in the 2023 NGX Class with Ambrose Omordion starting this Saturday then get your InvestData Live Session Jumbo pack now before it is too late.
Or else you won't be able to have access to the above benefits starting from Saturday 7th January, 2023
Decide now if you are in or out…
Because an investment in your stock and general market knowledge pays the best interest.
Kindly Pay N50,000 into InvestData Consulting Limited Zenith Bank 1013815737. After Payment Send the details of your payment including name, email address and phone number to 08028164085 to have your access sent to you.
If you want to reset your profit by taking advantage of opportunities in financial market and assets repricing in 2023? Send Yes to 08028164085, 08179547605 now.
Ambrose Omordion
CRO|Investdata Consulting Ltd
ambrose.o@investdataonline.com
Tel: 08028164085, 08179547605