Honeywell, FBN Holdings Prices Soar On Flour Mills 71.7% Acquisition Offer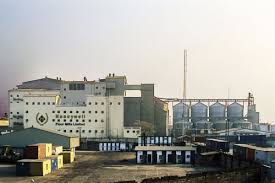 The share price of Honeywell Flour Mills Plc gained almost maximum on Monday, following the early morning joint statement to the effect that Flour Mills of Nigeria is acquiring 71.69% from its parent- the Honeywell Group.
According to the statement by both Honeywell and Flour Mills, the deal will also see the latter purchasing 5.06% minority shareholding held by FBN Holdings Plc, which will bring Flour Mills of Nigeria's total stake in Honeywell Flour Mills to 76.75%, following what was described as parallel negotiations for both stakes.
Following this announcement of the deal based on an enterprise value of N80bn, the share prices of Honeywell Flour and FBN Holdings closed 9.7% and 6.5% up respectively
The final equity price per share payable will, however, be determined based on the adjusted net debt and net working capital of Honeywell Flour Mills at the date the deal is deemed completed, subject to regulatory approvals.
The deal offers stakeholders a more diversified product range and revenue base while assuring employees "more career development opportunities in a larger organization, with the potential to create more jobs in the economy as it will have more brands and categories, and a larger and more geographically diverse footprint," according to the parties.
Commenting on the transaction, in a notice to the Nigerian Exchange Limited, by Joseph Umolu, the company secretary and director of legal services, Omoboyede Olusanya, Group Managing Director of Flour Mills, described the proposed transaction as part of his company's "global growth strategy, which is aligned with our vision to not only be an industry leader but also, a national champion for Nigeria in the food and agro-allied industries."
Also commenting, Obafemi Otudeko, managing director, Honeywell Group Limited, said the announcement is in line with the evolution of the group and its vision of creating value that transcends generations.
The group, he continued, has "supported Honeywell Flour Mills to build a strong business with a production capacity of 835,000 metric tonnes of food per annum."
Following the transaction, he explained further in the statement by Yewande Giwa the company secretary, that "Honeywell Group will be strongly positioned to consolidate and expand its investment activities, including as a partner of choice for investors in key growth sectors."
As in the case of Northern Nigerian Flour Mills, in which Flour Mills of Nigeria also holds a controlling stake, both parties agreed that Honeywell Flour Mills' NGX "listing will be retained for the foreseeable future. Minority shareholders of HFMP will be treated fairly and in line with capital market regulation. Further information will be provided within the required channels and timeframes." 
Recall that following a failed attempt by the board of First Bank of Nigeria Limited to sack the managing director, Dr. Adeduntan Sulaimon, the Central Bank of Nigeria had in its letter of April 26, 2021, through the Director, Banking Supervision, Haruna Mustafa, directed the bank to recall its non-performing loan to Honeywell Group.
Although the group insisted, in a statement, that the loan had been performing, the CBN had warned that it will "take appropriate regulatory measures against the insider borrower and the bank."
Honeywell Group explained that credit facilities "accessed from First Bank and indeed, other banks, were granted after due negotiations, with the necessary documentation and in line with regulatory policies and industry standards
"We have serviced all our credit facilities in line with the terms agreed with First Bank and at no point have any of these facilities been non-performing," the statement stressed further.