Equities
Huge NGSE Recovery Cuts YTD Loss To 1.34%, As MPC Opens First Meeting Of 2019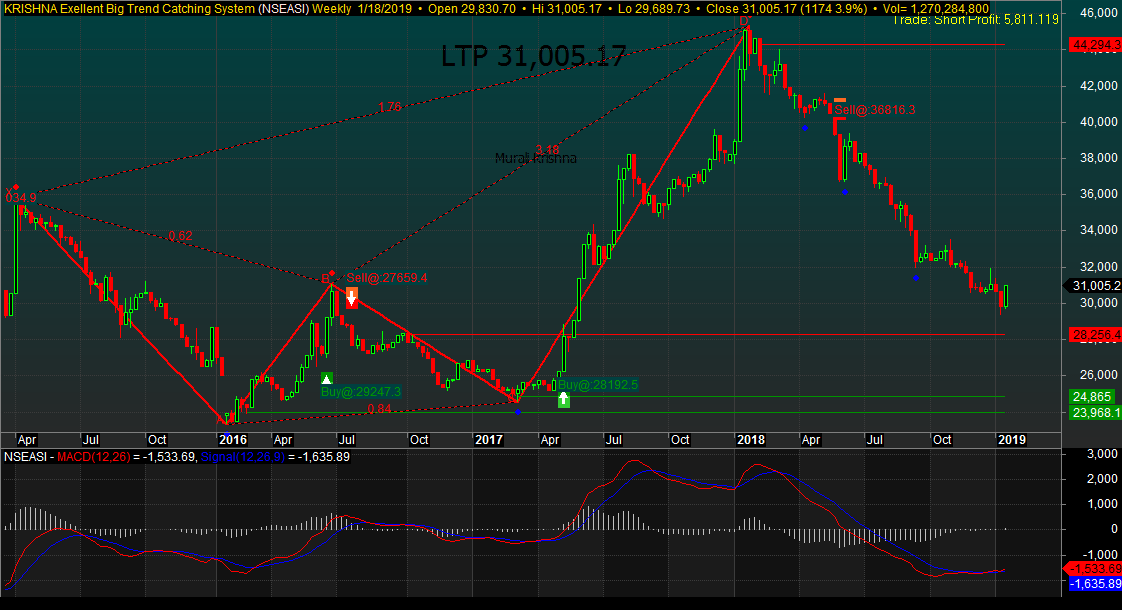 Market Update for the week ended January 18 and Outlook for January 21-25
The second full trading week of the year ended on the Nigerian Stock Exchange (NSE) on Friday, with the benchmark All-Share index closing higher, besides having a positive momentum to halt two previous weeks of bear-run. This was helped by renewed buying interest big cap stocks, ahead of the earnings season and regardless of political uncertainties ahead of the country's February 16 Presidential election.
This is the first of its kind in 18 months, driven by aggressive bargain hunting for major blue-chips stocks led by Dangote Cement and Nestle, as Institutional investors with long term view of the market latch on their low valuations and high Dividend Yields to position for 2019 dividend declaration.
The macroeconomic data released so far this year have been positive and mixed. For instance, the Purchasing Managers' Index (PMI) for the month of December stood at 61.1 point, revealing faster expansion in the manufacturing sector, a reflection increased patronage as part of year-end festivities. Consumer price index for December 2018 rose by 11.44%, up from 11.28% in the preceding month according the National Bureau of Statistics (NBS) reports released in the early in the week.
Since the market rebounded on a strong buying sentiment on January 10th, the NSE Index has seen a significant rally that breakout the first and second resistance levels of 30,576.90 basis points and 30,911.20bps respectively. This was on a high momentum, closing above two psychological lines of 30,000 and 31,000bps in just one week to almost erase the losses recorded in the first six trading sessions of the year. The recovery in the past week followed optimism seen through the market technicals for the period which was positive and strong amidst flat volume traded as revealed by Investdata's weekly Sentiment Report, showing a buy volume of 100% and sell position of 0%. The volume index of total transactions within the week was 1.00.
Last week's rally rekindled bullish sentiment back that resisted further decline as 2016 resistance level turned the new strong support level after testing 29,329.62 on January 9, well above the six-year lows attained late in January 2016.
The global markets over the past had a mixed performance as positive signal from trade talks between China and U.S as some tariff in agricultural produce were lifted, with presidents of both countries planning to meet in February. The U.S. Consumer Price Index (CPI) fell by 30bps in the month of December 2018 to 1.9% y/y from 2.2% y/y in the previous month. This was the lowest since July 2017, and it is below the 2% target set by the U.S. Federal Reserve (Fed). This is expected to reduce pressure in the emerging markets as Fed is likely to leave rate unchanged for first quarter of 2019. This will support rebound of stock markets and the economics of developing nations if this recovery in oil price is sustained and trade dispute resolved.
Back to the market, it was a bullish outing for the NSE ASI from Monday to Friday, gaining 0.45%, 0.58%, 1.07%, 0.40% and 1.38% respectively, bringing the week's gains to 3.94%, enough to wipe off previous week's 2.64% loss.
The positive sentiment for the seven sessions of bull transition was due to improved bargain hunting that formed a V shape.
The energy behind the week's performance was weak, despite the bullish run ahead of next month's general elections, as reflected in the money flow index of 34.36bps, as against 28.41bps in previous week. Notwithstanding the fact that some funds entered the market, liquidity level remained low.
Equity Indicators Last Week
The benchmark NSEASI for the period garnered 1,174.47bps to close at 31,005.17bps, which was the week's high, after opening at 29,830.70bps, after attaining a low of 29,689.73bps on below average traded volume as demand for stocks increased within the period, representing a 3.94% growth. Similarly, market capitalization rose by N437.97bn during the week, closing at N11.56tr, up from N11.12tr, representing 3.94% value gain. The NSEASI's year-to-date negative returns position reduced drastically to 1.34%, just as market capitalization dropped by N158.26bn, or 1.34% below the year's opening value of N11.72tr.
Mixed Sectors Indices
The sectorial indices for the period were largely bullish; except for the NSE banking index that closed shed 1.00%. The NSE Industrial goods led the sectors with 12.7%, after value gains by cement making giants- Dangote Cement, Lafarge Africa and Cement Company of Northern. The NSE Insurance notched 5.5%, helped by NEM insurance, which last week announced the emergence of AFIG Funds as new core investors (READ); Custodian Investment, Royal Exchange and Sovereign Trust Insurance in a week it announced plans for a N2.085bn rights issue (READ MORE).
Market breadth during the week was positive, with advancers 'outnumbering decliners in the ratio of 100:77, to halt the previous week's down market.
Market activity were down in volume and value by 0.59% and 5.10% respectively to 1.26bn shares worth N13.35bn, slightly lower than previous week's 1.27bn units valued at N14.07bn in the previous week.
The best performing stocks for the period were NEM Insurance and Sovereign Trust Insurance that topped the advancers' table with 43.4% and 30% gains respectively to close at N2.48 and N0.26 per on low price attraction and market forces. On the other hand, Resort Savings and Beta Glass lost 29.73% and 17.91% respectively, closing at N0.26 and N55.00 on market forces and profit taking.
Market Outlook
The bullish rally that created V shape pattern supports profit taking despite the positive sentiment and 100 buying pressure, which is a function of market forces in the new week as elections draw closer in the midst of rekindled buying interest on blue chip stocks, with strong earnings capacity that will support higher payout with companies like Infinity Microfinance Bank, Nestle, Nigerian Breweries, Africa Prudential and United Capital expected to be early filers. The prevailing cheap prices of stocks may trigger investor buying sentiments for short and long term gain.
PORT HARCOURT 2019
Investdata will be in Port Harcourt, Rivers State where we would reveal investment opportunities available for smart investors on the Nigerian Stock Exchange this year.
Venue: Emerald Hotel, 193, Aba Road Rumuola, Port Harcourt, Rivers State
Date: Saturday 26, January 2019
Time: 10.am.
Registration Begins at 9.am prompt
Admission is free
Comprehensive Home study packs of INVEST 2019 TRADERS & INVESTORS SUMMIT held on December 8, 2018, containing the 10 golden stocks for 2019 will however be on sale for N20,000 each.
The FIRST 20 persons to register at the venue will get 20% discount.
This seminar will cover the following:
Review of 2018 market performance
Outlook for 2019 and Post elections expectations
Dividend & Bonus expectation in 2019
Sector by Sector Analysis and projections
How to profit from Merger and Acquisition as a trader or Investor
RE: INVEST 2019
The difference between you and others who are not aware of what I am sharing with you is ACTION. Take action that will transform your life throughout 2019 and beyond by getting the just concluded and life transforming INVEST 2019 TRADERS & INVESTORS SUCCESS SUMMIT Home study pack (USB) that you can play on your phone, Laptop and Television set. The event, which held on Saturday, December 8, 2018, was yet another successful, insightful and educative outing that not only offered direction as to where investors should look for a profitable 2019, but industries, sectors and companies to seek worthwhile returns. What stocks should you buy? Grab the pack for the 10 Golden Stocks with possibility of offering in 2019 multiples of what broader stocks do, coming out of this market correction environment.
Don't sit on the Fence call or text Stock to 08028164085, 08032055467, 08111811223 now.
Ambrose Omordion
CRO|Investdata Consulting Ltd
info@investdataonline.com
info@investdata.com.ng
ambrose.o@investdataonline.com
ambroseconsultants@yahoo.com
Tel: 08028164085, 08032055467