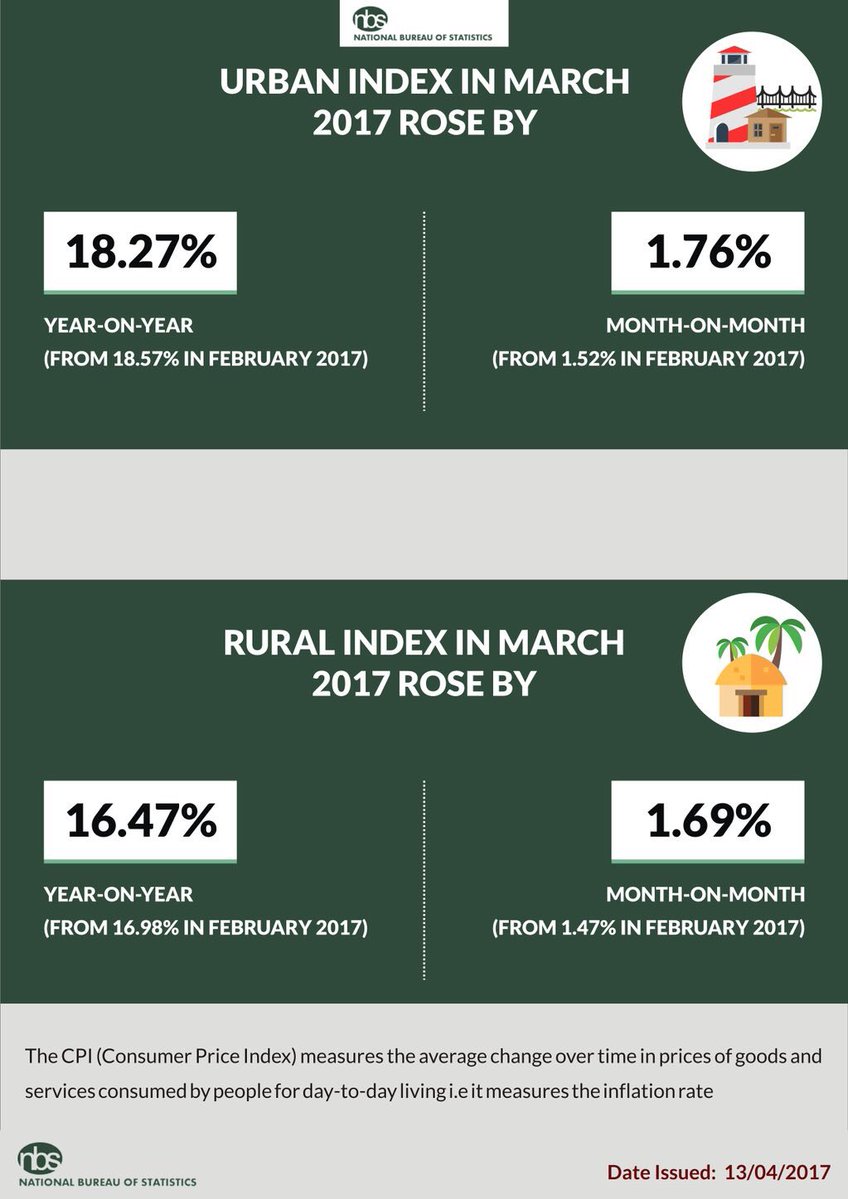 The National Bureau of Statistics (NBS), on Thursday released data, showing that in the month of March, headline inflation dropped for the second consecutive month to 17.26% from 17.78% in the previous month.
The declining increase, according to the bureau represents "the effects of stabilizing prices in already high food and non-food prices as well as favourable base effects over 2016prices.
"It is also indicative of early effects of a strengthened naira in the foreign exchange rate market," it noted.
But on a month-on-month basis, it rose from 1.49% in February to 1.72%, driven by increases in house rent, water rate, electricity, gas and other fuel, education, food and alcoholic beverages, clothing and footwear, as well as transport services.
One major driver of Consumer Price Index, food inflation closed the month at 18.44% from 18.53% year-on-year, just as it rose 2.21% month-on-month, when compared to 1.99% in February, driven by increases in the prices of bread, cereal, milk, meat, potatoes, yam and other tubers, cheese and egg. The rise could have been more, but for the slow rise in prices of soft drinks, coffee, tea and cocoa, according to the NBS data.
Core inflation equally dropped to 15.4% from 16% YoY in February, compared to the 1.32% MoM rise, from 1.1%, driven by increases in the cost of house rent, electricity, clothing materials, book and stationaries, clothing materials and other articles of clothing, liquid fuel, fuel and lubricants for personal transport equipment, as well as solid fuels.
Urban inflation climbed at a 18.27% rate, from 18.57% in previous month, YoY just as increased by 1.76% MoM, compared with 1.52% in February 2017. Rural inflation index rose by 16.47% from 16.98% in February YoY; and 1.69%, up from 1.47% MoM.