Investdata 'Life Beyond COVID' Investment Opportunities Seminar Holds This Saturday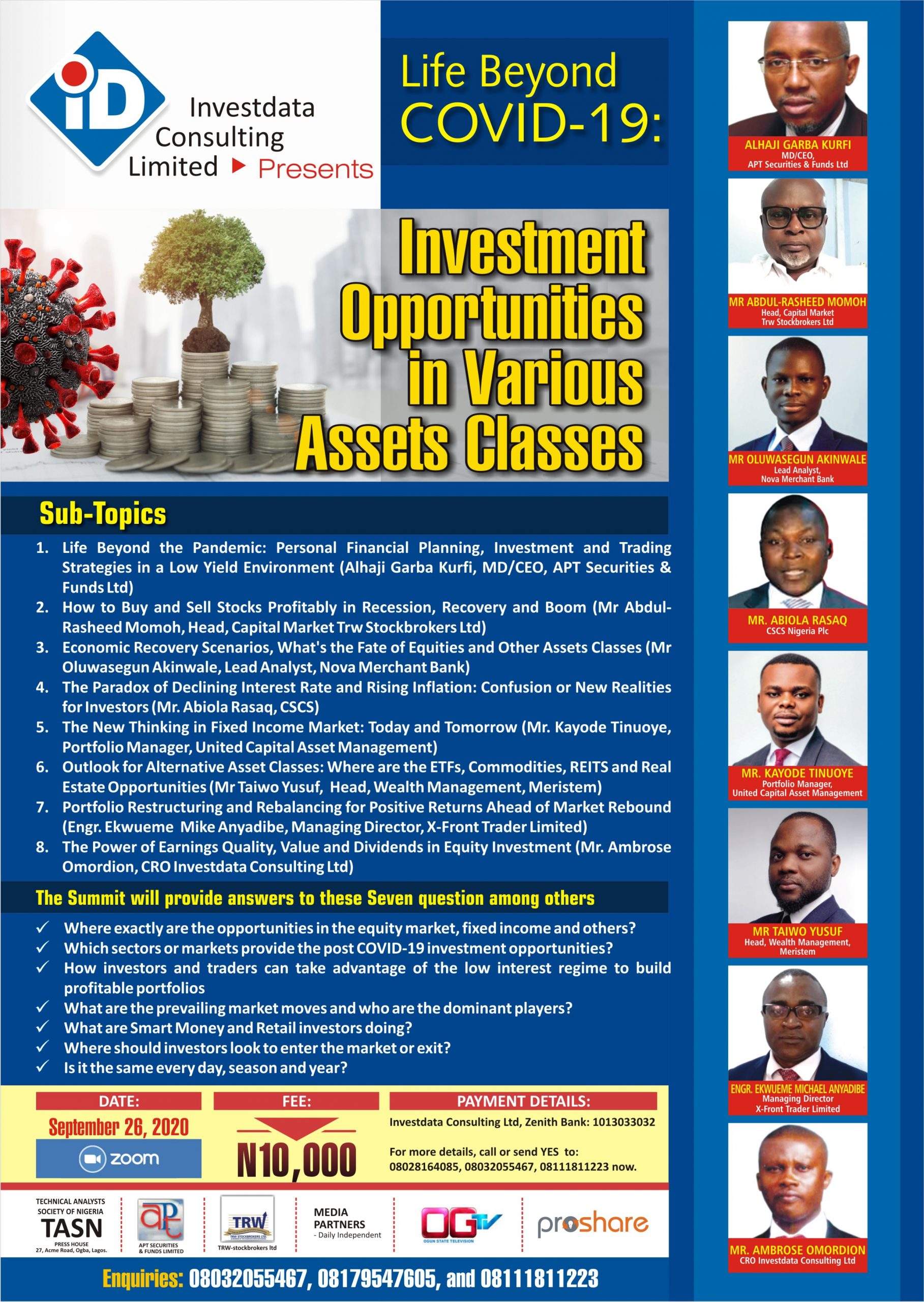 The much anticipated Investdata Investors Summit 2020, organised by Investdata Consulting Ltd to x-ray opportunities offered in the market place by the lingering Coronavirus (COVID-19) pandemic for investors in Nigeria has been scheduled for this Saturday, September 26, 2020, to hold on ZOOM.
Recall that the pandemic which broke out early in the year has ravaged nations across the globe, sending their GDPs on a tailspin with economic outlooks released just weeks earlier consigned to garbage bins. However, in the midst of the maze, analysts and discerning investors have fashioned strategies to not just stay afloat, but profitable.
Experts in various aspects of the economy and financial markets have been carefully assembled to speak on selected topics at the summit tagged "BEYOND THE UNCERTAIN TIMES (COVID): Investment Opportunities in Various Assets Classes."
According to a statement by the organizers, facilitators at the summit include Alhaji Garba Kurfi, MD/CEO, APT Securities & Funds Ltd, who will speak on "Life Beyond the Pandemic: Personal Financial Planning, Investment and Trading Strategies in a Low Yield Environment; while "How to Buy and Sell Stocks Profitably in Recession, Recovery and Boom," will be handled by Mr. Abdul-Rasheed Momoh, Head, Capital Market TRW Stockbrokers Ltd.
Mr. Oluwasegun Akinwale, Lead Analyst, Nova Merchant Bank Ltd, will take participants through "Economic Recovery Scenarios, What's the Fate of Equities and Other Assets Classes; as Abiola Rasaq, of CSCS Plc handles "The Paradox of Declining Interest Rate and Rising Inflation: Confusion or New Realities for Investors. Participants will also get to hear of "The New Thinking in Fixed Income Market: Today and Tomorrow," from Mr. Kayode Tinuoye, Portfolio Manager, United Capital Asset Management; and see the "Outlook for Alternative Asset Classes: Where are the ETFs, Commodities, REITS and Real Estate Opportunities," from the compass of Mr. Taiwo Yusuf, Head, Wealth Management, Meristem.
"Portfolio Restructuring and Rebalancing for Positive Returns Ahead of Market Rebound," will be handled by Engr. Ekwueme Mike, MD, X-Front Traders Ltd; while Mr. Ambrose Omordion, Chief Research Officer of Investdata Consulting Ltd, will speak on "The Power of Earnings Quality, Value and Dividends in Equity Investment."
According to Omordion, this summit will provide answers to seven issues that have agitated the minds of investors in the Nigerian equity market like where exactly the opportunities are; sectors with the post-COVID investment opportunities; and how investors and traders can take advantage of the low-interest regime to build profitable portfolios. Our facilitators will also throw light on the prevailing market moves and dominant players; what Smart Money and Retail investors are up to; how to identify entry and exit opportunities; and enlighten participants on the dynamics of the changing market- daily, seasonal and yearly trends.