Equities
Investors Continue Window-Dressing Ahead Of Month-End, Release Of Nigeria's Q2 GDP Data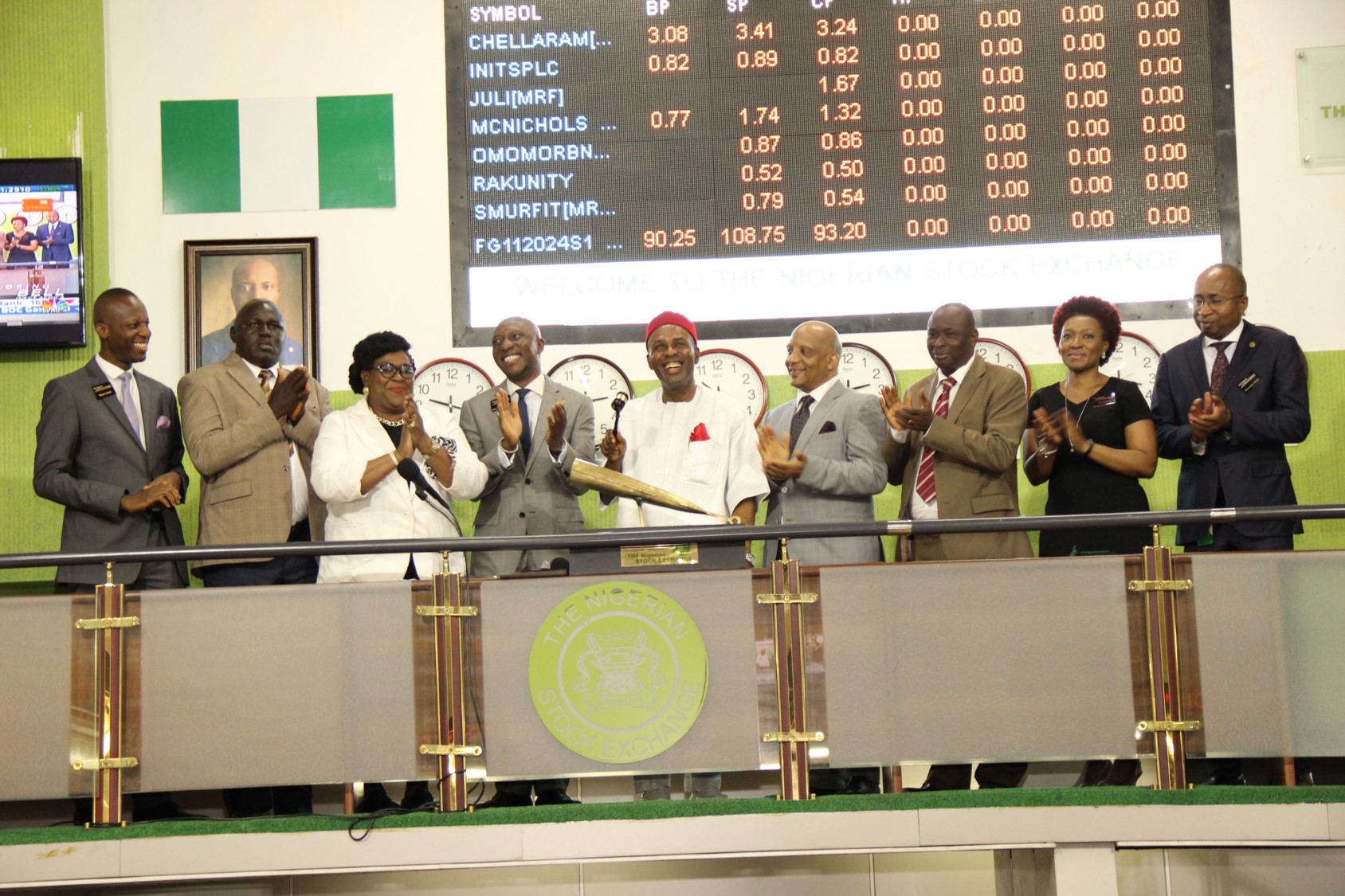 Pix caption: Ade Bajomo, Executive Director, Market Operations and Technology, The Nigerian Stock Exchange (NSE); Gbedegesin Yemi Hezekiah, Director General/Registrar, The Nigerian Institute of Science and Technology; Prof. (Mrs) Gloria Elemo, Director General/CEO, The Federal Institute of Industrial Research, Oshodi (FIIRO); Oscar Onyema, NSE's Chief Executive Officer; Minister of Science and Technology, Dr. Ogbonnaya Onu; Engr. Mohammed Daggash, National Council Member, NSE; Pharm Samuel Elatuvie, Nigeria Natural Medicine Development Agency (NNMDA); Pai Gamde, Ag. Head, Corporate Service Division, NSE and Haruna Jalo-Waziri, Executive Director, Capital Markets Division, NSE at the Closing Gong Ceremony in commemoration of the commissioning of The NSE Data Centre on Monday, August 28, 2017, at the Exchange.
Market Update for August 28
Trading for the new week on the Nigerian Stock Exchange (NSE) began on a negative note as the composite NSE All Share Index closed lower to reverse the Friday's up market, to consolidate last week's loss position.
Trading began with a big gap down and bounced back to resistance, but couldn't get through before pulling back down, even as it couldn't still get through support. Basically, with a triple test of support, the index tried to rebound by the afternoon session and in the process reduced the losing position. The benchmark index did however attain a new intraday high of 36,651.25 which could not be sustained as a result of selloff by profit takers ahead of the month-end and holiday on Friday and Monday declared by the Federal Government to mark the Islamic festival of Eid-el Kabir.
The decline was despite the positive economic data, particularly the Consumer Price Index, which showed that Nigeria's inflation rate fell slightly lower for the month of July, the sixth consecutive decline to 16.05% from 16.10% in June. The continued sluggish decline should therefore be interpreted as a signal that no matter the noble intention of the Central Bank of Nigeria (CBN) intervention in the FX window of the interbank market, particularly the investors and exporters' window that has helped to relatively stabilize the Naira against other global currencies, there is need for the fiscal authorities to begin faithful and whole-hearted implementation of its Economic Recovery and Growth Policy launched since February and indeed the 2017 budget, particularly the capital expenditure side as a way of enhancing a bottom-up approach. What is clear today is that the CBN alone cannot significantly drive inflation down, or rejuvenate the economy along, just as sloganeering by government would not pull the trick. There is also need for stimulus packages for critical sectors and indeed structural reforms to ensure that the economic does not slip back into another around of recession when it is yet to officially swim out of the one it is wallowing at the moment.
Negative sentiments on Monday were revealed by the volume traded index of 1.03, as buying position for the day stood at 18%, while selling volume was 82% of total transaction to reverse the positive trend of Friday on low volume and negative market breadth. This suggests that investors are reacting positively to the impressive numbers and interim dividend to be paid by the few stocks, although they continue profit taking to rebalance their positions in the month and ahead of Q3 earnings season expected in October which would play a very important role in taking the final investment decisions for the year.
Stock markets around the world were mixed even while the price of oil continues to rebound on the back of the havoc being wreck by Hurricane Harvey, an active tropical cyclone in the U.S oil state of Texas that has forced a shutdown and the declaration of a state of emergency. Oil was up nearly 7% to a two-year high in the early hours of Monday's trading, as weak dollar hit 16-month low against other currencies.
Meanwhile, the composite NSE ASI shed 329.15 basis points on Monday to close at 36,317.31 point, compared to the 36,646.46 points opening level, representing a 0.90% decline on a low volume traded, when compared to the previous day. Similarly, market capitalisation closed N113.46bn down to N12.52tr, from an opening value of N12.63tr, representing a 0.90% value loss in investors' portfolios.
The downturn suffered by Double One, Guinness, GTBank, Access Bank, Dangote Cement, UBA, Zenith Bank, FBNH, Flour Mills and NB impacted negatively on the indicators, reducing the ASI's year-to-date returns to 35.14%, just as market capitalisation stood at N3.27tr within the period, representing 35.37% above the year's opening value.
Market breadth for the day remained negative as decliners outnumbered advancers in the ratio of 30:9 on a low volume of trades to short-live last Friday's up market.
Trading activities in terms of volume and value were down marginally by 17.60% and 8.31% respectively to 348.11m shares, worth N2.98bn, as against previous day's 422.45m units, valued at N3.25bn.
Also, transactions in the shares of Custodian & Allied Insurance, Oando, Access Bank, Fidelity Bank and Sterling Bank topped the volume chart.
At the end of the day's trading session, Total Nigeria topped the advancers' table, gaining 9.09% to close at N236.50 each on market forces and positive Q2 numbers. It was followed by Newrest ASL with a 4.99% gain at N5.63 per share, on market forces.
On the flipside, Double One and Trans-nationwide Express lost 5.00% to close at N182.93 and N0.76 per share respectively on profit taking and market forces, ahead of Conoil that shed 4.99% to close at N27.72 per unit also on profit taking.
TODAY'S OUTLOOK
Being few days to month end, expect volatility to continue amidst profit taking and repositioning in interim dividend paying stocks ahead of book closing by taking advantage of pullback, as we expected improved efforts from fiscal and monetary authorities to sustain this economic recovery. Moreso, Nigeria's second quarter GDP figures are being awaited from the Nigeria's National Bureau of Statistics (NBS) to officially confirm her economic status and direction.
However, investors need not panic if they take position based on strong numbers and future prospects of any stock. Since there is no bad news in the market.
Again, we advise that investors allow numbers to guide their decisions while repositioning for the rest of the year's trading activities, especially now that prices of stocks are looking up ahead of the improving economic fundamentals.
It is time to use your technical tools to take decision by knowing the support and resistant level to reposition or exit any position.
Be reminded once more that industry potential, market timing are very important when picking a stock, because there are factors that are sector-specific and would naturally impact positively or negatively on companies operating within such an industry, especially now that the economy is recovering. Market is in phases know it in order to manage your trading and investing risk. For stocks that should be on your shopping list to buy in this oscillating market or pullbacks sign up to INVESTDATA BUY AND SELL signal setup by calling 08032055467.
Get your home study pack today and ride with the current recovery on Nigeria's stock market and economy by investing and trading knowledgeable
The workshop video can be viewed on your phone, laptop and television set. The home study pack costs N20,000 including DHL delivery at your door step. Payment should be made into Investdata Consulting Ltd, Zenith Bank 1013033032. Afterwards, kindly send payment details to 08032055467 or 08111811223.
MR. OMORDION AMBROSE
CHIEF RESEARCH OFFICER
INVESTDATA CONSULTING LIMITED
ambroseconsultants@yahoo.com
Tel: 08028164085, 08032055467