Equities
Investors Gain 3.67% On NGSE In February, Despite Thursday's N194.5bn Loss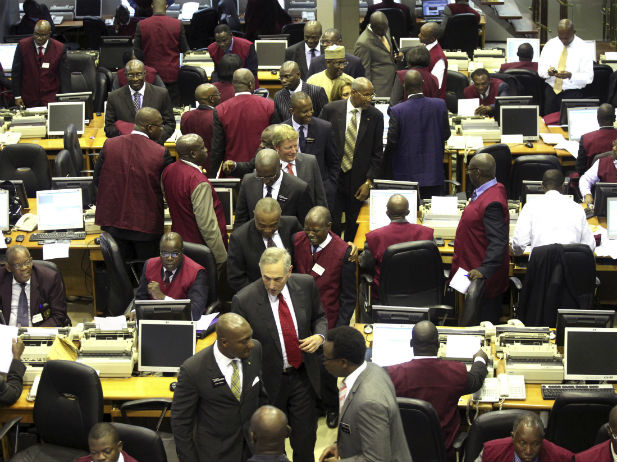 Equity investors on the Nigerian Stock Exchange (NSE), gained a total of N434.6bn in the month of February 2019, as market capitalization or worth of companies listed on the bourse stood at N11.829tr; while the benchmark All-Share index appreciated by 1,164.56 basis points or 3.67% to 31,721.76 basis points.
This was despite its loss of N194.84bn on the back of profit taking in blue-chip stocks like Nestle Nigeria, Seplat Petroleum Development Company, Nigerian Breweries and Guaranty Trust Bank, on Thursday, the last day of the month.
Nestle lost N30, or 2%; NB, N3.70, or 4.45%; GTBank closed N2.50 or 6.85% lower; Stanbic IBTC Holdings, N2.05, or 4.23%; and Dangote Flour Mills, N1.05, or 8.79%; such that the N2.80, or 1.45% gain by Dangote Cement, the NSE's biggest company by market capitalization, among others was unable to stop the benchmark All-Share index from sliding into red. The NSE index, which measures the average movement of stocks on the bourse closed 522.48 basis points or 1.62% lower, at 32,244.24 basis points.
Thursday's loss was the biggest since the release of Nigeria's February 23, 2019 Presidential election results on Wednesday morning, with the Independent National Electoral Commission (INEC) declaring incumbent President Muhammadu Buhari winner. The main opposition Peoples Democratic Party (PDP) has however protested the outcome and hopes to seek redress in court.
It may not be a co-incidence that the stocks which dominated Thursday's loss are those blue-chip stocks played by foreign investors.
At the end of trading for the month, Seplat still gained N84, recovering partly from its N105 loss in January; Nestle also recovered N30 from prior month's N45 loss; the N19 by Beta Glass was enough to wipe off its N8.30 loss in January; Presco gained N15, which more than atoned for the N4.00 loss it sustained in the preceding month; just as NB's N5.50 was not enough to wipe off its N11.50 decline in January. Dangote Cement grabbed N5.30 in February; Dangote Flour, N4.90; CAP Plc, N2.25; while Guinness Nigeria and PZ Cussons grabbed N2.15. The gain by Guinness was a far cry from its N7 loss in prior month. Other gainers during the month were: GTBank, N1.90; Julius Berger, N1.50; Zenith Bank and Flour Mills of Nigeria, N1.40 apiece; NASCON Allied Industries, N1.30; Berger Paints and Stanbic IBTC, N1.25; and Dangote Sugar Refinery, N1.00 each. Oando gained 95 kobo; Union Bank, 75 kobo; African Prudential, 70 kobo; and United Bank for Africa gained 65 kobo; among others.
Gains for the month would have been more significant, but for the N33.30 loss sustained by petroleum products marketing giant- Total Nigeria; International Breweries and Cement Company of Northern Nigeria shed N4 each; C&I Leasing, N2.43; MRS, N2.30; Okomu Oil Palm, N2.00; Forte Oil, N1.50; and Vitafoam, 80 kobo.