Income Investors Still Target Dividend, Defensive Stocks, Expect Yields To Drive Sentiments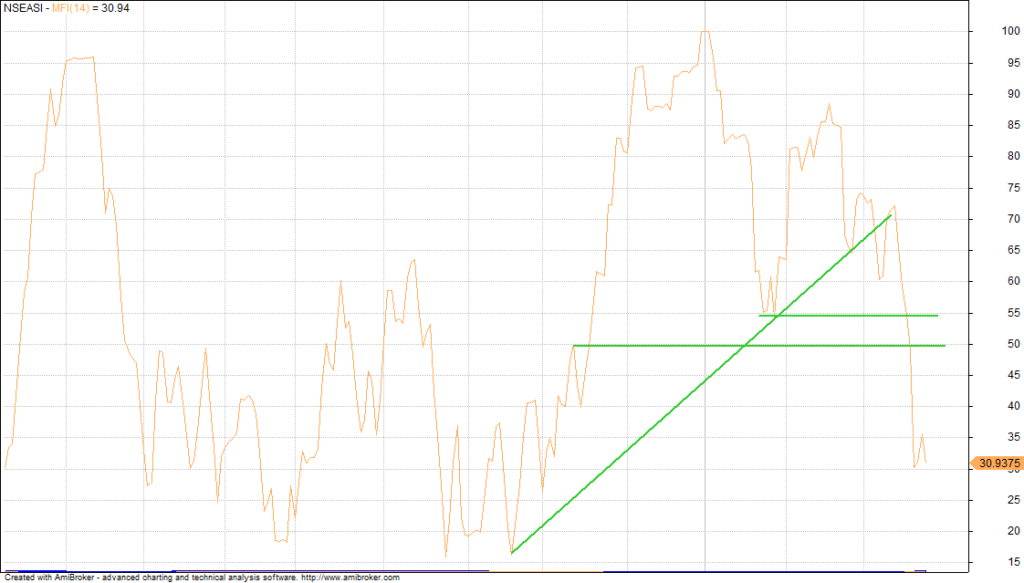 Market Update for March 23
The ranging trend on the Nigerian Exchange continued Thursday as the benchmark NGX All-Share Index closed marginally lower on a low traded volume and negative market breadth, thereby halting two consecutive sessions of marginal gains. Portfolio rebalancing continued on the back of expected corporate earnings inflows and dividend announcement, with focus moving to quarter end window dressing and positioning for Q2. This is ahead of the 2023 Q1 earnings reports and price adjustments of many companies for dividend in view of their payment dates.
Meanwhile, Aluminum Extrusion presented its mixed full-year audited accounts to the market, even as all eyes are still on companies that are yet to release their 2022 audited financials ahead of the March 31, 2023 official deadline, especially the banks. The increasing dividend yields and low market price to earnings ratio provides better opportunities for discerning investors to hedge against inflation even when fixed income market yields look mixed. There is, however, the uncertainty of a rate crash by the incoming government to drive the economy, just as a policy shift may be a plus for the equities on a likely financial market and economic reset.
Notwithstanding the ongoing extreme volatility, the NGX still trades below the T-line on a selling sentiment, even as attention is shifting to corporate earnings, due to the increasing number of companies notifying the exchange of their board meetings to approve audited results and recommend dividend. Also, the unaudited accounts published earlier have given investors an insight into what will likely be offered as dividend.
Technically, the distribution phase of the market at this level supports a pullback or uptrend, after forming a cup and handle chart pattern on the daily and weekly time frame, an indication of a bearish divergence between the index action and MACD on a dally chart that supports a correction. Let us keep our gaze on market forces and money flow which is looking down.
To navigate the rest of the quarter and year profitably using fundamental and technical analysis to run, join investdata live sessions at noon every trading day "and also get investdata technical toolbox to play the current state of the market do suggest that discerning investors are gradually becoming greedy, while others are fearful, as seen in the recent bull-run. Despite the mixed volume pattern witnessed recent days, it is time to go shopping for undervalued stocks, sectors and the next insider playing opportunity.
Oil price oscillation continued, with crude traded at $75.96 per barrel on oil inventory buildup again in the midst of continued rate hikes, banks failure in Western world and a mixed outlook of economic recovery in China. Also, the attack on Ukraine is rising even when China is calling for peace and a ceasefire. This geopolitical tension, the prevailing high interest rate regime and soaring inflation across the globe remain potent threat to world peace. Also, supply tightened due to the Russia-Ukraine war that entered into it is first year last week. The up and down movement of oil price also continues to drive volatility across markets.
Meanwhile, Thursday's trading opened slightly on the downside but oscillated throughout the session on buying and selling sentiments across some major sectors, a situation pushed the NGXASI to an intraday low of 54,919.50 basis points from its high of 54,951.96bps, before closing slightly below its opening figure at 54,924.08bps.
Market technicals were negative and mixed with lower volume of trade, compared to the previous session in the midst of breadth favoring the bears on a selling sentiment as revealed by Investdata's Sentiments Report showing 14% buy position and 86% sell volume. The total transaction volume index stood at 0.59 points, just as impetus behind the day's performance was weak going by Money Flow Index at 30.94pts, from the previous day's 35.63pts, indicating that funds left the market.
To successfully invest and trade in this volatile market in 2023, order for Investdata's video on Buy & Sell Technical Analysis Toolbox to navigate the volatile market profitably, enhance trading decisions and boost your bottom line. Also, to up your game in stock trading and investing, understanding the key to trading price and index action will go a long way to make the difference in your trading results, check out the video materials below.
Index and Market Caps
At the close of Thursday's trading, the NGX All Share Index shed 12.03 basis points, closing at 54,924.08bps from the 54,936.11bps it opened, representing a 0.02% drop, just as market capitalization fell by N6.55bn to close at N29.92tr, from the previous day's N29.93tr, which also represented a 0.02% value loss.
Attention: If you have not signed up for INVESTDATA's buy and sell signal setup, don't delay, because the number of stocks entering their buying range has just decreased to 18 as they build a new bullish base and positive chart patterns to be on our watchlist. These stocks have double the potentials to rally, considering their earnings prospects and the oscillating moves in a recovery market and economy.
To become a member, send 'YES' or 'STOCKS' to the phone numbers below. Take advantage of this service to buy right and sell right at the current recovery market in the midst of earnings season, portfolio reshuffling, and repositioning as we await an economic reform policy that can stimulate and re-track the economy to the path of growth and development.
Thursday's downturn was driven by selloffs and profit taking in GTCO, Accesscorp, Sterling Bank, Nahco, NCR, UPDC, Ucap, Dangote Sugar and PZ among others, which impacted mildly on Year-To-Date gain to 7.17%. Market capitalization YTD gain stood at N1.95tr, representing 7.19% above its opening level for the year.
Bearish Sector Indices
Sectorial performance indexes were down, save for the NGX Industrial goods and Energy that closed flat, while the NGX Banking led the decliners after losing by 0.45%, followed by Insurance and Consumer goods with 0.42 and 0.04% respectively.
Market breadth was negative as losers outpaced gainer in the ratio of 17:14, while transactions in volume and value were mixed after players exchanged 116.85m shares worth N1.40bn, with volume was driven by trades in Transcorp, Fidelity Bank, FBNH, Royal Exchange Assurance and UBA,
Sunu Assurance and Transcorp Hotel were the best performing stocks for the session after gaining 9.09% and 8.32%, closing at N0.48 and N6.90 per share respectively, on market forces. On the flip side, NCR and Linkage Assurance lost 9.96% and 8.70% respectively, closing at N2.35 and N0.42per share, purely on selloffs and profit taking.
Market Outlook
We expect growth and yields to drive market players sentiments ahead of more earnings reports in the midst of expected quarter end window dressing and price adjustment for dividend. Income investors continue to target dividend paying and defensive stocks to protect their portfolios post-dividend adjustment. Any pullback at this point may add more strength to upside potentials. As such, investors should take advantage of price correction. Also looking at the trends and events across the globe and domestically.
Q2 2023 Investdata Master Class
Theme: Post-Election Investment Opportunities For Consistent Profits In 2023
Sub-Topics
1. Nigeria: Post-Election Investment Opportunities In Sectors/Industries, Mr Abiola Rasaq, Head Corporate Strategy at CSCS Plc
2. Managing Trade & Investment Risks In A Post-Election Year Using Technical Analysis Tools, Mr Abdul-Rasheed Oshoma Momoh, Head Capital Market at, TRW Stockbrokers Ltd
3. How To Prepare Ahead Of Policy Shifts By Incoming Administration, Alhaji Garba Kurfi MD/CEO APT Securities & Funds Ltd
4. Identifying Changing Post-Election Trends/Patterns For Enhanced Trading Returns, , Mr Ambrose Omordion, CRO. Investdata Consulting Ltd.
This volatile market is not going away any time soon. We have not seen many times like this, since our democratic government started in 1999, especially as the general elections and the post-COVID 19 era have changed the market's holding structure with domestic investors taking the lead, a situation that has supported today's trends and patterns. So it is more important than ever to have the best tools and knowledge to benefit most out of this cycle, as the post-election environment once again creates opportunities for money-making moves. That is why I am excited to share something New and Unique in the Q2 Master Class.
Expected Takeaways From This Q2 Master Class
A. Discover how successful traders and investors know the likely market trend and direction
B. Learn how technical traders catch market turns and Ride the waves in days or weeks
C. How following Trends and Patterns can boost your trading returns
D. Simple and effective short-term trading strategy you can implement in minutes' daily
E. How to quickly identify the best trades and investment opportunities to win 80% of the time
F. The power of economic reforms and technology that drive sector/industry growth
G. What can make a pro like you start thinking and trading with confidence
H. 5 Stocks to beat inflation in 2023
"Q2 Master Class 2023 connects you to post-election trade opportunities and ideas to enhance your trading profits
Don't miss this session, if you have any exposure to the stock market, either directly or indirectly via managed funds of any kind……
Date: April 1, 2023
Time: 9am
Fee: N50,000
Venue: Zoom
If you want to reset your profit by taking advantage of opportunities in financial market and assets repricing in Q2 and beyond. Send Yes to 08028164085, 08179547605 now.
Ambrose Omordion
CRO|Investdata Consulting Ltd
info@investdata.com.ng
ambrose.o@investdataonline.com
ambroseconsultants@yahoo.com
Tel: 08028164085, 08179547605