Market Update for December 2
Trading on the Nigerian Stock Exchange (NSE), Monday, he first trading session of December closed marginally lower on profit-taking in highly capitalized stocks, thereby slowing down the recent gaining momentum. The positive performance during the last five weeks has supported the oscillating trend in the past six trading sessions, with traders taking profit at intervals, while the composite index struggled to breakout the recent resistance level of 27,109.29 basis points.  Monday's volatility on low volume traded is a sign of indecision among market players as trading in the most consistently active and positive month of the year kicked off.
At this stage of the market, we advise against any form of panic selling. Rather, take a strategic position in sectors that have suffered huge losses, but still have the potentials to rebound in the remaining days of the year and beyond, as players take timely advantage of low prices around the market. Research and data show that Nigeria's equities market has enjoyed more positive trends in the month of December over the past decade, arising from the yuletide boom and driven by year-end portfolio balancing among investors and traders.
The table below shows the performance of the NSE index for December 2009-2018: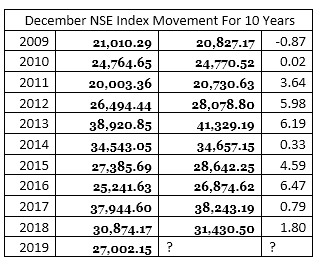 Monday's trading opened slightly on the upside in the early hours of the session before pulling back by the mid-morning to afternoon, fluctuating on selling pressure and buying interest, thereby dragging the NSE index to an intraday low of 26,931.13bps, from its high of 27,025.20bps. Thereafter, the index retraced up, closing the day lower than it opening at 26,990.59bps on a negative breadth. On the strength of the above, we are of the opinion that investing and trading equities of choice by their respective trends is an intelligent trading strategy at this moment. Also, observe the fact that many stocks today have broken out of their bearish zone with trading patterns that supports an uptrend. One major attraction in the equities market at this moment is the recent drop in the Treasury Bill rate below 10% over the past weeks. In other words, this has triggered a capital wave in search of higher returns in stocks, not minding the higher risk.
Market technicals for the session were negative and mixed with higher volume traded than the previous day, breadth favoured the bears, even as mixed sentiments prevailed as revealed by Investdata's sentiment report of a 63% 'buy' volume and 37% sell position. The day's total transaction volume index stood at 0.76, just as the momentum behind the day's performance was slightly down and Money Flow Index read 57.07 points, from the previous 58.22bps, an indication that funds exited some stocks and the market as short-term traders cashed out their profit during the session.
Index and Market Cap
The benchmark NSE All-Share Index, at the end of Monday's trading shed 11.56bps, closing at 26,990.59bps from its 27,002.15bps opening, representing a 0.04% drop, just as market capitalization lost N5.58bn, closing at N13.03tr, from the opening value of N13.03tr, which also represented a 0.04% value loss.
Attention: If you have not signed up for Investdata buy and sell signal setup, don't delay. We have just added another risk management feature and new stocks of most revered traders and investors in corporate Nigeria to our watchlist. These stocks are with double potentials.
To become a member, send YES or STOCKS to the phone numbers below. Take advantage of this service to buy right and sell right at the current market situation ahead of year-end seasonality and full-year earnings reports portfolio reshuffling and repositioning as we await an economic roadmap from the government advisory team to stimulate and re-track the economy again.
The day's decline was impacted by profit booking and selloffs in stocks like Guaranty Trust Bank, UBA, Access Bank, CCNN, FCMB, UACN, Oando, and Transcorp Plc, which impacted mildly on the NSE's Year-to-Date loss, increasing it to 14.13%. Market capitalization gain for the period stood at N1.23tr, representing a 13.06% growth from the year's opening value of N11.72tr.
Mixed Sector Indices
The sectoral performance indexes were largely bearish, except for the NSE Consumer Goods and insurance indexes that closed higher by 0.71% and 1.02% respectively, while the NSE Industrial Goods index led the decliners, after losing 1.20%. It was followed by the NSE Banking and Oil/Gas indexes, which lost 0.16% and 0.15% respectively.
Market breadth turned negative as decliners outpaced advancers in the ratio of 17:12, while market transactions were mixed with volume rising by 8.59% to 246.51m from the previous session 227.61m units, while value was down by 33.4% to N2.44bn from Friday's position of N2.85bn. This volume was boosted by transactions in FCMB, Zenith Bank, FBNH, NB and Access Bank.
Unilever Nigeria and Law Union Insurance were the best-performing stocks, topping the advancers table, after chalking 9.94% and 9.23% respectively to close at N17.70 and N0.71 each respectively, on the back of low price attractions and market forces. On the flip side, Sovereign Trust Insurance and UACN lost 9.09% and 8.75% respectively, closing at N0.20 and N7.30 on profit-taking and market forces
Market Outlook
We expect this mixed performance to continue at this beginning of the month given the profit-taking and indecision among market players ahead of the usual Santa Claus and year-end rally as capital flow and repositioning in value stocks will persist. The changing sentiments in expectation of improved liquidity and positive economic indices..
The current undervalued state of the market offers investors opportunities to position for short and medium-to-long-term views. We expect that investors would target fundamentally sound and dividend-paying stocks for possible capital appreciation as the year draws down.
Also, traders and investors need to change their trading strategies due to NSE's pricing methodology, CBN directives and its impact on the economy in the nearest future.
Take Action
INVEST 2020: Opportunities and Trade Ideas Summit
Sub-Topics
Recession or Boom: Five Trading Strategies for Picking Best Stocks in Good Times or Bad-AlhajiGarbaKurfi, Managing Director of APT Securities & Funds Limited.
2020 Global/Nigeria Macro-Economic Outlook & Sectors To Position,   RazaqAbiola, Head, Corporate Strategy  CSCS Nigeria Plc
Critical Chart Patterns For Pinpointing Stocks That Could Explode Higher In 2020- Abdul-Rasheed OshomaMomoh, Head, Capital Market, TRW Stockbrokers Limited,
Keys To Identify Opportunities In Stocks, Exchange Traded Fund (ETF) Fixed Income and Commodities Markets In Any Market Environment.- Ekwueme Mike Anaydibe, Head, Fixed Income Sales at TRW Stockbrokers Limited.
Mastering Earnings & Dividend Game Plan For 2020 Investing Opportunity & Beyond– Ambrose Omodion, Chief Research Officer, InvestData Consulting Limited,
Over the years, we have received requests from our followers, concerning our annual Traders & Investors Summit scheduled for December, where experts and analysts would x-ray investment and trading opportunities in the New Year.
At the forthcoming summit, participants would
Learn from some of the best professionals in the market
Share Trading ideas and investment opportunity/strategies
Offer opportunities to network with peer value investors and investment professionals who share your passion for investing
Understand more about using Investdata Buy & Sell Signal setup strategies and research tools to improve outcomes
Expected Takeaways
Pinpointing chart patterns for Profitable Trades and investing opportunities in an uncertain market environment
Investment analysis and theses behind these ideas
Special Earnings and Dividend Game Plan for 2020 investment opportunities
Understanding the changing economy and trend for profitable investment
How successful value fund managers research into and evaluate companies
Exclusive insight and actionable value strategies from world-class professional Traders
Over 10 Trading and investing tips for identifying undervalued Stocks you can buy now
Date:    December 7, 2019
Fee:       N25, 000
Venue:  Ostra Hall & Hotels Ltd, Off Otunba Jobifele Way, Opposite NNPC Gas Plant C.B.D, Alausa, Ikeja Lagos, Nigeria.
However, with less than 60 days into the year 2020, you need to start planning now because it is either you plan to succeed in 2020 or you don't decide. Instead, you fold your hands means you are planning to fail. So, this practical summit is first of its kind because a team of experts will reveal pure practical trade ideas and opportunities in 2020 that will help participants recoup losses and maximize returns no theory. That is, what you can apply or implement immediately and start tracking the result by yourself.
Want to be among the successful investors and traders in 2020 send Yes to 08028164085, 08032055467, 08111811223 now.
Ambrose Omordion
CRO|Investdata Consulting Ltd
info@investdataonline.com
info@investdata.com.ng
ambrose.o@investdataonline.com
ambroseconsultants@yahoo.com
Tel: 08028164085, 08032055467