Caption: From left, Company Secretary, United Bank for Africa (UBA), Bili Odum; Past-Chairman, Anglo-Nigerian Welfare Association for the Blind(ANWAB), Ogie Eboigbe; Executive Director, Finance and Risk Management, United Bank for Africa(UBA), Ugochukwu Nwaghodoh; Nigerian Musician and Producer, Cobhams Asuquo; Board Member, ANWAB, David Okon; Chairman, ANWAB, Ms Barbara Wey; Executive Director, Group Operations, UBA, Alex Alozie; and Head of Sustainability Desk, UBA, Chidozie Ezike during the launch of Braille Account Opening Form for virtually impaired people, held in Lagos on Tuesday.
Poised to address the specific financial needs of the visually impaired, the management of United Bank for Africa Plc, on Tuesday unveiled the UBA Braille Account Opening Form, a first of its kind initiative in the Nigerian and African market.
This, it said, demonstrates its unwavering commitment towards providing an excellent user experience for all its customers, regardless of their individual abilities or disabilities.
Guests at the unveiling of the UBA Braille Account Opening Form at the UBA Head Office in Lagos on Tuesday, included key executive members of the bank and guests, including multi-award winner, Nigerian musician, producer, and songwriter, Cobhams Asuquo; General Manager, Lagos State Office for Disability Affairs (LASODA), Dare Dairo; Former Senior Special Assistant to the Lagos State Governor on Persons Living with Disability, Adenike Oyetunde-Lawal, as well as students from the Pacelli School of the Blind.
While endorsing the laudable initiative, Asuquo, described the Braille account as an innovative initiative that presents UBA as a bank with a heart that pays keen attention to the needs of the blind and disabled.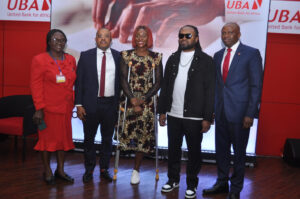 Caption: Official, Ministry of Education, Grace Abimbola; Executive Director/GCOO, UBA, Alex Alozie,Board Member, ANWAB, David Okon; Former, Senior Special Assistant to the Lagos State Governor on Persons Living with Disability, Adenike Oyetunde-Lawal; Nigerian Musician and Producer, Cobhams Asuquo; and Executive Director, Finance and Risk Management, United Bank for Africa(UBA), Ugochukwu Nwaghodoh, during the launch of Braille Account Opening Form for virtually impaired people, held in Lagos on Tuesday
According to Asuquo, "before now, we have always been at the mercy of the reader when we want to do things like open accounts for ourselves, but this account opening form has come to solve the problem of access which has previously been a huge limiting factor for people like me who are blind. With this initiative, UBA has promoted our ideal of inclusivity and has helped to put back freedom in our hands while opening us up to the variety of opportunities and options available to us.
Continuing he said, "UBA has blazed the trail, I am beyond elated, as this new initiative will send a strong note to others to replicate the same feat and make people realise that banking services can and should be done with humanity in mind. Thank you UBA for amplifying this much needed cause, I endorse this 100 per cent and I believe it is a much needed first-step that will lead to so many others."
Speaking earlier, UBA's Executive Director, Finance and Risk Management, Ugo Nwaghodoh, said the bank continues to look for ways to make the physically challenged and others to be comfortable in their life-long relationship with the financial industry.
"In our quest to drive all-encompassing financial inclusion, we decided to support the visually impaired by developing a Braille Account Opening form and these special customers now have the same opportunities available to our customers. The ultimate benefit is to ensure that everybody has the right to select and choose the kind of account they want to operate, and this account opening form will go a long way to ensure this," he added.
The UBA Braille Account Opening Form was produced with the support of Anglo-Nigerian Welfare Association for the Blind and is the first of its kind in the industry, designed specifically to cater to the needs of visually impaired individuals. With this innovative solution, UBA is empowering blind customers to independently initiate and complete the account opening process, ensuring their seamless integration into the financial system.
The General Manager, Lagos State Office for Disability Affairs; LASODA, who was also at the event, commended the entire team for conceiving the idea. He said, "I am so elated at this initiative, and I am happy to hear that this is also going to be replicated in the 19 African countries where UBA is present. I say thank you to this bank for this beautiful project. It is true that Government cannot do it all, and we are glad when we see institutions charting the course for others."