Caution, As Investors Worry Over Low Volume, FX Hiccup, Await MPC Meeting Outcome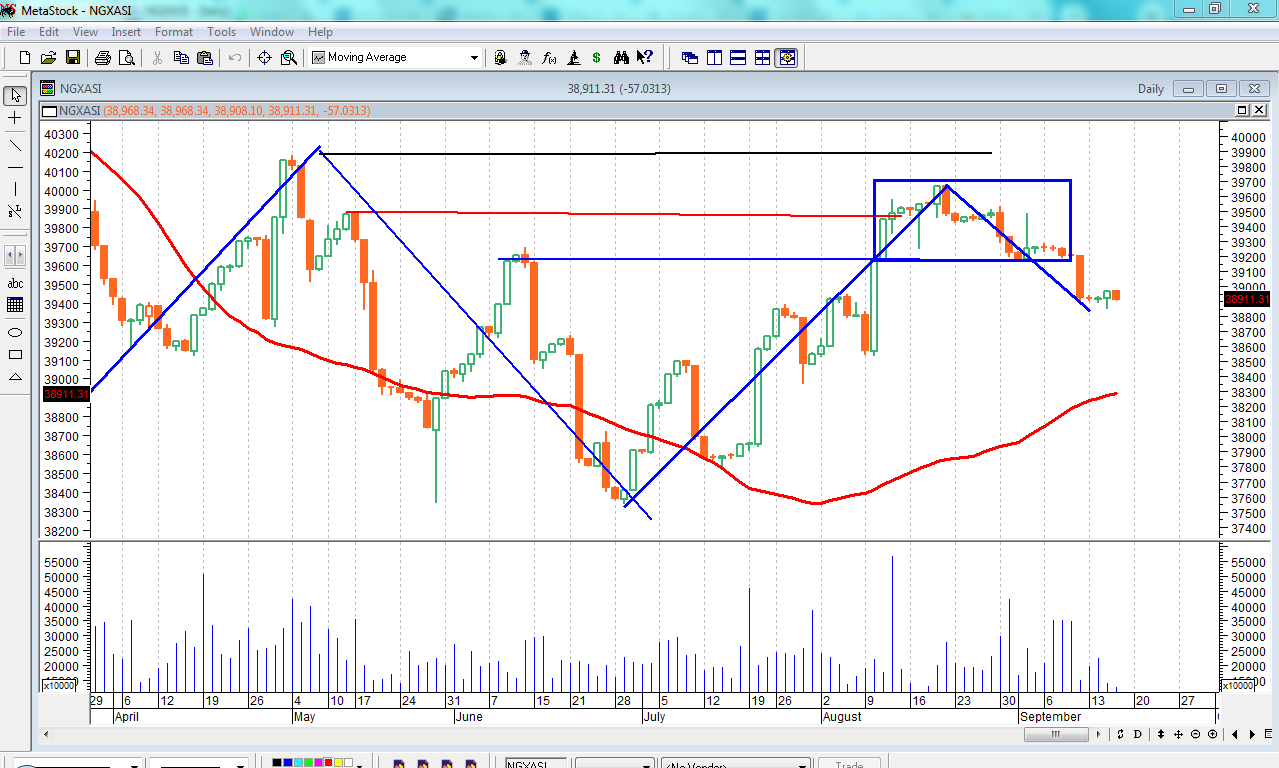 Market Update September 16
The nation's equity market on Thursday had mixed trading and trend to reverse the previous days gain as the benchmark index NGXASI closed lower on yet another low traded volume and negative breadth, just as investors weighed the impact of the new developments in the money and fixed income market, particularly the rates hike in Treasury Bills and new inflation data ahead of Friday's announcement of the Monetary Policy Committee meeting outcome.
The continued low traded volume on the Nigerian Exchange recently is an indication that smart money is seating on the fence, as funds exit the market, as revealed through the daily and weekly money flow indexes. This is just as other investment windows are competing with the market, especially on the back of the ongoing devaluation that has seen the Naira at almost N600/$1 in the black market, a situation the Central Bank of Nigeria is trying to address with the plan to launch the eNaira on October 1.
As events unfold, this is the time for investors to rethink and change their trading strategies by looking at the way of companies that depend less on imported raw materials, or had done full backward integration. The ongoing development in the foreign exchange market is likely to affect the performance of companies, especially those engaged in manufacturing and depend mainly on imported raw materials.
Meanwhile, Thursday'strading started slightly on the downside and was sustained throughout the session on selloffs and profit-taking across the board, which pushed the key performance indexes to an intraday low of 38,908.10 basis points from a high of 38,968.34bps, before closing below its opening figure at 38,911.31bps.
Market technicals were negative and weak, with lower volume traded than the previous day in the midst of negative breadth and selling pressure as revealed by Investdata's Sentiment Report showing 95% 'sell' volume and 5% buy position. The total transaction volume index stood at 0.57points, just as the impetus behind the day's performance was weak, with Money Flow Index looking down at 17.74points, from the previous day's 23.799points, an indication that funds left the market.
To navigate the rest of the quarter and year profitably, order Investdata's video on Technical Analysis Made Easy for Profitable Trading to enhance trading decisions and boost your bottom line. Also, to up your game in stock trading and investing, understanding the key to trading price and index action will go a long way to make the difference in your trading results, check out the video materials below.
Index and Market Caps
The composite index NGXASI, at the end of the day's trading, shed 57.03 basis points, closing at 38,911.31bps, from its opening level of 38,968.34bps, representing a 0.15% decline, just as market capitalization fell by N30bn, closing at N20.27tr, from the opening value of N20.3tr, also represented 0.15% value loss.
Attention: If you have not signed up for INVESTDATA's buy and sell signal setup, don't delay, because the number of stocks entering their buying range has just increased to 25 as they build a new bullish base and positive chart patterns to be on our watchlist. These stocks have double potentials to rally, considering their earnings prospect and the oscillating mood of the market at this time.
To become a member, send 'YES' or 'STOCKS' to the phone numbers below. Take advantage of these services to buy right and sell right at the current oscillating market in the midst of earnings season, portfolio reshuffling, and repositioning as we await an economic reform policy to stimulate and re-track the economy to the path of growth and development.
The session's downturn was driven by selloffs in Lafarge Africa, GTCO, FBNH, Honeywell, PZ, Oando, and International Breweries, among others, which impacted Year-To-Date loss mildly, which increased to 3.38%. The YTD loss in market capitalization stood at N795.17bn, representing a 3.64% decline from the year's opening value.
Bearish Sector Indices
Performance indexes across sectors were down, except for the NGX Insurance that closed 0.47% higher, while the NGX Oil/Gas Index led the decliners after shedding 0.57%, followed by Consumer Goods, Banking, and Industrial Goods with 0.36%, 0.28%, and 0.14% respectively.
Market breadth remained negative, as losers outpaced gainers in the ratio of 17:10, while activities in volume and value terms were down after investors exchanged 130.72m shares worth N1.43bn, compared to the previous day's 141.41m units valued at N2.97bn. Volume was driven by trades in Access Bank, Universal Insurance, Zenith Bank, GTCO, and Japaul Gold.
The best-performing stocks were Unity Bank and FTNCocoa which gained 9.62% and 8.70%, closing at N0.57 and N0.50 per share respectively on market forces. On the flip side, Eterna and SCOA lost 9.44% and 9.40% respectively, closing at N6.52 and N1.06 per share, purely on profit-taking and selloffs.
Market Outlook
Technically, the seesaw movement of the NGX index's action on low traded volume is a concern for technical traders, as players digest the latest inflation data and TB auction rates in the midst of foreign currency illiquidity ahead of the MPC meeting's outcome.
Meanwhile, discerning investors and traders continue taking advantage of the market pullbacks to reposition, while many stocks remain undervalued and at the same time trading within their 'buy' ranges, a situation expected to attract funds into the equity space given the high dividend yields capable of serving as a hedge against inflation. Also, institutional investors and others continue to digest the Q2 GDP growth ahead of more first-tier bank results, as well as the continued repositioning of portfolios for the year's last quarter. Also, investors are still observing the interplay of forces in the FX market as the CBN gives a guideline for the new digital currency platform. The day's low volume suggests that institutional investors and others are still cautiously looking at the changing trade environment. It is noteworthy that oil prices rebounded in the international market; corporate actions, as well as the interim dividend possibilities, are around the corner.
INVESTDATA Q4 MASTER CLASS OPEN FOR REGISTRATION
Theme Road To Wealth: Avoiding Financial Lockdown In Q4 & Beyond
Sub-Topics
The Power of Earnings: Best Trading Strategies To Grow Your Portfolio, By (AlhajiGarbaKurfi, MD/CEO, APT Securities & Funds Ltd)
The Road Ahead For The Economy & Impact of PIB On Equity Market, By Mr. AbiolaRasaq, CSCS).
Classical Chart Patterns For High Powered Profits In Any Market Cycle, By Mr. Ambrose Omordion, Chief Research Officer, Investdata Consulting Ltd
Are you interested in building wealth and improving your trading results through tested and effective investing strategies for the rest of the year and beyond? Smart domestic investors, like Aliko Dangote, Jim Ovia, Tony Elumelu, TY Danjuma, and Abdul SamadRabiu, among others, recognise the power of creating wealth through stock trading and investing.
This Q4 masterclass is for you because it will help you follow exact steps in real-time and target one of the most active time frames in the market. It doesn't matter how the government is creating new money and credits, or what tricks they are employing, or how they spin them ….
Nigeria has entered one of the greatest inflationary periods despite the seeming slowdown in the last four months. Inflation is not a threat. It is government policy from this point forward that will push millions of Nigerians down …. Out of the middle class…out of private retirement, healthcare, and decent lives, based on independence and privacy… into a collective nightmare we call financial lockdown.
This is what happens when people are trapped by their own collapsing currency, such that they become deeply indebted. Inflation causes huge distortions in the economy and in the markets, so its critical that you take the necessary steps to ensure you are not left behind.
We have put together this Q4 masterclass to help market players avoid those needless losses and build a profitable portfolio that has high ROI…… Especially in a volatile market, when you don't know which way up….
Participants will learn the following
How to trade earnings to boost their portfolio bottom line
The relationship between equity price movement and power of earnings
The road ahead, which sector and industry have the potential to drive profit that will support equity prices
How to simplify price action analysis on any time frame
How to filter out market noise and identify the most opportune time to join any market
Tradeable chart patterns and candlestick formations that signal real money making opportunities
Trend trading secrets for profitable trades and minimal risk
Five hot stocks that beat inflation and deliver over 25% in 90-day investment windows.
Date: October 2. 2021
Time: 9 am Prompt
Fee: N50,000 per participant
Venue: ZOOM
However, with less than 15 days to Q4 Master class October 2, 2021, you need to make money and avoid financial lockdown, boost your trading bottom line. Don't miss this opportunity.
During this practical session our top industry experts will reveal profitable trade ideas and opportunities in Q4 to consolidate your gains and ride on year-end seasonality to maximize returns. That is what you can implement immediately to start tracking the result by yourself and the investdata Research team on your behalf. You definitely want to be among the smart traders and investors in Q4. So, send "YES" or "STOCKS" to 08028164085 and 08179547605.
Meanwhile, the home study packs on Comprehensive Stock Market trading course video,Stock Market Analysis Beyond Fundamental & Technical Analysis, INVEST 2021 New Opportunities & New Paths To Profits Summit materials and 10 Golden Stocks for 2021, Strategies and How to invest profitably in this Changing Market Dynamics/ Recession, Mastering Earnings Season For Profitable Investing and Trading in any market situation/ cycles, Life Beyond COVID 19 Investment Opportunities In The Stock Market are now available. To obtain your pack send 'Yes' or 'Stock' to 08028164085, 08179547605 now.
Ambrose Omordion
CRO|Investdata Consulting Ltd
ambrose.o@investdataonline.com
Tel: 08028164085, 08179547605