Expect Mixed Sentiments, On Reactions To Earnings Inflow, Bargain Hunting, Low Prices Attraction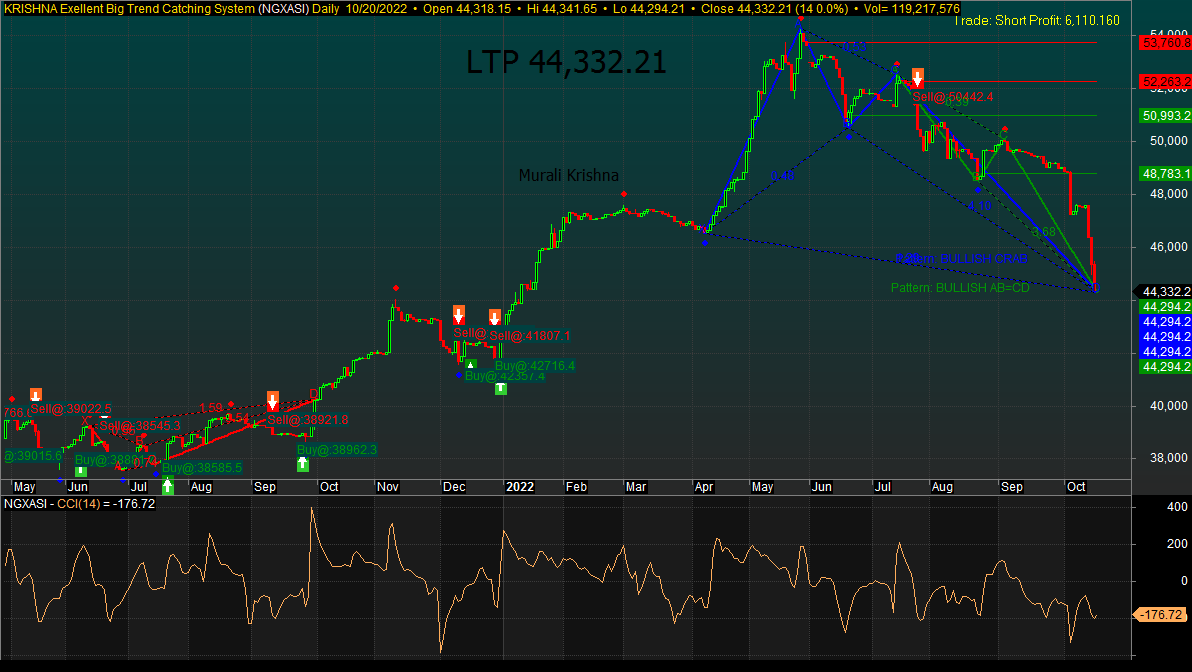 Market Update for October 20
The free fall of large cap and blue chips on the Nigerian Exchange seems to slowdown in equilibrium while searching for a change in primary direction as more corporate earnings hit the market with impressive numbers irrespective of the mixed macroeconomic data and increasing sovereign risk. The performance of these companies will also give insights into what the expected Q3 GDP will look like. As of today, Nigeria's economic headwinds continue to worsen due to a mismatch of policies formulated by both the government and its economic managers.
As more corporate numbers hit the market, the question on the lips of discerning investors is whether or not these Q3 earnings could save the NGX from its recent free-fall in this season, as reactions are likely to extend to four or five weeks amid the wave of surprises and disappointments that comes with earnings season. Over the next couple of weeks, most major companies will provide the market with updates on their scorecards and outlook for the rest of the year. At the conference calls CEO's will comment on the state of their business, and what are of particular interest to traders, the general economic environment.
Stock trading and investing depends on the underlying economic situation. However, company performances are also the main drivers of fund flows between different stocks as they buy for future earnings and payout. The forex market problem today is affecting investments and repatriation of profits by investors, while attracting new investors ahead of 2023 general election uncertainty. They are also reviewing the central bank and government responses to economic conditions faced by businesses and investors, which also impacts their investment decision at any time. It is time for monetary and fiscal authorities to shake hands, and address this issue to save the economy from a looming recession.
The NGX All-Share index's action closed flat on a low traded volume and par market breadth in the midst of an improved buying interest across some major sectors of the market where prices are resetting on the basis of value and sound fundamentals ahead of their quarterly earnings reports. Here, understanding the big picture and the outlook of the expected financial reports of the companies in this changing business and economic environment across the globe and locally will help market players reposition their portfolios on the strength of the 11 sectors of the market performance and sentiment rank from strongest to weakest right now. Meanwhile, bargain hunters are capitalizing on the persisting low valuation and divergence from real value in expectation of closing gap in the future dates for profit and gains.
In the current market situation traders or investors need to up their game, by understanding the power of perception or sentiments cannot be overemphasized in stock trading or investing, seeing the impact of aggressive hawkish monetary policy across the globe, with investors reacting to US September Consumer price index report released yesterday. The UK experience, coming after the World Bank and IMF's continued warning that the central banks should rethink and avoid pushing the global economy into yet another recession. We see that is already happening in UK, China, Japan and others. It is time for the Nigerian central bank and its Monetary Policy Committee to have a rethink before things go further out of hand.
There is still a bull case even in this  high interest rates atmosphere, rising inflation and slowing industrial output as a result of policy changes and uncertainty around the globe, there are sectors, industries and individual stocks still seeing positive activities from traders and investors. There are equity players should pay attention to, as the correction in the NGX index action creates buying opportunities in some sectors and individual defensive stocks with high dividend high yield and positive earnings growth.
At this point in the market, trade what you see by staying in the right side of the market and looking at price action, momentum, market timing and forecast to boost your trading results in any market situation. So, the volume pattern and index structure in recent sessions show position taking, while funds enter some stocks as revealed by money flow index which need to be confirmed, especially as mixed sentiment supported the previous session candlestick formation.
To navigate the rest of the month profitably using fundamental and technical analysis to run, join investdata live sessions at noon every trading day "and also get investdata technical toolbox to play the current state of the market do suggest that discerning investors are gradually becoming greedy, while others are fearful, as seen in the recent range market. Despite the mixed sentiment witnessed, it is time to go shopping for undervalued stocks, sectors and the next insider playing opportunity."
The oscillation in oil price continued as it trades at $92.46, in the midst of confusion in US oil exports to France falling to zero, US LNG production decline despite robust demand and political tension in UK. Also, the fear of global recession and supply tighten due to Russia Ukraine war that are getting worst. Coupled with the impact of hawkish monetary policy by central banks, just as China COVID-19 lockdown come to an end. The up and down movement of oil price also continues to drive volatility in the face of rising interest rates and inflation. Despite the bailout package of the Chinese government to simulate economic activates and stable employment, as well as that of Germany aimed at managing the energy crisis.
Meanwhile, Thursday's trading opened slightly in the upside and oscillated for the rest of the session on demand for blue chip companies and profit taking in the banking stocks. This situation pushed the NGX's index to an intraday high of 44,341.65bps from its lows of 44,294.21bps before closing slightly above its opening level at 44,332.21bps.
Market technicals were weak and mixed, with lower volume of trade than the previous session in the midst of flat breadth on a buying sentiment as revealed by Investdata's Sentiments Report showing 80% buy position and 20% sell volume. The total transaction volume index stood at 0.74points, just as energy behind the day's performance was weak as Money Flow Index is looking down at 16.28pts, from the previous day's 20.56pts, indicating that funds left the market, despite closing in green.
For you to successfully invest and trade in this volatile market, order for Investdata's video on Buy & Sell Technical Analysis Toolbox to navigate the volatile market profitably, enhance trading decisions and boost your bottom line. Also, to up your game in stock trading and investing, understanding the key to trading price and index action will go a long way to make the difference in your trading results, check out the video materials below.
Index and Market Caps
At the end of Thursday's trading, the NGX All-Share Index inched up by 14.06bps, closing at 44.332.21bps, after opening at 44,318.15bps, representing a 0.03%up, just as market capitalization rose slightly by N7.66bn closing at N24.15tr, from the previous day's N24.14tr, which also represented a 0.03% value gain.
Attention: If you have not signed up for INVESTDATA's buy and sell signal setup, don't delay, because the number of stocks entering their buying range has just increased to 24 as they build a new bullish base and positive chart patterns to be on our watchlist. These stocks have double the potentials to rally, considering their earnings prospects and the oscillating moves in a recovery market and economy.
To become a member, send 'YES' or 'STOCKS' to the phone numbers below. Take advantage of this service to buy right and sell right at the current oscillating market in the midst of earnings season, portfolio reshuffling, and repositioning as we await an economic reform policy that can stimulate and re-track the economy to the path of growth and development.
Thursday's upturn was driven by accumulation in the shares of Lafarge Africa, Fidson, Vitafoam, Cadbury, Stanbic IBTC, Dangote Sugar, AXA Mansard and CWG, among others on their low price attracted which impacted mildly on Year-To-Date gain, reducing it to 3.78%. Market capitalization gain YTD decrease to N887 billon, representing a 11.03% rise over the opening level for the year.
 Mixed Sector Indices
Sectorial performance indexes were mixed, with the NGX Banking and Energy closing lower by 0.82% and 0.39% respectively, while NGX Insurance led the advancers after gaining 0.22%, followed by Consumer and Industrial goods with 0.22% and 0.09% respectively.
Market breadth was at par there was an equal number of losers and gainers in the ratio of 17:17; just as transactions in volume and value were down, as stockbrokers traded 119.22m shares worth N3.20bn. Volume was driven by trades in Fidelity Bank, GTCO, Japaul Gold, Jaiz Bank and Accesscorp.
Computer Warehouse Group and UPDCREIT were the best-performing stocks, gaining 9.59% and 8.93% respectively, closing at N0.80 and N3.05 per share respectively on market forces. On the flip side, Beta Glass and Alex lost 9.98% and 9.72%, closing at N41.50 and N6.50 per share, purely on selloffs.
Market Outlook
We expect mixed sentiments to continue on reaction to earnings release so far and bargain hunters are taking advantage of the low prices to reposition ahead of more Q3 corporate earnings. This is just as banking stocks are gaining attention, despite profit taking that makes the sector more attractive for income investors, while portfolio rebalancing continues on bargain hunting in the midst of the worsening sovereign risks.
We note also the flow of funds into the fixed income segment on the rate hike by the CBN, as sector rotation persists. Analysts are also focused on the lookout for August CPI and flow of funds amid oil prices oscillation.
Meanwhile, the home study packs on Comprehensive Stock Market trading course video, Stock Market Analysis Beyond Fundamental & Technical Analysis, 2022 Actionable Trading Plan and Opportunities in Q1, INVEST 2022 Traders & Investors Summit materials and 10 Golden Stocks for 2022, Strategies and How to invest profitably in this Changing Market Dynamics/ Recession, Mastering Earnings Season For Profitable Investing and Trading in any market situation/ cycles, Life Beyond COVID 19 Investment Opportunities In The Stock Market are now available. To obtain your pack send 'Yes' or 'Stock' to 08028164085, 08179547605 now
Ambrose Omordion
CRO|Investdata Consulting Ltd
info@investdata.com.ng
ambrose.o@investdataonline.com
ambroseconsultants@yahoo.com
Tel: 08028164085, 08179547605