Expect Mixed Trend, Sentiments On Bargain Hunting, Reactions To H1 Financials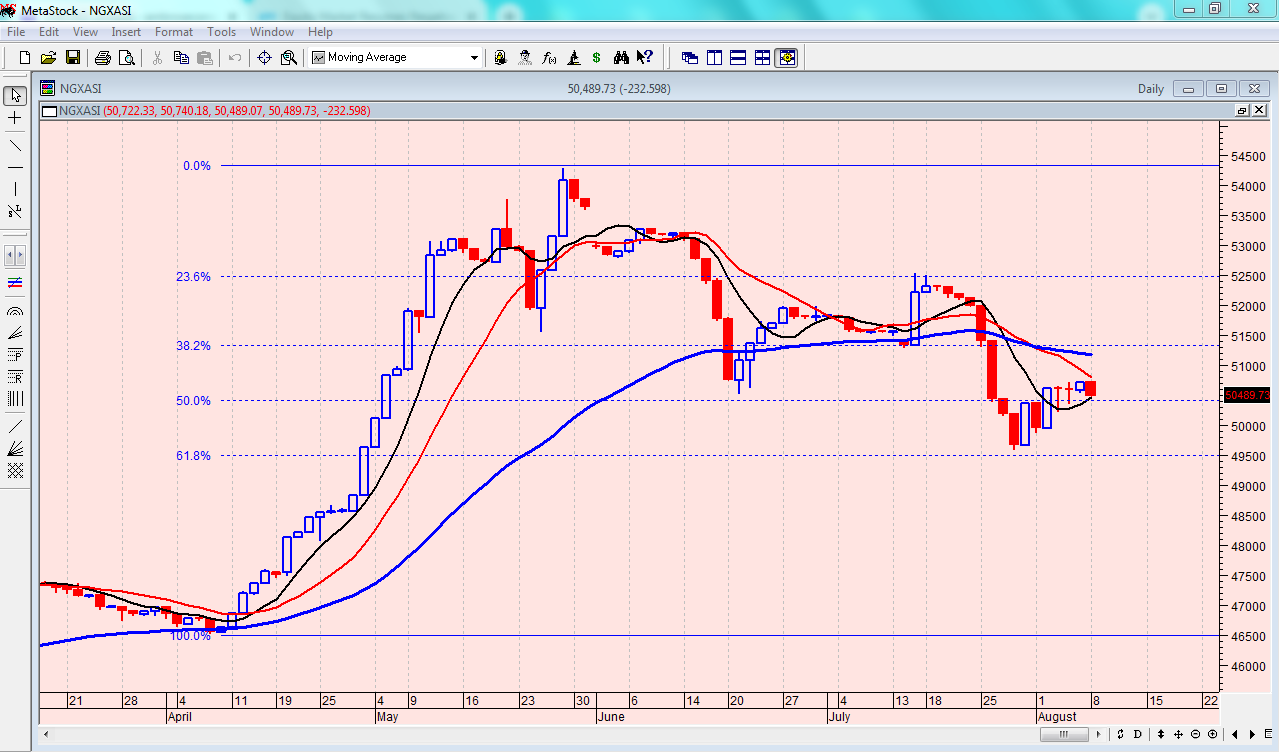 Market Update for August 8
Profit-taking and selloffs again resurfaced on the Nigerian exchange on Monday as the second week of August started on a negative note. Profit taking hit telecommunication giant- MTNN ahead of its qualification date for the N5.60 interim dividends in the midst of a better-than-expected half-year result posted by the company, making its shares attractive and cheap for discerning investors.
Monday's trading had a volatile session, reversing the previous day's gain on a selling sentiment as the benchmark NGX All-Share index closed lower on a very high traded volume in the midst of negative market breadth to signal a top reversal pattern that need to be confirm as trading opens today. Market players seem to be cautious as they continued to digest the recent impressive corporate earnings that are yet to impact the share prices and the market due to low liquidity and confidence, even when these numbers are revealing value and inherent upside potentials in these stocks.
At the current market situation, investors and traders should know how to use the right and best tools, knowing the relationship between their technical tools and indicators will help profitable trading by identifying chart patterns for pure profits. What you need to understand in any chart are price actions, volume and time. You cannot have one without the other. Volume and price movement provide a potential trade setup if you must buy or sell stock. At any time you desire to enter a trade, try to build a story in your mind by asking who is in control and how long they have been in control, between the bear and bull. The answer will help you decide, or know if the trade will work or not.
The increasing global volatility as a result of rising rates, inflation, geopolitical tension and slowing consumer spending. However, there are pockets of strength in some sectors amidst the better-than-expected earnings releases that offer insights into strong group stocks with value in the industries and companies in the various sectors. There is the possibility of sectors beating the next quarterly estimates and predictions, attaining their pre-pandemic performances as they deal with capacity in the midst of soaring costs and insecurity.
Despite Monday's pullback, the market uptrend remains intact as players look forward to market forces on Tuesday, just as investors need to navigate the market now as many equity prices look cheap on the strength of impressive earnings and relatively low prices. The market cycle of a bear situation and market bottom in the face of technical patterns of oversold market or individual stocks supports the uptrend, as bargain hunters take advantage of the pullbacks or relatively low P/E ratio to reposition their portfolios.
The NGX index action still trades above 50,000 mark but below the 'T line' and 50-day moving average, to attract bargain hunters as sector rotation and portfolio rebalancing increased amidst the scorecards of many companies in the market. It is, therefore, time to use technical tools, if you have been ignoring the charts and fighting the trends, it is your chance to step up your game. At this current market mood, investors and traders should target leaders in the various sectors with strong fundamentals, and positive technicals as the market reversal is underway depending on the earnings power.
To navigate this month profitably using fundamental and technical analysis to run, join investdata live sessions at noon every trading day "and also get investdata technical toolbox to play the current state of the market do suggest that discerning investors are gradually becoming greedy, while others are fearful, as seen in the recent range market. Despite the mixed sentiment witnessed, it is time to go shopping for undervalued stocks, sectors and the next insider playing opportunity."
Oil prices continued to oscillate after pulling back to their six-month low on output concerns and fear of recession to trade at $95.89 per barrel in the international market, following the low factory activities in China, Japan and others that now signal demand fear, made worse by the weakened GDP in the US that may push the world's largest economy into a technical recession. Already, central banks across the globe have continued to hike rates in the fight against rising inflation, in the midst of a sluggish economic growth data from China and others. All these have continued to influence the monetary policy options of central banks as they move to checkmate the impacts of the Russia-Ukraine conflict on the global economy to avoid the looming economic recession.
Meanwhile, Monday's trading opened slightly in the green and osculated for the rest of the trading session, pulling back on selloffs and profit-taking in blue-chip stocks, a situation that pushed the NGX's index to an intraday low of 50,489.07bps from its highs of 50,748.18ps, before closing below its opening point at 50,489.73 bps.
Market technicals were negative and mixed, with higher volume traded than the previous day in the midst of breadth favoring bears on selling pressure as revealed by Investdata's Sentiments Report showing 100% sell volume. The total transaction volume index stood at 1.12points, just as impetus behind the day's performance was weak as Money Flow Index is looking flat at 31.87pts, from the previous day's 31.80pts, indicating that funds entered  the market, despite closing down.
For you to successfully invest and trade in this volatile market, order for Investdata's video on Buy & Sell Technical Analysis Toolbox to navigate the volatile market profitably, enhance trading decisions and boost your bottom line. Also, to up your game in stock trading and investing, understanding the key to trading price and index action will go a long way to make the difference in your trading results, check out the video materials below.
Index and Market Caps
At the end of Monday's trading, the key performance index fell by 232.60bps, closing at 50,489.73bps, after opening at 50,722.33bps, representing a 0.46% decline, just as market capitalization fell by N125.45bn, closing at N27.23tr, from the previous day's N27.36tr, which also represented a 0.46% depreciation in value.
Attention: If you have not signed up for INVESTDATA's buy and sell signal setup, don't delay, because the number of stocks entering their buying range has just increased to 35 as they build a new bullish base and positive chart patterns to be on our watchlist. These stocks have double the potentials to rally, considering their earnings prospects and the oscillating moves in a recovery market and economy.
To become a member, send 'YES' or 'STOCKS' to the phone numbers below. Take advantage of this service to buy right and sell right at the current oscillating market in the midst of earnings season, portfolio reshuffling, and repositioning as we await an economic reform policy that can stimulate and re-track the economy to the path of growth and development.
Monday's downturn was driven by profit-taking and selloffs in MTNN, NGXGroup, GTCO, Zenith Bank, UPDC, IMG, Skyway Aviation, Cutix, Ellah Lakes, Caverton, FBNH and FCMB, among others, which impacted negatively on Year-To-Date gain, which reduced to 18.20%.  Market capitalization gain YTD also fell to N3.79tr YTD, representing a 22.14% rise over the opening level for the year.
Mixed Sector Indices
Performance indexes across sectors were mixed, as the NGX Insurance and Consumer Goods closed higher by 1.38% and 0.17% respectively, while NGX Banking led the decliners after losing 1.10%, followed by Industrial goods with 0.01%.  Just as Energy closed flat
Market breadth, turned negative as losers outnumbered gainers in the ratio of 15:10; just as activities in volume and value terms were up, after players exchanged 207.20m shares worth N2.12bn, with volume driven by trades in FBNH, Multiverse, Accesscorp, Aiico and Zenith Bank.
Japaul Gold and Honeywell Flour were the best-performing stocks, gaining 8.82% and 5.73%, closing at N0.37 and N2.95 per share respectively on market forces. On the flip side, RT Briscoe and IMG lost 10% and 9.84% respectively, closing at N0.36 and N8.25 per share, purely on selloffs.
Market Outlook
Expect a mixed trend and sentiments to continue on bargain hunting as players react to impressive half-year financials of companies in the midst of sovereign risks, as interim dividends are expected from first-tier banking stocks. We note also the flow of funds into the fixed income segment on the rate hike by the CBN, as sector rotation persists. Analysts are also focused on the lookout for Q2 GDP and flow of funds amid oil prices oscillation. Also, the market continues to interpret the rising inflation in relation to the crude oil price and other factors, in the midst of profit-taking and portfolio rebalancing. This will result in market players targeting fundamentally sound and dividend-paying stocks in the hope of dividend announcements.
Meanwhile, the home study packs on Comprehensive Stock Market trading course video, Stock Market Analysis Beyond Fundamental & Technical Analysis, 2022 Actionable Trading Plan and Opportunities in Q1,  INVEST 2022 Traders & Investors Summit materials and 10 Golden Stocks for 2022, Strategies and How to invest profitably in this Changing Market Dynamics/ Recession, Mastering Earnings Season For Profitable Investing and Trading in any market situation/ cycles, Life Beyond COVID 19 Investment Opportunities In The Stock Market are now available. To obtain your pack send 'Yes' or 'Stock' to 08028164085, 08179547605 now
Ambrose Omordion
CRO|Investdata Consulting Ltd
ambrose.o@investdataonline.com
Tel: 08028164085, 08179547605