High Dividend Yields Continue To Attract Buying Interests, Amidst Mixed Intraday Trading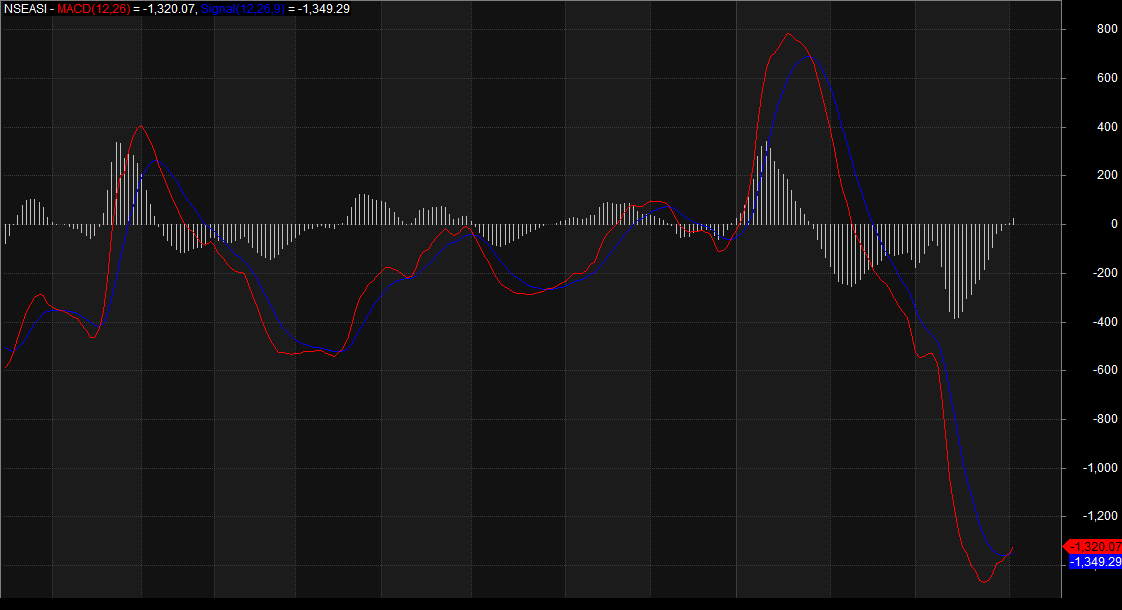 Market Update for April 2
Equity prices on the Nigerian Stock Exchange (NSE) pointed higher on Thursday as key performance All-Share index closed marginally up, despite the persistent mixed trend and volatility in this Coronavirus (COVID-19) induced bear market. It, therefore, halted three consecutive sessions of heavy losses.
The dicey situation today has scared away fearful and novice investors from the market, as they sold off their positions at a loss, due to low confidence and weak economic fundamentals, even as the ongoing remote trading has limited participation due to the lockdown aimed at stemming the spread of the virus.
Savvy and investors and traders with large risk appetite have, however, taken this as a window of opportunity to cherry-pick stocks although cautiously at these new low prices.
Also, even if the recent trading sessions have recorded low traded volumes, reflecting the ongoing lockdown in the state, the intervention by the Federal and state governments, as well as the Central Bank of Nigeria (CBN) in the form of economic stimulus packages are yet to start reflecting on the economy.
The seeming rebound in oil prices, as a result of ongoing talks among the US, Russia, and Saudi on the proposed production cut may affect the global economy positively and avert the imminent recession. This, it is believed, will happen, if oil price crosses Nigeria's new oil benchmark price of $30 per barrel.
We should not forget that the global lockdown will continue to affect oil price until normalcy return to the world and many factories currently shutdown are reopened.
Meanwhile, Thursday's trading opened on the downside and oscillated seriously throughout the session on selloffs and position taking in the shares of large and medium-scale companies, which pushed the NSE's composite index to intraday low of 20,790.71 basis points, from its high of 21,170.00bps. It thereafter closed the day higher at 21,121.20bps on a negative breadth.
Market technicals were negative and mixed, with higher volume traded than the previous day, while breadth favoured the bears on improved buying sentiment as revealed by Investdata's Daily Sentiment Report, showing 'buy' volume of 87%. 'Sell" position stood at 13% on a total daily transaction volume index of 0.57. The energy behind the day's performance was seriously weak, despite Money Flow Index inching up to 17.64 points, from the previous session's 16.19ps, indicating that funds entered the market and some stocks.
Index and Market Caps
At the end of the day's trading, the composite NSEASI gained a marginal 20.66bps, closing at 21.121.20ps, from its opening figure of 21,100.54ps, representing a 0.10% gain, just as market capitalization rose by N10.77bn, closing at N11.01tr from the N10.99tr it opened, which also represented a 0.10% value gain.
If you have not signed up for Investdata buy and sell signal setup, don't delay. We have just added another risk management feature and new stocks of most revered traders and investors in corporate Nigeria to our watchlist. These stocks are with double potentials to rally considering their current market prices.
To become a member, send 'YES' or 'STOCKS' to the phone numbers below. Take advantage of this service to buy right and sell right at the current market recovery ahead of full-year earnings reporting season portfolio reshuffling and repositioning as we await an economic reform policy to stimulate and re-track the economy again.
Thursday's upturn was impacted by the buying interest in Dangote Cement, Flour Mills, Wema Bank, Sterling Bank, Access Bank, Cadbury and Livestock Feeds, which impacted mildly on the NSE index, slightly reducing its Year-To-Date loss to 21.31%. Market capitalization YTD loss stood at N1.95tr representing a 15.03% decline over the year's opening value.
Bearish Sector Indices
The sectorial performance indexes remained largely bearish except for the NSE Industrial Goods index that closed 2.37% higher, while the NSE Banking index led the decliners after shedding 2.19%, followed by the NSE Consumer Goods and Insurance that closed 1.89% and 0.84% down respectively.
Market breadth turned negative as decliners outnumbered advancers in the ratio of 19:7, just as market activity in volume and value terms improved by 65.38% and 62.14% respectively as investors exchanged 255.57m shares worth N2.86bn, from the previous day's 151.55m units valued at N1.82bn. The day's volume was boosted by trades in Zenith Bank, Guaranty Trust Bank, FBNH, Transcorp, and UBA.
Dangote Cement and Livestock Feeds were the best-performing stocks, after gaining 9.93% and 9.38% respectively, closing at N128.40 and N0.70 per share on low price attraction and market forces. On the flip side, Nigerian Breweries and Honeywell lost 9.27% and 8.16% respectively, closing at N22.50 and N0.90 respectively on selloffs and profit-taking
Market Outlook
We expect mixed intraday performance to continue, as trading sessions in the remaining days of lockdown are still dicey, with market players likely to position ahead of Q1 2020 earnings reports and impact of the stimulus package on the economy in the midst of more companies notifying the exchange and investing public of its closed period 2020 first-quarter earnings report.
However, the high dividend yields continue to attract buying interests, while more audited corporate earnings hit the market going forward. This is despite the likely continuation of the selloffs, with investors buying to increase their positions in undervalued stocks ahead of dividend declaration. This is also against the backdrop of the fact that the capital wave in the financial market may persist in the midst of relatively low-interest rates in the money market, high inflation and unstable economic outlook for 2020.
Also, investors and traders are positioning in anticipation of the 2019 full-year earnings reports, amidst the changing sentiments in the hope of improved liquidity and positive economic indices which may reverse the current trend.
We see investors focusing on the upcoming full-year earnings season, targeting companies with strong potential to grow their dividend on the strength of their earnings capacity.
Again, the current undervalue state of the market offers investors opportunities to position for the short, medium and long-term, which is why investors should target fundamentally sound, and dividend-paying stocks for possible capital appreciation in the New Year.
This was noted in the 10 golden stocks and trading ideas for 2020, as discussed extensively during the Investdata 2020 Traders & Investors Summit held in Lagos.
Also, traders and investors need to change their strategies, because of the NSE's pricing methodology, the CBN directives and their impact on the economy in the nearest future.
Meanwhile, the home study packs of our Invest 2020 Opportunities and Trade Ideas Summit, containing the 10 Golden Stocks for 2020 are available. To obtain your pack send 'Yes' or 'Stock' to 08028164085, 08032055467, 08111811223 now.
Ambrose Omordion
CRO|Investdata Consulting Ltd
info@investdataonline.com
info@investdata.com.ng
amberose.o@investdataonline.com
ambroseconsultants@yahoo.com
Tel: 08028164085, 08032055467