Equities
Investors Eye Blue-chips, Strong Earnings Capacity, Better Payout Ahead Of 2018 Financials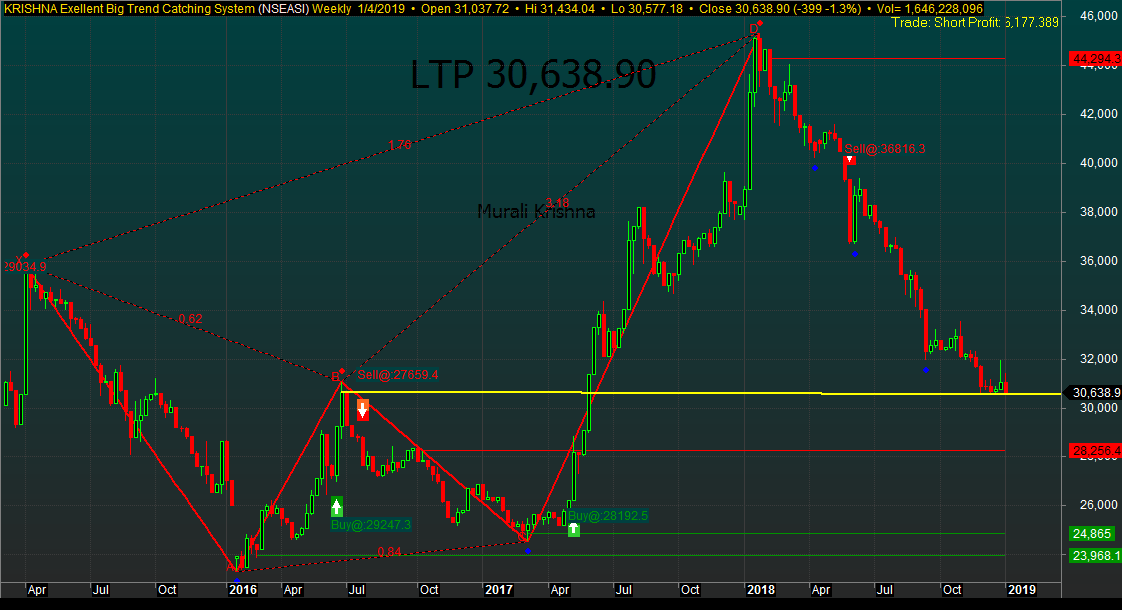 Market Update for the week ended January 4 and Outlook for January 7-11
Nigeria's stock market had a bearish trend the past week, kicking off trading for the new year on a negative sentiment, as selling pressure persisted after the New Year holiday, reversing the positive performance of similar period in 2018. The decline was however on a lower transaction volume that reflected the dwindling investor confidence ahead of the general elections that commences next month with the battle for the Presidency.
The thickening political atmosphere, though expected, has beclouded the seeming positive economic indices such as the Purchasing Managers Index that climbed to 61.1 points in December, from 57.9 points recorded in the preceding month; as well as the rebound in oil price on weak dollar and the proposed supply cut by the Organisation of Petroleum Exporting Countries (OPEC). Add this to the marginal rise seen in Nigeria's external reserve, which closed 2018 positive, even after sliding by about $4bn from its year peak level attained on May 10, 2018, according to data on the website of the Central Bank of Nigeria (CBN) last week (READ).
The free fall of equity prices in the first few days of 2019 is however beyond profit booking and can be linked to panic selling amidst fear over the coming elections, which have triggered the current low investor sentiment in the market. Investors have seemingly disregarded the potential opportunities in many stocks that continue to hit their 52-week low.
The situation is worsened by the fact that the major political parties continue to focus their campaigns on personal attacks, amidst allegations of intention to rig the election, while saying little or nothing about how they will solve the real issues of economic deterioration. Chief among these are: the increasing unemployment/underemployment, low productivity/how to make the nation less import-dependent lingering poverty, low human capital development drive (Education), infrastructural gap, the comatose healthcare challenges and insecurity.
The weak economic fundamentals arising from the cut in 2019 budget, high debt servicing cost of over N2.21tr and the reality surrounding the oil price benchmark of $60, exchange rate at N309, estimated oil production of 2.2million bpd with OPEC proposing a supply cut to 1.63million from Nigerian and how to make inflation rate single digit.
Back to the market, it was positive start for the week with the index recording a gain of 1.27% on Monday after which it nosedive till the last trading day of the week on a strong selloff in highly capitalized and blue chip stocks to close on a negative note of 1.28% decline to halt thetwo previous week of bull run.
The high selling pressure in the week under review was driven by profit taking, proximity of 2019 elections and anticipated weak economic activities going into the New Year as selloffs continued as market players reposition their portfolios for post-election rally and 2018 full year earnings season. Market technicals, for the period was negative and weak as volume traded was low as revealed by Investdata's weekly Sentiment Report, showing a sell position of 93% and buy volume of7%. The volume index of total transactions within the week was 1.29.
The energy behind the week's performance was weak to show the selling sentiment and increase number of stocks that decline as reflected on the money flow index at 29.47bps, from 36.00bps in previous week, an indication that funds left some stocks in the midst of low-volume of transaction and low liquidity.
Equity Indicators Last Week
The NSE All Share Index for the period lost 398.82 basis points to close at 30,638.90 basis points, after opening at 31,037.72bps, hitting a high of 31,434.4bps, from low of 30,577.18bps on low volume resulting from cautious trading, represented 1.28% decline. Similarly, market capitalization was down by N88.4bn, closing at N11.38tr, from N11.57tr, representing 0.78% value loss which was saved by the supplementary listing of CCNN, following the conclusion of its merger with sister- Kalambaina Cement, which consequently ranked the 12th most capitalized stock on the exchange.
NSE INDEX WEEKLY TIME FRAME
The NSE ASI is at the point of reversal or breakdown of the yellow line which is the last strong support level at 30,576.90 basis points that was retested, and any breakdown of this level depending on market forces will lead to 28,882.42bps that is below 29,000 psychological line and bring the market position to August 2016.
At the end of the week, low cap stocks dominated the advancers' table for the period as profit booking and selloff hits low, medium and high capital stocks that appreciated in value due to Santa Claus and year-end rally.
Meanwhile, the NSEASI's year-to-date negative returns stood at 2.52%, just as market capitalization dropped to N88.4bn, or 0.78% below the year's opening value.
Bearish Sectors Indices
The sectorial performance for the period was largely bearish, except for the NSE Oil/Gas index that closed higher. Market breadth was negative, with decliners 'outnumbering advancers in the ratio of 45:22, to short-lived the previous weeks of bull market.
Market activity in terms of volume and value were down by 47.36% and 41.36%% respectively to 1.65bn shares worth N8.41bn, compared to previous week's 3.13bn units valued at N14.35bn, boosted by trading in financial service, healthcare and services sectors.
The best performing stock for the week were Custodian Investment Plc and Julius Berger that topped the advancers' table with 16.19% and 15.69% gains respectively to close at N6.10 and N23.25 per on low price attraction and expectation of better full year earnings report. On the other hand, FCMB and GSK lost 16.49% and 15.86% respectively, closing at N1.62 and N12.20 on market forces and profit taking.
Market Outlook
We expect the overall market sentiment to remain mixed with rekindled buying interest on blue chip stocks that had suffered huge losses before now, with strong earnings capacity that will support higher payout with the banks already releasing the closed period and fixing dates for board meeting to approve 2018 financial year results. The prevailing cheap prices of stocks may trigger investor buying sentiments for short and long term gain.
However, we expect speculative trading on some stocks with strong potential upside to shape the breadth of market performance this week, while watching the political space, since economic activities in Q4 have given insights into what the expected full year GDP and corporate earnings will be.
With the political campaign ongoing, Nigerians are expecting new strategies and roadmap to address the economy, especially the rising poverty level, human capital development, decayed infrastructure and education with timeframes for delivery. These campaigns are likely to drive prices north, or south, while determining market direction before or after the Presidential election.
Investors should review their positions in line with their investment goals, strength of the company numbers and act as events unfold in the global and domestic environment.However, we would like to reiterate that investors should go for equities with intrinsic value. We advise investors to allow numbers guide their decisions while repositioning in any stock, especially now that stock prices remain volatile amidst mixed company, economic and market fundamentals
RE: INVEST 2019
The difference between you and others who are not aware of what I am sharing with you is ACTION. Take action that will transform your life throughout 2019 and beyond by getting the just concluded and life transforming INVEST 2019 TRADERS & INVESTORS SUCCESS SUMMIT Home study pack (USB) that you can play on your phone, Laptop and Television set. The event, which held on Saturday, December 8, 2018, was yet another successful, insightful and educative outing that not only offered direction as to where investors should look for a profitable 2019, but industries, sectors and companies to seek worthwhile returns. What stocks should you buy? Grab the pack for the 10 Golden Stocks with possibility of offering in 2019 multiples of what broader stocks do, coming out of this market correction environment.
Don't sit on the Fence call or text Stock to 08028164085,08032055467, 08111811223 now.
Ambrose Omordion
CRO|Investdata Consulting Ltd
info@investdataonline.com
info@investdata.com.ng
ambrose.o@investdataonline.com
ambroseconsultants@yahoo.com
Tel: 08028164085, 08032055467