Equities
CBN Rate Cut: Investors Await New Policy Direction Amidst Low Liquidity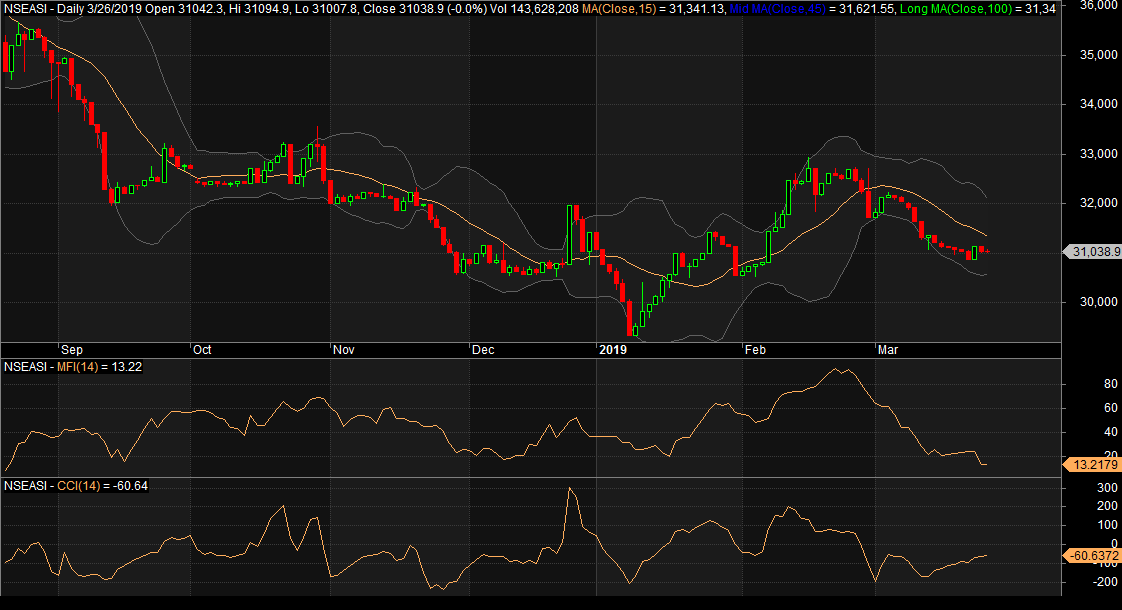 Market Update for March 26
Nigeria's equity market had a mixed session on Tuesday, staying negative even as the investing community is expecting more corporate earnings reports ahead of this weekend's statutory deadline for submission of 2018 full year audited financials draws closer.
The cautious trading during the session was obvious as reflected in the volume traded, with investors and traders stylishly looking to the outcome of two-day Central Bank of Nigeria (CBN) Monetary Policy Committee (MPC) meeting which ended Tuesday. The meeting came with a surprising and even unexpected rate cut which caught of many analysts unawares. The rates had stagnated at 14% for over three years. Even Godwin Emefiele, the chairman, who is also CBN Governor, had reported hinted that the rate could stay same (READ MORE).
That notwithstanding however, the rate cut was long expected and overdue, if only to reduce cost of funds and propel economic activities that will drive the needed growth of an economy which has been foot-dragging and performing below capacity for several years. Investdata believes that even if this 50 basis points cut from 14% to 13.5% is small, it is a good attempt at gradually boosting economic activities necessary to impact positively on businesses and companies listed on the exchange.
We agree that this move may not immediately impact flow of funds significantly, with time and if the rate is further reduce to 12% or below we could begin feel the reverberation in the improved well being of Nigerians.
Meanwhile, trading and investing sentiments in the equity market is likely to continue its oscillation, despite its undervalued state at the moment. The expected economic recovery will be slow in the short term, a situation that may not support surprising earnings expectations immediately. It will however influence corporate performance positively, especially if government policy and economic reforms will complement this monetary policy move by givng the economy a new direction.
The NSE Index opened Tuesday's trading on a little upside in the morning but pulled back between midday and early afternoon, before retracing up in the late afternoon. This was after touching intraday low of 31,007.76 basis points from its high of 31,094.87 points to finished the day flat at 31,038.86 on a very low traded volume.
Tuesday's market technicals were negative and mixed as volume traded remained lower than previous day's in the midst of negative breadth and mixed sentiment, as revealed by Investdata's Daily Sentiment Report, showing sell position of 64% and buy volume at 36% on total daily transaction volume index at 0.49.
The momentum behind the day's market performance were weak, but marginally up as shown by money flow index at 13.22 points, from previous day's 12.92bps. This indicatesthat funds entered some stocks and the market. The rate cut may expectedly to support liquidity in the equity market.
Index and Market Cap
The benchmark NSE All Share index (ASI)on Tuesday shed3.46bps to close at 31,038.86bps, from an opening figure of 31,042.82bps, representing 0.01% decline; while market capitalization gained N94.97bn to close at N11.67tr from its opening value of N11.58tr, representing a 0.82% appreciation in value. Thisresulted from the listing of Lafarge Africa right issue that was 100% subscribed.
Attention: Join Investdata buy and sell signal setup to get all our in-depths analysis on the picture and to get access to our carefully created watch list. To become a member, send 'YES' or 'STOCKS' to the phone numbers below. The number of stocks on our watchlist has increased due to the prolonged market correction. Take advantage of this service to buy right and sell right during this earnings season and beyond.
The day's downturn was driven by selloffs in medium and high cap stocks like Nigerian Breweries, Nestle, Presco, PZ, Guaranty Trust Bank, UBA, FCMB, Wema Bank, Honeywell and Transcorp. This impacted on Year-to-Date loss, extending it to 1.25%, while market capitalization gain, resulting from the new listing came to N49.58bn, or 0.42%, from the year's opening level of N11.72tr.
Mixed Sector Indices
The sectoral performance indexes were largely bullish, except for NSE Banking and Consumer Goods that closed red,reflecting profit taking in GTBank, UBA, FCMB, NB, PZ and Nestle. Also, market breadth was negative with decliners outnumbering advancers in the ratio of 20:18.
Transaction volume and value were down by 14.84% and 55.32% respectively to 143.71mshares worth N1.68bn, from the previous day's 168.72m units valued at N3.76bn. Volume was driven by financial services, conglomerates and consumer goods stocks like: FBNH, Access Bank, UBA, Transcorp and Vitafoam, Cadbury and Consolidated Hallmark Insurance were the best performing stocks, topping the advancers table with 9.60% and 7.41% gains respectively to close at N10.85 and N0.29 per share on market forces. On the flipside, Wema Bank andPresco lost 6.25% and 5.15% respectively, closing at N0.75 and N64.50 each, on profit booking.
Market Outlook
We expect a marginally up market today, on the outcome of MPC meeting and likelihood of more earnings reports pouring in as the March 31, 2019 official deadline for companies with December 31, 2018 year-end earnings reporting season draws to a close on Friday.
Investors look to government's policy direction as the market faces low liquidity problems in the ongoing earnings reporting season, vis-à-vis market and economic fundamentals.
Given the drop in the prices of major blue chips in recent times, creating entry opportunities, we expect speculative trading to shape the market direction going forward.
The volatility witnessed last week, was driven by traders and investors repositioning ahead of dividend declaration by major listed companies.
The ongoing volatility will continued as investors and fund managers rebalance their portfolios, with eyes fixed on political space and ongoing full year company earnings position and post-election market dynamics. Investors should review their positions in line with their investment goals, strength of the company numbers and act as events unfold in the global and domestic environment.
However, we would like to reiterate our advice that investors should go for equities with intrinsic value,
We advise investors to allow numbers guide their decisions while repositioning in any stock, especially now that stock prices remain low in the midst of mixed company numbers, weak economic and market fundamentals.
Meanwhile, we greatly appreciate participants in the Abuja Invest 2019 Post-Election Bulls & Bears held on Saturday, March 23.
The investment education train moves to Port Harcourt, Rivers State, with Chart Summit 2019!
Attend the Practical Conference on Technical Analysis Application on stock market for novices and Advance Traders, where we would take participants through:
•Understanding the momentum behind current equity movements and when to exit using SIMPLE Technical Indicators and Tools to avoid losing capital and profit.
•Understanding the dynamics of Technical Analysis and its application in stock, currency and bond markets.
•Our team of experts and time-tested resource persons will show you how you too can successfully and confidently trade and invest in stocks profitably on your own, from your phone, laptop and/or Personal Computer.
•Know what Smart Money is doing
•Know what they are buying or selling, and
•How you can buy what they are buying.
The workshop is scheduled as follows:
FEE: N10, 000
DATE: April 13. 2019
TIME: 10am – 4.00pm
VENUE:Emerald Hotel, 193, Aba Road Rumuola, Port Harcourt, Rivers State.
This Summit is designed specifically for those who:
•Jump off profit position out of fear
•Suffer indecision in pulling the trigger for fear of sustaining a loss
•Holding on to losing positionsfor fear of realizing a potential loss
•Trading often leads into unplanned trades for fear leaving money on the table
•Do small trade size or invest small amounts because you've just suffered huge loss, or
•Plan to increase your position size to make up for past losses
This practical workshop is for novice traders, investors, professionals and fund managers who want to overcome fear and improve their trading performance. The workshop is basically on practical charting on evidence-based techniques that is working in today market, just as the power of focused trading and investing strategies to help participants build mental skills and turn fear into profits, besides protecting capital.
Registration is ongoing
Prepare yourself to profit from the market, as the economy recovers in the months ahead, while truly achieving financial independence and freedom in 2019 and beyond. There will be Home Study Packs you can play and view on your phone, laptop and television sets that will teach, among others: Stock trading/investing, Fundamental/Technical Analysis on sale at the venue. All at 20% discount for participants.
Also, Come With Your Laptop for the practical sessions.
TAKE ACTION
The difference between you and others who are not aware of what I am sharing with you is ACTION. Take action that will transform your life throughout 2019 and beyond by getting the just concluded and life transforming INVEST 2019 TRADERS & INVESTORS SUCCESS SUMMIT Home study pack (USB) that you can play on your phone, Laptop and Television set. The event, which held on Saturday, December 8, 2018, was yet another successful, insightful and educative outing that not only offered direction as to where investors should look for a profitable trade in 2019, insight into industries, sectors and companies to seek worthwhile returns. What stocks should you buy? Grab the pack for the 10 Golden Stocks with possibility of offering in 2019 multiples of what broader stocks do, coming out of this market correction environment.
Don't sit on the Fence call or text Stock to 08028164085, 08032055467, 08111811223 now.
Ambrose Omordion
CRO|Investdata Consulting Ltd
info@investdataonline.com
info@investdata.com.ng
ambrose.o@investdataonline.com
ambroseconsultants@yahoo.com
Tel: 08028164085, 08032055467