Mixed Trend Continues On NGX, As Bargain Hunters Reload Portfolios With Value Stocks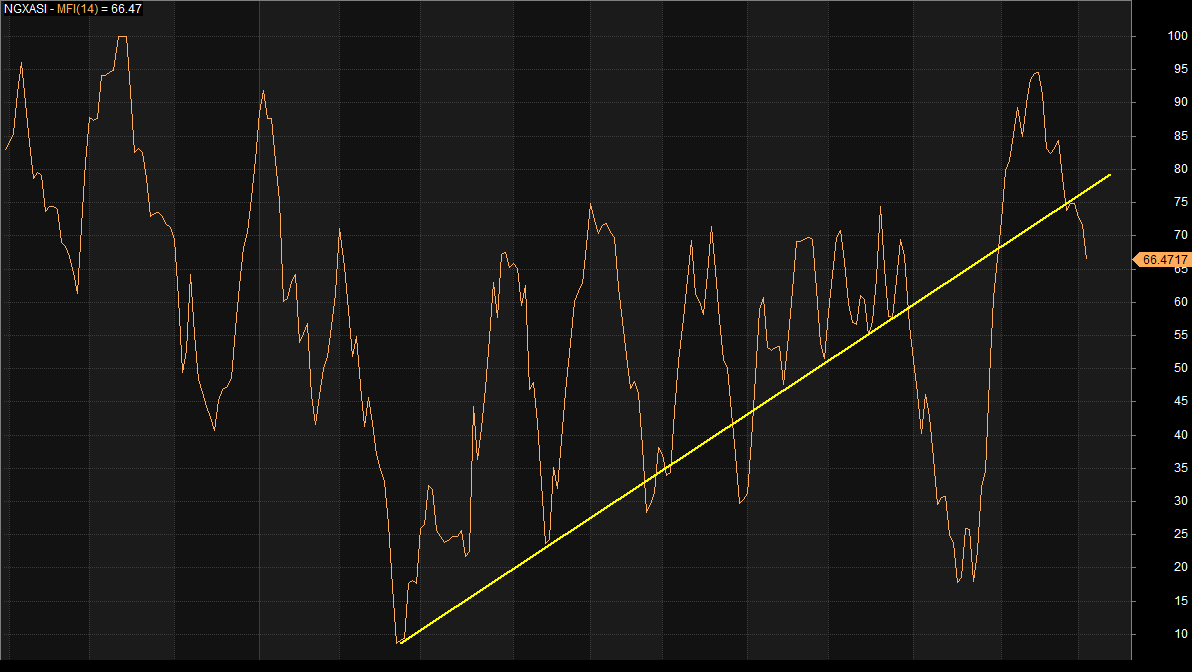 Market Update for November 3
Equity prices closed lower on the Nigerian Exchange at the midweek as the benchmark index continued its up and down movement on profit-taking amidst selloffs and repositioning in value stocks that suffered losses recently. 
The selling sentiments in the midst of weak momentum and low traded volume revealed the absence of institutional investors and exit of funds as market players continue to interpret the recent corporate earnings released to the market.
Technically, the NGX index's action remains relatively strong in the face of mixed technicals and indicators, with a high possibility of markup by the smart money which Thursday's market forces will confirm, given that the current trend is strong with ADX reading 55.54 points, against the previous day 54.47, and money flow index of 66.47points on a daily chart. The possibility of a rebound is also high after market players finish digesting the recent earnings released to the market. We note that the numbers came largely better than expected.
However, these strong earnings, interim corporate actions, and level of liquidity in the equity space will determine the extent of this market rally when it rebounds from this pullback. Already too, all eyes are on happenings as regard global inflation and oil prices at the international markets, which is currently oscillating trade at four weeks low around $82 per barrel; besides the impact of the low oil consumption by China, as the direction of yields in the fixed income market remains unclear.
Meanwhile, midweek trading opened slightly on the upside and was sustained throughout the session, despite oscillating on buying interests in some high and low cap stocks in the midst of profit-taking. This pushed the key performance index to an intraday high of 42,151.04 basis points, from its lows of 41,969.42bps, which closed thereafter above its opening level at 42,013.39bps.
Market technicals for the session were mixed and weak with volume traded lower than the previous day's in the midst of negative breadth and selling sentiment as revealed by Investdata's Sentiment Report showing 86% sell volume and 14% buy position. The total transaction volume index stood at 0.74 points, just as the energy behind the day's performance remains relatively strong, Money Flow Index dropped to 66.47 points, from the previous day 71.73 points, indicating that funds left the market.
To navigate the rest of the month and year profitably, order Investdata's video on Buy &Sell Technical Analysis Toolbox to enhance trading decisions and boost your bottom line. Also, to up your game in stock trading and investing, understanding the key to trading price and index action will go a long way to make the difference in your trading results, check out the video materials below.
Index and Mkt Cap Movement
At the end of Wednesday's trading, the composite NGX All-Share index shed 37.94 basis points, closing at 41,975.45bps after opening at 42,013.39bps, representing a 0.09% drop, just as market capitalization fell by N19.80bn, closing at N21.91tr, from the opening value of N21.93tr, also representing 0.09% value loss.
Attention: If you have not signed up for INVESTDATA's buy and sell signal setup, don't delay, because the number of stocks entering their buying range has just increased to 30 as they build a new bullish base and positive chart patterns to be on our watchlist. These stocks have double potentials to rally, considering their earnings prospect and the recovery move of the market at this time.
To become a member, send 'YES' or 'STOCKS' to the phone numbers below. Take advantage of this service to buy right and sell right at the current oscillating market in the midst of earnings season, portfolio reshuffling, and repositioning as we await an economic reform policy to stimulate and re-track the economy to the path of growth and development.
Midweek's downturn was driven by selloffs in Lafarge Africa, GTCO, UBA, Eterna, Zenith Bank, ETI, Champion Breweries, AIICO Insurance, Mansard Insurance and Lasaco, among others, which impacted mildly on Year-To-Date gain, as it reduces to 4.23%. Market capitalization stood at N770.98bn YTD, representing a 4.01% growth from the year's opening value.
BearishSector Indices
Performance indexes across the sectors were down, except for the NGX Consumer Goods index that closed higher by 0.09%, while the NGX Insurance index led the decliners after losing 1.52%, followed by Banking, industrial goods and Energy with 1.03%, 0.17% and 0.16% respectively.
Market breadth was negative, as losers outnumbered gainers in the ratio of 20:13, while transactions in volume and value terms were down, as market players exchanged 292.84m shares worth N2.06bn, compared to the previous day's 318.91m units valued at N3.28bn. Volume was boosted by trades in FBNH, Multiverse, Mutual Benefits Assurance, Sterling Bank and Transcorp.
Universal Insurance and Multiverse were the best-performing stocks after gaining 10% each, close at N0.22and N0.22per share respectively on market forces. On the flip side, Lasaco and Chams lost 9.4% and 8.33% respectively, closing at N1.06 and N0.22 per share purely on profit-taking and selloffs.
Market Outlook
We expect the mixed trend to continue as bargain hunters take advantage of corrections to reload their portfolios with value stocks on the strength of positive numbers, just as candlestick formation and volume traded at the end of day trading revealed the wait and see the mood of the market as the index continues to side trend. Also, we note that institutional players are not selling yet, as they watch the pullback on a light volume. It is equally noteworthy that this pullback at this level is for the accumulation of more positions ahead of year-end seasonality. Also, many stocks are trading within their buy ranges, a situation expected to attract more funds into the equity space, given the Dividend Yield capable of serving as a hedge against inflation.
Invest 2022 Traders & Investors Summit
Theme: Master The Market, Get The Best Of Pre-Election Year 2022


Sub-Topics
1.  Balanced Trading: Playing Nigeria's Multiple Exchanges For Diversification, MrOlatundeAmolegbe, CEO, Arthur Steven Asset Management  Ltd &President of CIS 
2. Agriculture, Economic Recovery & Diversification: Where Is Commodity Trading In Your Portfolio, MrAkinyinkaAkintunde, Business Development Manager, AFEX Commodities Exchange Ltd.
3. Technical Outlook & Indicators For Profitable Market Timing, Mr. Abdul-Rasheed OshomaMomoh, Head Capital Market at, TRW Stockbrokers Ltd 
4. Benefits & Dangers Of Fixed Income Instruments In An Inflationary Environment, Mr. Teriba Adeboye, MD/CEO, Qualinvest Capital ltd
5. Economic Outlook and implications of the N16.45 Trillion 2022 Budget On Sectors/Stock Market, Mr. Oluwasegun Akinwale, Senior Portfolio Manager, Coronation Asset Management Ltd
6. Profitable Stock Picks Made Easy, Using Fundamental Tools, Mrs. Ebiere Helen Fumudoh, MD/CEO, Norrenberger Securities Ltd
7. The Role of Real Estate & REIT Instruments In the Ecosystem, Mr. Tope Ojo, Managing Partner, Tope & Tunde Estate Surveyors &Valuers 
8. Trade Opportunities & 10 Golden Stocks for 2022, Mr. Ambrose Omordion, Chief Research Officer, Investdata Consulting Ltd
Investdata Consulting Limited holds the 10th edition of its annual Investment conference tagged Invest 2022 Traders & Investment Summit, which has over the years remained a game changer for market players. This edition is aimed at helping stakeholders identify opportunities and bringing ideas for profitable trading as we enter a pre-election year.
Invest 2022 is a not-to-be missed summit capable of completely changing your view about where the economy and stock market are headed and when you should fully plunge in or hold cash. Join the experts and experienced professionals to discuss a Big Picture Perspective of where the stock market and other investment windows are currently placed and what signs to be vigilant about over the coming months and year 2022. Don't miss this summit.
We have held this annual summit since 2012, to give investors and traders insight, perspective, and expectations in the new year.  This year Invest 2022 Summit is exceptional being vaccination-driven economic recovery after Covid 19 disruption.  The big picture of what is happening and outlook for 2022, analysis of the status of different investment windows and opportunities, ranging from the economy, equity, bond, commodity, real estate, and others using fundamental and technical tools.
More than 80% of the golden stocks pick during Invest 2021 Summit have beaten their targets, returning more than 40% to 60% in less than a year. Due to growing concern and fear around the globe and the domestic economy/stock market as analysts are predicting a big melt-down in stocks from ant time soon, to sometime in 2022.
Looking at history, there is no doubt that correction or pullbacks are on the cards at some stage. However, these big questions on everybody's minds are when will this occur and whether it will end this bull run or market recovery.
Whatever happens, what is the best way to Prepare rather than try to Predict? This is what Invest 2022 Summit will address. So you are invited to Speck or facilitate at this event
What to expect at this Summit?
A. Why the market is on high alert for the New Year rally, or Correction
B. Strategies to stay in profit, overcome market correction/pullbacks
C. How to position in stocks for robust profit ahead of 2022
D. How to take advantage of the circular flow of funds in financial markets
E. Risk/return from Bonds to stocks right now.
F. Key to profitable trading and investing in the stock market/other investment windows


Benefits for attending
i. 10 Golden Stocks for 2022
ii. Admission to Investdata Buy & Sell WhatsApp Platform
iii. Among others

Don't miss this summit, if you have any exposure to the stock market, either directly or indirectly via managed funds of any kind…….

"Invest 2022 – Connects you to new trade opportunities and ideas to boost your trading results/bottom line"
Don't miss this summit, if you have any exposure to the stock market, either directly or indirectly via managed funds of any kind……..
Date: December 4, 2021
Time: 9am
Venue: Zoom
Want to be among the successful investors and traders in 2022? Send Yes to 08028164085, 08179547605 now.
Meanwhile, the home study packs on Comprehensive Stock Market trading course video, Stock Market Analysis Beyond Fundamental & Technical Analysis, INVEST 2021 New Opportunities & New Paths To Profits Summit materials and 10 Golden Stocks for 2021, Strategies and How to invest profitably in this Changing Market Dynamics/ Recession, Mastering Earnings Season For Profitable Investing and Trading in any market situation/ cycles, Life Beyond COVID 19 Investment Opportunities In The Stock Market are now available. To obtain your pack send 'Yes' or 'Stock' to 08028164085, 08179547605 now.
Ambrose Omordion
CRO|Investdata Consulting Ltd
ambrose.o@investdataonline.com
Tel: 08028164085, 08179547605